Don't forget: Join over 960 others and sign up to our new SATS Scottish Athletics Network on Facebook
31 December 2020. 2020 has been a year like no other.  The SATS Athlete of the Year and Club of the Year have been cancelled but will hopefully resume in 2021. We do, however, have our annual rankings for 2020 which have less depth than previous years as the outdoor season was almost non-existent. You can find the rankings by following the rankings link above, or by clicking on the links below:
The following changes of club have been approved by scottishathletics with effect from 1 January 2021: 
Aaron Glendinning, Gala Harriers to Tweed Leader Jed Track; Gavin Morrison, Inverclyde AC to Greenock Glenpark Harriers; Sophie Wallwork, Pitreavie AAC to Dundee Hawkhill Harriers; Colin Whitby, Irvine RC to Garscube Harriers.
Sadly, we have the passing of another Scottish champion to report. Aileen Lusk, who under her maiden name of Drummond was one of the pioneers of women's middle distance running in the 1950s, died on 11 December, age 92. Aileen was the Scottish women's mile champion 1953-1955 and 880 yards champion 1954-1955. She won the national cross country championship in 1954, 1955 and 1956, leading Maryhill Harriers to the club title in each of these years.
Brian McAusland reviewed her career here.
Aileen Killorn Drummond, b. 1928, d. 11 December 2020.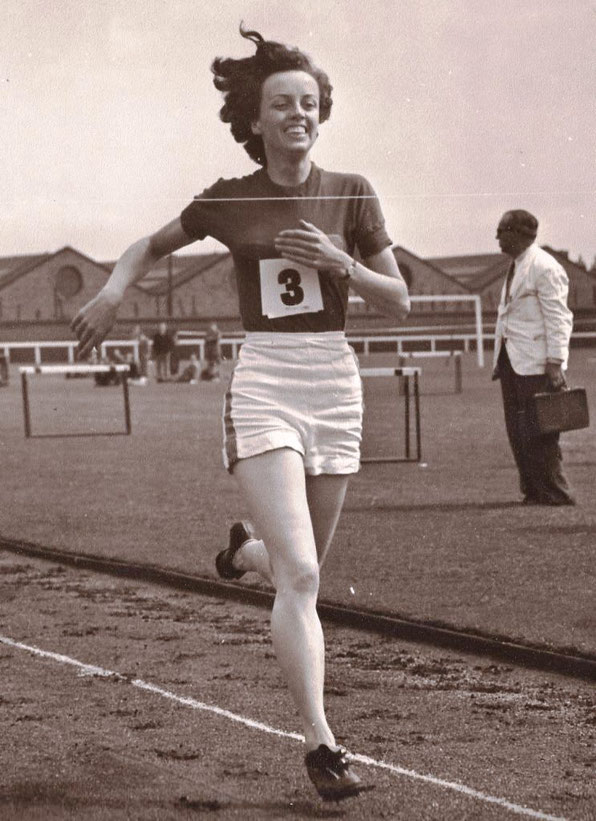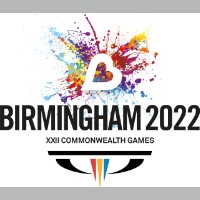 1 December 2020. The scottishathletics selection policy for the Commonwealth Games in Birmingham has been announced. You can see the policy in our Commonwealth Games pages in the Scotland section or by clicking here.
The selection standards follow the same system as recent Games with the standards aimed to be equivalent to a top six placing in the final of an event, based on recent Games results.
There are spaces in the team for 23 athletes to be selected. This is the same number as competed at the last Games in England, in Manchester in 2002.
The following changes of club have been approved by scottishathletics with effect from 1 December 2020: 
James Adam, Dundee Hawkhill Harriers to PH Racing Club; Lily Jane Evans-Haggerty, Shettleston Harriers to VP Glasgow AC; Scott Hopper, Central AC to Kilbarchan AAC; Rhuna McCartney, VP Glasgow AC to Giffnock North AC; Danny McPake, Ross County AC to Dundee Hawkhill Harriers; John Morris, Edinburgh AC to Carnethy Hill Racing Club; Anya & Layla Morrison, Pitreavie AAC to Dundee Hawkhill Harriers; Ben Potrykus, Pitreavie AAC to Woodford Green & Essex Ladies; Arran Rosling, Bellahouston Harriers  to East Kilbride AC; Iris Williams, Giffnock North AC to Kilbarchan AC; David  Woods, Haddington RC to Lasswade AC; Gregor Yates, Bellahouston Harriers  to Inverclyde AC; Del Young, Garscube Harriers to Westerlands XC Club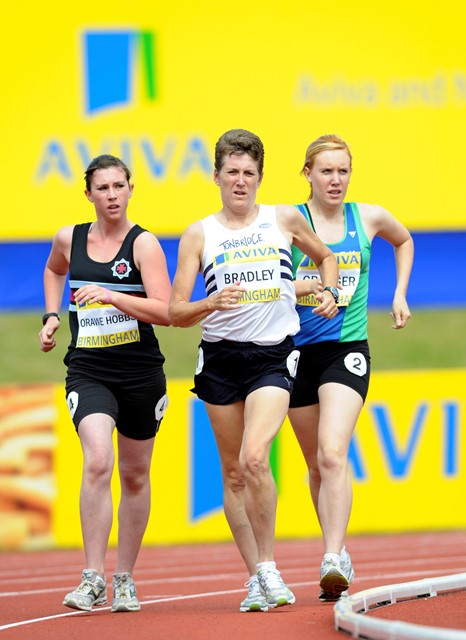 I have received the sad news that Scottish junior international racewalker, Chelsea O'Rawe Hobbs, was killed in a motorbike crash in September at the tragically young age of 29. Chelsea, who came from a race walking family, competed in her teens and represented Scotland in 2008.  She was fourth in the British Olympic Trials in 2008, behind fellow Scot Diane Bradley (both are pictured above in that race). Her most successful year was as a 15-year-old in 2006 when she was victorious in the AAA Under-17 5000 Walk, the AAA Under-20 5000, the RWA 10km and the English Schools 3000 metres walk.
When her boyfriend passed away following a bike accident, Chelsea re-trained as a nurse, qualifying in 2019 and working as an ITU nurse in Royal London Hospital. 
Our condolences go to Chelsea's family, friends and colleagues.
Chelsea O'Rawe Hobbs, 24 May 1991 - 20 September 2020.
The following changes of club have been approved by scottishathletics with effect from 1 November 2020: 
James Adam,  Dundee Hawkhill Harriers to PH Racing Club; Sarah Connolly, Ferranti AAC to Portobello RC; Eoin Coull, Ross County AC to Highland Hill Runners; Lorraine Coull, Ross County AC to Highland Hill Runners; Claire Doyle, Bellahouston RR to Cumbernauld AAC; Mark Gallacher, Motherwell AC to Cambuslang Harriers; Charlotte MacPhie, Harmeny AC to Corstorphine AAC; Alastair Marshall, Livingston AC to Central AC; Abbie Milne, Montrose & District AC to Dundee Hawkhill Harriers; Holly Morrison, Aberdeen AAC to Shettleston Harriers; Jake Page, Dunbar RC to Team East Lothian; Mhairi Patience, Edinburgh AC to VP Glasgow AC; Madeleine Watson, Strathearn Harriers to Law & District AC; Scarlett Wilson, VP Glasgow AC to Giffnock North AC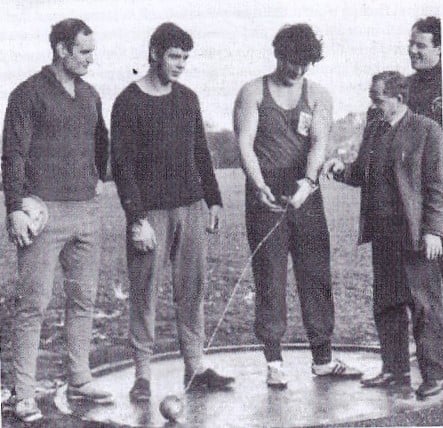 Another Scottish champion has passed with the death of strongman Doug Edmunds. Doug was a shot and discus champion, winning the discus title in 1964, 1965 and 1967 and the shot in the four years from 1965-1968. When the indoor championships were briefly held in Perth in the 1970s, he added the indoor shot title in 1974.
His distances have held up well in the 50 years that have passed since he achieved them - a 15.86 shot in 1967, 46.03 discus in 1968, and 42.93 for the hammer in 1968.  He was a strong supporter of the Highland Games and Strongman circuit. A world caber champion, his son Gregor became SHGA world champion.
His book The Warrior Breed explored the warrior culture of the great Scottish Highlanders, taking the reader through centuries of Celtic history from the days of the Vikings and Rob Roy to the modern era where Highlanders have traded swords for cabers to do battle in the athletic arena. 
Douglas Morris Edmunds, b. Springburn, Glasgow, 29 May 1944, d. 30 October 2020.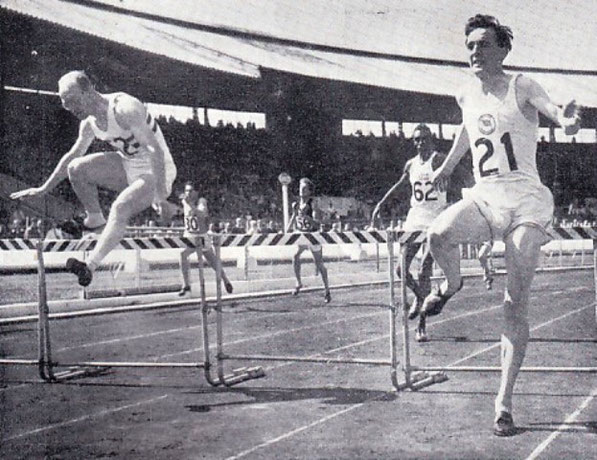 News has reached us of the passing of the Scottish Olympian, David Gracie, at the age of 93 on Monday, 26 October 2020. David (pictured above, no 21, at the 1953 British Games) was a semi-finalist in the 400 metres hurdles at the 1952 Olympic Games in Helsinki. He won the gold medal at the 1953 World Student Games in Dortmund and set a British record of 52.7 seconds for 440 yards hurdles in 1952. He won seven Scottish championship titles between 1949 and 1954 over 440 yards and 440 yards hurdles. 
A fuller career summary can be found here in our Athletes section.
David Keir Gracie, 26 January 1927 - 26 October 2020.
25 September 1930 - 25 September 2020. Today is the ninetieth anniversary of the formation of the Scottish Women's Amateur Athletic Association. Head over to the scottishathletics website for the story of the origins of women's athletics in Scotland and some landmarks throughout the years.  https://www.scottishathletics.org.uk/about/history/arnolds-archive/58688-2/
(Photo montage courtesy of scottishathletics)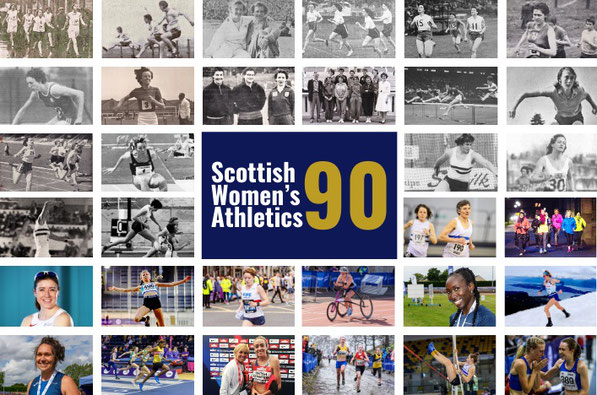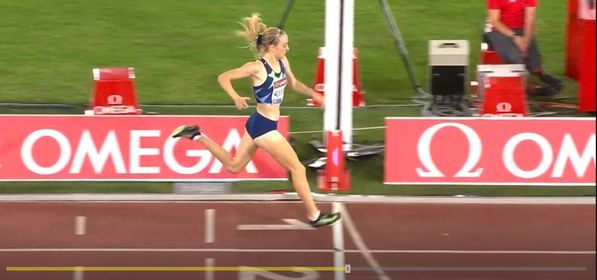 ROME, 17 September 2020. Jemma Reekie finished fourth in Bellinzona two days ago but was still fresh enough to gain a revenge victory over Hedda Hynne as well as gaining success over Laura Muir, winning the Wanda Diamond League 800 metres in Rome in 1:59.76. Reekie has won four of her five outdoor races, all in sub-2 minute times.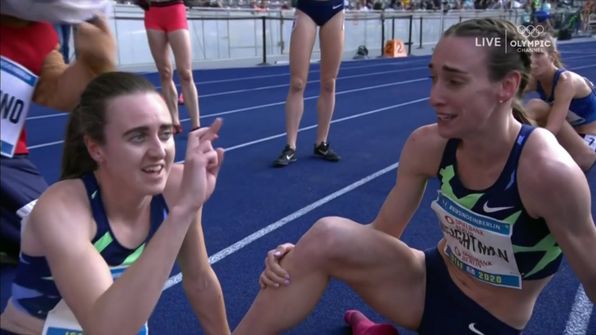 BERLIN, 13 September 2020. Another dominant victory for Laura Muir with a world leading 3:57.40 1500 metres in Berlin, also an ISTAF Berlin meet record of 3:57.40. Runner-up Laura Weightman ran a PB of 4:00.09, Australian Jessica Hull  an Oceania record 4:00.42in 3rd. The leading times in the world this year are: 1- Muir 3:57.40 in Berlin, 2- Muir 3:57.86 in Stockholm, 3- Muir 3:58.24 in Chorzow. Faith Kipyegon and Sofia Ennaoui are the only other athletes to better sub-4.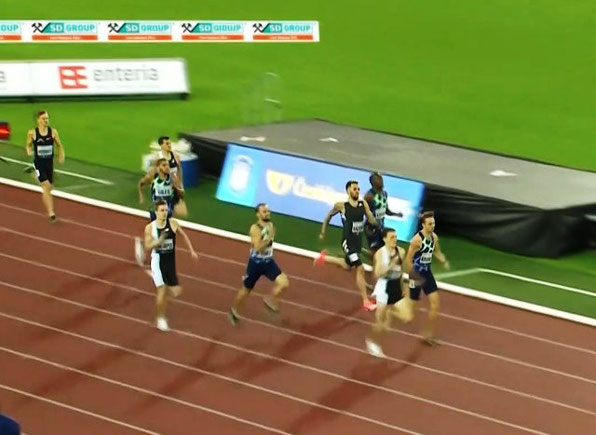 OSTRAVA, 8 September 2020. There was double success at the Golden Spike Meeting in Ostrava as Jake Wightman and Laura Muir recorded 800 metres wins in significantly fast times. Jake set a personal best of 1:44.18 as he produced an exhilarating finish to set the fastest time seen by a Scot since Tom McKean's national record of 1:43.79 set in 1989. The time eclipsed Jake's previous best of 1:44.61, set in 2018. Laura enjoyed emphatic success in her 800, winning by almost two seconds in a season's best 1:58.84. That is the first time Laura has won an 800 in under 2:00 on the international circuit. Jemma Reekie, though, suffered her first 1500 metres defeat of the season as she was outpaced by Faith Kipyegon and Laura Weightman, finishing third in 4:03.25.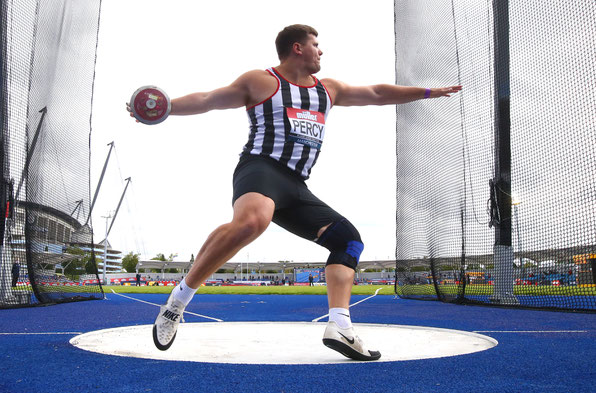 MANCHESTER, 5 September 2020. Nick Percy followed up on the success of Kirsty Law to give Scotland both discus titles at the British Championships. Nick had a hesitant start but threw his title-winning distance of 59.74 metres to win his fourth British title. Chris Bennett (hammer), Jake Wightman (800) and Neil Gourley (1500) added silver medals as Scotland finished the championships with 2 gold medals, 4 silver and 1 bronze.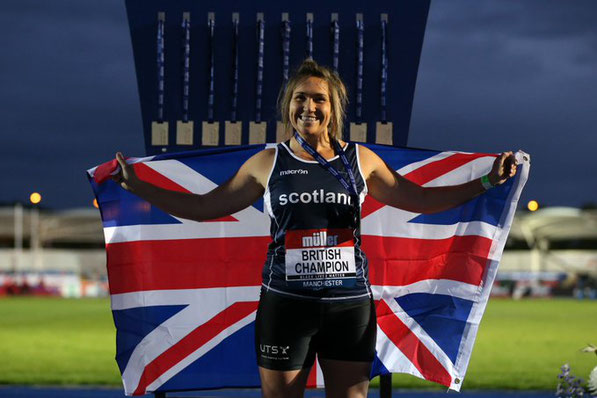 MANCHESTER, 4 September 2020. Kirsty Law produced a personal best throw of 57.95 metres in the final round of the discus to win the British Championship from close rival Jade Lally. It was her first victory over Lally in ten competitions since athletics emerged from lockdown. Law retained her title from 2019 and recorded her 10th medal at these championships - only Yvonne Murray with 15 has achieved more on the women's side.  Will Grimsey, who confirmed his Scottish eligibility earlier this year, took silver in the high jump. Heather Paton won the bronze medal in the 100 metres hurdles. This was Heather's first senior medal and she became the first Scot to medal in the event since Pat Rollo in 1984.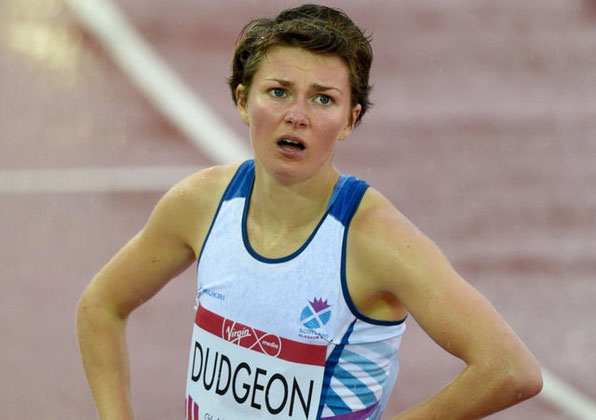 A catch-up on changes of club approved by scottishathletics:   
From 1 April 2020
Zoe Bates, Edinburgh AC to Aberdeen AAC; Lewis Craigie, Whitemoss AAC to VP Glasgow AC; Mara Duffy, Ross County AC to Inverness Harriers AAC; Paula Frame, PH Racing Club to Lothian RC; Courtney Fraser, Whitemoss AAC to VP Glasgow AC; Roger Goddard, Strathearn Harriers to Central AC; Ian Horsburgh, Gala Harriers to Penicuik Harriers; Camilla Kerr, Great Western Runners to Portobello RC; Kendra Laird, Dunbar RC to Team East Lothian; Tony Martin, Falkland Trail Runners to Fife AC; Alison Marven, Falkland Trail Runners to Linlithgow AC; Caroline Marwick, Inverness Harriers AAC to Highland Hill Runners; Rebecca Matheson, Aberdeen AAC to Woodford Green AC; Samantha McClune, North Ayrshire AAC  to VP Glasgow AC; Claire McCracken, Bellahouston Harriers to Giffnock North AC; Carly McNeil, Aberdeen AAC to Newburgh Dunes RC; David Morton, Carnegie Harriers to Fife AC; Carly Smith,  Edinburgh AC to Livingston AC; Evelyn Struthers Hamilton Harriers to Shettleston Harriers; Will Toms, Hercules Wimbledon Club to Edinburgh AC; Kirsty Watson, Inverness Harriers AAC to Ross County AC; Zoe Watson, Haddington RC to Team East Lothian.
From 1 May 2020
Martha Beattie, Musselburgh & Dist AC to Team East Lothian; Dylan Drummond, Motherwell AC to Cumbernauld AAC; Harry Glasgow, Team East Lothian to Musselburgh & Dist AC; Andrew Lonie, Dunbar RC to Team East Lothian; Eilidh Sproule, Musselburgh & Dist AC to Team East Lothian; Roy Taylor, Pitreavie AAC to Elgin AAC; Victoria Ward, Fife AC to Falkland Trail Runners; Mary Western, Fife AC to PH Racing Club.
From 1 June 2020
Sarah Coutts, Pitreavie AAC to Fife AC; Ryan Christie, Keith & District AAC to Newburgh Dunes RC; Michael Holt,  Inverness Harriers to Ross County AC; Hamish Hughson, Chepstow Harriers to Fife AC.
From 1 July 2020
Paul Hammond, Falkland Trail Runners to PH Racing Club.
From 1 August 2020
Brian Abbot, Lorraine Abbot, PH Racing Club to Pitreavie AAC.
From 1 September 2020
Simon Everard, London Heathside to VP Glasgow AC; Alastair Ewan, Bellahouston RR to Westerlands XC Club; Daniel Hale, Dundee Hawkhill Harriers to Fife AC; Ashleigh Reid, Arbroath & Dist AC to Dundee Hawkhill Harriers; Dawn Russell, Law & Dist AC to Kilbarchan AAC; Iain Simpson, Falkland Trailrunners to Lomond Hill Runners AAC; Emily Todd, Edinburgh AC to Thames Valley Harriers.
From 1 October 2020
Briagha Cook, Central AC to Aberdeen AAC; Ross Duffin, Motherwell AC to Law & District AC; Logan Fearn, Fife AC to Pitreavie AAC; Gordon Lennox,  Inverness Harriers to Highland Hill Runners; Aaliyah McCloud and Mica McCloud, Pitreavie AAC to Central AC; Sandy McDougall, Haslemere and Border AC to Dundee Hawkhill Harriers; Malcolm McLure, Dunfermline Track & Field AC to Fife AC; Rosie Meyer, Banchory Stonehaven AC to Aberdeen AAC; Simon Okiti, Inverclyde AC to Greenock Glenpark Harriers; Holly Reed, Edinburgh AC to Harmeny AC; Calvin Simpson, Law & District AC to Edinburgh AC; Alexander Thomson, Whitemoss AAC to VP Glasgow AC; Ruth Walsh, VP Glasgow AC to Giffnock North AC. 
CHORZOW, Poland, 25 August 2020. Jemma Reekie convincingly won the 800 metres at the Janusz Kusociński Memorial in an outdoor best of 1:58.63. That sees her move to the top of the world rankings ahead of Rose Mary Almanza of Cuba (1:58.92) who recorded her time pre-lockdown. With Laura Muir topping the 1500 metres rankings, the Andy Young-coached squad now provide two Scottish athletes on top of the world.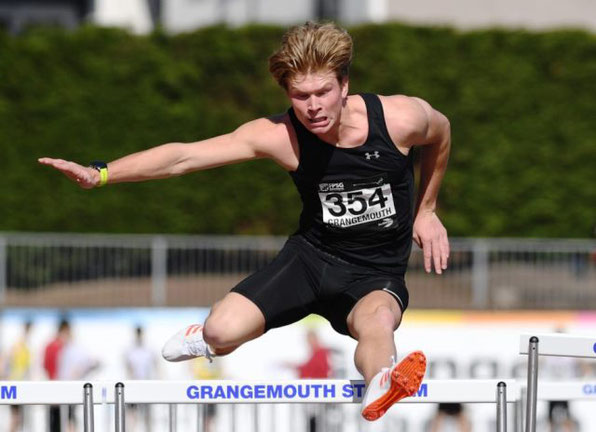 WARSAW, 23 August 2020. Edinburgh AC's Cal McLennan (photo-Bobby Gavin) won the 1500 in the decathlon in 4:15.98 to record the fastest 1500 metres by a Scot in a senior decathlon event, bettering Brad McStravick's 4:18.41 in 1980. Alastair Stanley did run 4:14.12 in 2014 in a junior decathlon.
The best Scottish individual performances within the senior decathlon are:
100 10.63w Brad McStravick, LJ 7.59w Duncan Mathieson, SP 14.68 Jamie Quarry, HJ 2.15 David Barnetson, 400 48.3 McStravick, 110H 14.22w David Feeney, DT 47.12 Alexis Sharp, PV 4.90 Andrew Murphy, JT 61.60 Roger Skedd (McStravick 62.48 with old style javelin), 1500 4:15.98 Cal McLennan.
and in a heptathlon:
100H 13.77 Holly McArthur, HJ 1.86 Jayne Barnetson, SP 14.58 Mary Anderson, 200 24.18 Emma Lindsay, LJ 6.07 Jayne Barnetson (6.39 Moira Walls in pentathlon), JT 51.79 Chloe Cozens, 800 2:10.28 Mary Anderson.
STOCKHOLM, 24 August 2020. Scotland's middle-distance stars recorded victories at the Wanda Diamond League/Bauhaus Galan meeting in Stockholm. Jemma Reekie recorded her first Diamond League win, taking the 800 metres in 1:59.68, and Laura Muir ran away from the rest of the field to win the 1500 metres by almost four seconds in 3:57.86.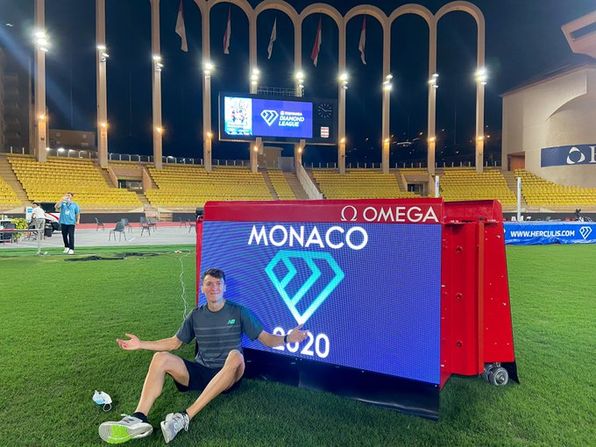 MONACO, 14 August 2020. We witnessed an astonishing run by Jake Wightman at the Monaco Herculis Wanda Diamond League meeting, breaking his own Scottish record by over two seconds! With a run of 3:29.47 in third place behind Timothy Cheruiyot and Jakob Ingebrigtsen , he became the first Scottish athlete to better 3:30 for 1500 metres.
In the women's 1000 metres, Laura Muir dug in deep to record 2:30.82 behind a highly impressive Faith Kipyegon. Jemma Reekie's PB of 2:31.11  saw both Scots inside the long-standing British record of 2:32.55, set by Kelly Holmes 23 years ago.
SOLLENTUNA, 10 August: Neil Gourley (339) on his way to the second fastest 2000 metres run from a Scot, finishing 3rd at the Folksam Grand Prix in 5:00.73, behind the winner Kalle Beglund (36)  4:59.71. Only Graham Williamson heads Neil on the Scottish all-time list. 
TRIESTE, 1 August: Jemma Reekie and Laura Muir continued their rivalry from the indoor season with an impressive return to the track in Trieste. Reekie won in 1:59.52, her first outdoor run under 2 minutes, her previous best being 2:01.45. Muir was a fine second in 1:59.54.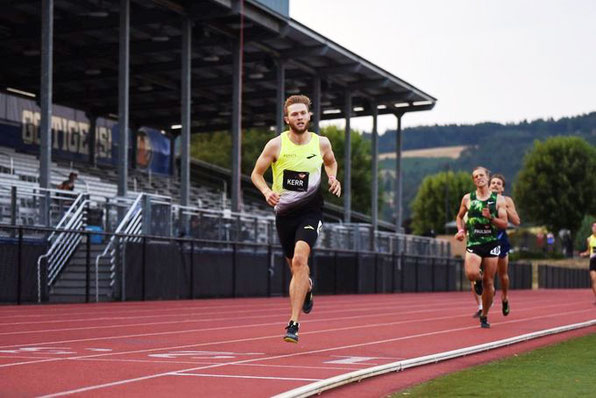 NEWBERG OR, USA, 31 July: Josh Kerr was in fine form at the Big Friendly 3 in Newberg, winning the 1500 in 3:34.53 from Will Paulson 3:35.59 and Craig Engels 3:36.01 as the top 7 all broke 3:40. The time is Josh's third fastest 1500 and puts him at the top of the Scottish rankings.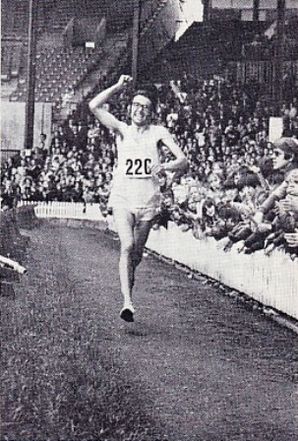 Scottish athletics mourns the passing of one of the great Scottish endurance runners, Donald Macgregor.  The following tribute is edited from The Past Is a Foreign Country. 
In 1965, at twenty-five years old, having run for Scotland in the International cross-country championships, won the SAAA ten miles track, he decided to try the SAAA Marathon. During the race, Donald kept up with the experienced and confident Alastair Wood, who eventually drew away up a series of rises around nineteen miles. Wood won in 2 hours 20 minutes 46 seconds while Donald struggled in to finish in 2:22:24, a painful but promising debut.
By 1967, Macgregor had progressed to third in the AAA marathon in 2:17:19 behind Jim Alder and Wood. This was after three weeks of intense hot-weather training in Vichy, France. He ran about seventy miles per week, which led to good track speed and a personal best in the marathon. In 1969, Donald represented Great Britain for the second of many occasions, this time in the famous Kosice marathon in what was then Czechoslovakia, finishing second in 2:17:33.2 to Demissie Wolde of Ethiopia, who had been 7th in the Mexico Olympic event.
The Commonwealth Games were held in Edinburgh in 1970 and the Scottish Championship and trial for the Marathon in May was hotly contested. Donald Macgregor ran 4,699 miles in training that year, the most he ever did. He was only narrowly outsprinted (2:17:11 to 2:17:14) by Jim Alder, the 1966 Games gold medallist, and was delighted to make the Scottish team along with Fergus Murray. In the Games event held over the same course, Ron Hill of England rocketed away to a British and European record of 2:09:28, still, fifty years later, a Scottish all-comers' record. Donald has written that Hill 'ran like a god…no praise could be too high for his performance.' Jim Alder was the bravest of silver medallists in a new Scottish record of 2:12:04 and Macgregor was satisfied to finish 8th in a personal best of 2:16:53.
Macgregor ended a long, tiring 1970 by taking part in an invitation race attempting to better the world 2 hours track record at Pitreavie Stadium on December 12. A good quality field had been assembled running on a cold but bright day with no wind. Donald and Alastair Wood set the pace from the start covering 5 miles (25:30), 10 (51:06), 15 (1:16:31.8) and by 20 miles, recorded 1:42:06.8, Macgregor had a lead of 13 seconds as he chased Jim Alder's 6-year-old world 2 hour record of 23 miles 1071 yards. In a very even paced race Macgregor covered 11 miles 1344 yards in the first hour and 11 miles 1387 yards in the final hour for a total distance of 23 miles 971 yards – just 100 yards behind Alder's record with Wood 400 yards behind in second place. He achieved a new world best of 1:50:59.8 for the rarely-run 35 kilometres distance and also achieved numerous Scottish native, national and all-comers' records at intermediate distances. His time was reckoned to be the equivalent of 2:13:30 for the marathon and was a fine finale to an eventful year.
It was in the Olympic year of 1972 that Donald Macgregor reached his peak. In the Maxol Marathon British trial, he passed thirteen rivals during the second half and finished third in 2:15:06 to secure a surprise place in the British team after forecasting pre-race that he would finish in 2:15:00. Having recovered quickly, he managed ten 100 mile weeks, much of it at 5:30 to 6 minutes per mile pace, and spent three weeks at altitude in St Moritz, coming down to sea level ten days before the Olympic marathon. In Munich on Sunday September 10th, he found the initial pace difficult but judged his effort very well and came through fast, moving up from 30th at 5k to 8th at 40k. Ron Hill wrote in The Long Hard Road "I glance round and get the shock of my life. There, head on one side (the left), black-rimmed spectacles, grimacing face, it's Macgregor ... he's ungainly but Christ he's travelling, he's like a man possessed." They passed Jack Foster of New Zealand then Hill's desperate sprint on the Olympic track left Donald to cross the line 7th in 2:16:34.4, and just 1 minute 26 seconds outside winning an Olympic medal, a very fine achievement, and one of which the modest Macgregor was rightly proud.
In 1973, Donald won his first SAAA marathon title in 2:17:50 from Jim Wight and both were selected for the Christchurch Commonwealth Games. Before the Commonwealth marathon, Macgregor maintained well over ninety miles a week for sixteen weeks and was fit but perhaps not quite fast enough due to a lack of races during the last six weeks. His Christchurch room-mate Ian Stewart convinced him to go for a slow four-mile run immediately after arrival at the Games Village and only then to have a sleep, in a successful effort to deal with jet-lag. Despite finding the pace too rapid after five miles, Donald passed several runners in the second half of the marathon to end up 6th in his best-ever time of 2:14:15.
Donald, representing first Edinburgh Southern Harriers and later Fife AC, won the SAAA marathon titles again in 1974 (2:18:08) and 1976 (2:24:12) to add to the six silver medals he won between 1965 and 1986. As a new veteran at Hanover in 1979, Donald ran an impressive 30:04.2 to win the World Veterans 10,000 metres by 55 seconds. Then, in the marathon, after he had waited for John Robinson of New Zealand and had agreed to run in together, his companion sprinted away to a one-second win. However in August 1980 near Bellahouston, Glasgow, a determined Macgregor overtook Robinson with three miles to go and gained revenge by winning gold (2:19:23) in the World Veterans marathon championship, just seventy yards in front.
In 1983 he seemed reborn at 43 when he won the first Dundee People's Marathon in 2:17:24. Macgregor has run the most sub-2:20 marathons by a Scot - 24. Durable Donald continued to win veteran's events despite problems with fading eyesight, steamed-up spectacles and a tendency to trip over dips, ruts and obstacles. Retired from teaching, this droll self-deprecating man took an active part in public affairs in St Andrews.
In a long, eventful and successful career over track, road and cross-country, he won 5 Scottish titles over 6 miles, 10 miles and marathon, setting a personal marathon best of 2:14:15 at the 1974 Christchurch Commonwealth Games, ran in numerous international cross-country races for Scotland and won two World Veteran titles over 10,000 and Marathon. 
Donald Forbes Macgregor, 23 July 1939 - 3 June 2020.
8 May 2020. There may be no athletics activity at the moment but I've been researching other areas. Two new pages have been added to the website and work is continuing to develop them further. 
The road racing results section now has collected results from over 30 races covering the winners of the events for the years from 2010 to 2020 (yes, some races have been run this year!). Work continues on this and races are being added regularly. Once this has been completed, then the information from 2000 to 2009 will be added for each event.
I have also added a Trophies page to record the winners of prestigious trophies such as the Coronation Cup, Crabbie Cup, Donald McNab Robertson Trophy and others. This is incomplete and research is continuing so if anyone has any of the missing information, please get in touch.
Something different for these different times. Recognising the outstanding work of those who have photographed Scottish athletes over the years, I am delighted to add galleries of the work of five of these talented photographers. Spanning the 1980s to the present day, you can find a small sample of photographs taken by John Scott and Graham MacIndoe (1980s), Roddy Simpson (1990s), Gordon Gillespie (2000s) and Bobby Gavin (present day). Thanks to the photographers and please respect their copyright. See the Photo galleries on the menu on the right.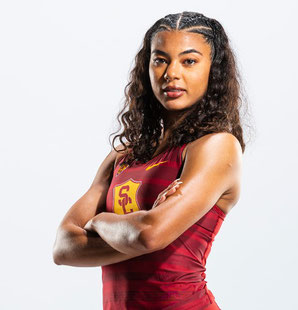 29 March 2020.  Two athletes who have recently elected to compete for Scotland and have had their eligibility confirmed have interesting backgrounds.
Decathlete Alex Hookway has a best score of 5,628 points and scored 4,133 points in the indoor heptathlon this year. Alex is the son of former Scottish international and heptathlon record-holder Val Walsh and competes for the same club his mother did, Tonbridge AC.
USA-based Nicole Yeargin is at the University of Southern California and recorded bests last year of 23.26 for 200 metres and 52.76 for 400 metres. This year she recorded 23.54w and 53.91 before the season was suspended. Nicole's mother hails from Dunfermline.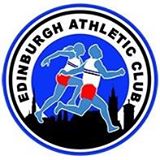 28 March 2010. The SATS Challenge Track & Field Club of the Year table is up with the top 50 clubs shown. Congratulations to our winners - Edinburgh AC - who performed strongly across all age-groups, and especially the seniors and under 20s.
Victoria Park City of Glasgow were greatly helped by the strength of their women's section which took them into second place overall and Giffnock North AC, who were there or thereabouts in each age-group were the third team to amass 1000 points.
Pitreavie AAC were consistent across all the age-groups to take fourth. Honourable mentions, too, to some of the emerging and smaller clubs - Team East Lothian in 11th, North Ayrshire AC in 12th, and Dunfermline Track and Field Club in 16th. 
As the table is based on first-claim membership, unfortunately no points go to clubs who have developed athletes but where the athlete has joined another club to gain a higher level of competition.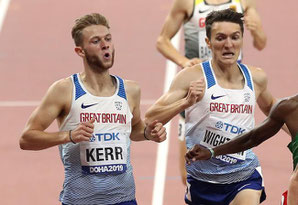 27 March 2020.  If the age-group challenges were close, there was no disputing the winners of the SATS Challenge Club of the Year senior title.
Edinburgh AC blew away the opposition to win by nearly 400 points. Scoring heavily with their middle-distance trio of Josh Kerr, Chris O'Hare and Jake Wightman, and running up a massive 394 points on the women's side, it was just a question of who was going to finish second.
That was close, but VP-Glasgow followed a traditional pattern of being pulled through by their women's section, overhauling five teams who had scored more highly on the men's side, to beat Kilbarchan AAC into second place.
Follow the link above to see how your club did. Tomorrow, the overall club of the year rankings will be published.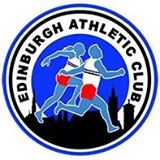 25 March 2020. Our SATS Club of the Year Challenge reaches the Under-20 age-group. They have been edged out of the younger age-groups but this time our clear winners are Edinburgh AC. Amassing 328 points, they finished 78 points clear of Aberdeen AAC.
This was Aberdeen's best performance yet, topping the women's section after placing 6th on the men's side.
Pitreavie AAC, who have performed strongly across all the age-groups, with 5th U13, 3rd U15 and 4th U17 were consistent across both sexes to                                                                            grab 3rd.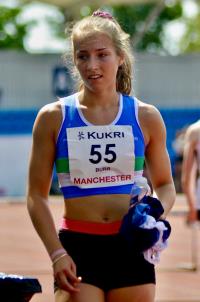 24 March 2020. They've done it again! The strength of the VP-Glasgow girls squad saw them score over 70 points more than their nearest rivals to win the SATS Challenge Under-17 Club of the Year title by just three points from Giffnock North AAC.
Giffnock led the men's side from Edinburgh AC and VP-Glasgow and although they finished 2nd in the women's events, they were just thwarted by VP for the overall title.
Pitreavie AAC put in another solid performance to finish 4th ahead of Fife AC who benefited from some high points gathering from Anna Hedley. 
There were top ten finishes for Kilbarchan AAC and Livingston AC, neither of whom had finished in the top twenty in the younger age-groups.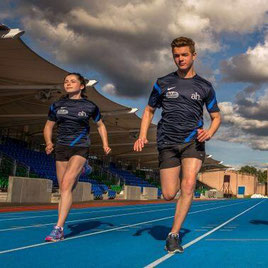 22 March 2020. We continue the Club of the Year SATS Challenge with the Under 15 age-group today and it was the strength of the VP-Glasgow girls squad that shot the club to the title, beating Edinburgh AC by just seven points. The VP girls were 51 points ahead in their rankings, recovering from the 10th placed position of the boys team.
Edinburgh AC performed consistently across the events to finish 2nd and Pitreavie AAC, also boosted by the quality of the girls performances - Rebecca Grieve and Sophie Wallwork among them - took 3rd place.
Our under 13 winners Giffnock North topped the boys scores but couldn't match it with the girls and finished 4th overall.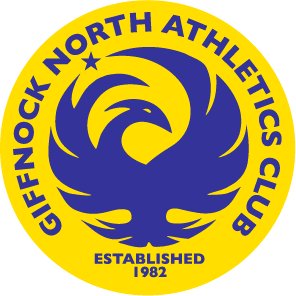 21 March 2020. Each year we produce our annual rankings covering seniors, under-20s, under-17s, under-15s and under-13 age-groups. You can find them on our annual rankings page.
Today, we are using these rankings to run a new SATS Challenge Club of the Year 2019 competition.
If you ranked first in the rankings, your club will score 10 points; if you ranked second, your club will score nine points ... and if you ranked tenth, your club will score one point.
Today we start with the Under-13 SATS Challenge and you can see the tables on our Club of the Year page. We will work through the age-groups up to an overall SATS Challenge Club title.
The Under-13 tables show an interesting split between boys and girls total, but emerging the strongest were Giffnock North, 2nd in the boys group and 4th in the girls group, to gather 200 points and finish 29 points clear  of Edinburgh AC. Third were Victoria Park City of Glasgow AC, although they only collected 6 points from the boys' side.  
The following changes of club have been approved by scottishathletics with effect from 1 March 2020:   
Ian Birch, Bellahouston Harriers to Motherwell AC; Michael Christoforou, Edinburgh AC to Cambuslang Harriers; Zennor Coombs, Corby AC to Nithsdale AC; Jack Devine, Larkhall YMCA Harriers to Law & Dist AAC; Nicola Doohan, Inverclyde AC to Greenock Glenpark Harriers; Callum Gibb, Arbroath & Dist AC to Dundee Hawkhill Harriers; Christine Gunstone, South Derbyshire RR to Portobello RC; Iain Hutchinson, Harmeny AC to Corstorphine AAC; George Lupton, Porobello RC to Carnethy Hill RC; Alan McGowan, Carnegie Harriers to PH Racing Club; Asier Nieva, Musselburgh & Dist AC to Team East Lothian; John Owens, Springburn Harriers  to Shettleston Harriers; Evan Ross, Pitreavie AAC to Corstorphine AAC; Mella Slattery, Aberdeen AAC to Newburgh Dunes RC; Lucy Taylor, Aberdeen AAC to Metro Aberdeen RC; Eden Wojcik, Moray RR to Elgin AAC; Amanda Woodrow, Edinburgh AC to Carnethy.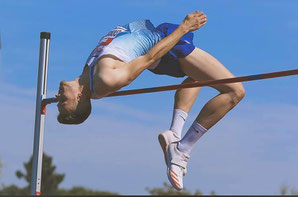 19 February 2020. High jumper Will Grimsey (Woodford Green & Essex Ladies) who cleared a PB of 2.24 metres in January and currently sits 2nd in the UK rankings, has sought to compete for Scotland and has been confirmed eligible through parentage.
Will is the latest in a number of athletes who have been confirmed eligible to represent Scotland in the last few months. Others are:
Krishawn Aiken (Shaftesbury Barnet & Kilbarchan) PB 47.57 400 metres; Virginie Barrand (Metro Aberdeen) 80:47 Half Marathon; Cameron Bell (Hallamshire) 3:46.27 1500 metres; Ewan Bradley (West Cheshire, U20) 4.41 Pole Vault; Stewart Greenhalgh (Bromsgrove & Redditch, U20) 6.94 60 metres; Peter Hodkinson (Notts AC & Hunters Bog Trotters) 31:06.95 10000 metres; Christian Volodiev Hristov (Glasgow City AC) 10.92w 100 metres; William Ronald (Corby & Kilbarchan, U15) 2:17.70 800 metres; Cara Terry (Cookham, U17) 4:38.94 1500 metres; Hamish Wolfe (Heriot Watt University) 33:12 10k.
Athletes are eligible to represent Scotland if they a) have been born in Scotland; or (b) have either parent born in Scotland; or (c) have continuously resided in Scotland for a period of 3 years immediately prior to the date of acceptance of eligibility by Scottish Athletics Ltd; or, (d) have been declared eligible, selected for and competed for Scotland in an international whilst previously qualified under (a), (b) and (c) and have not since been rendered ineligible by competing for another country, either in the UK or elsewhere.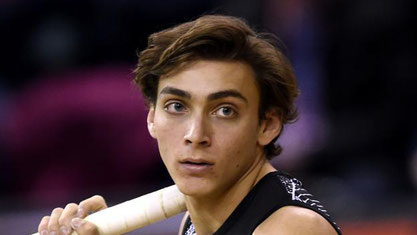 15 February 2020. With Storm Dennis raging outside, Glasgow's Emirates Arena erupted inside as Mondo Duplantis made this a historic occasion for athletics in Scotland. 
We witnessed the first ever 6 metres pole vault clearance in Scotland, the first world record set at the Emirates, the first world record set in Scotland since the Russians set a women's world 4x400 record in 2006.
One week after breaking the pole vault world record in Torun, Armand Duplantis improved the mark to 6.18 at the Muller Indoor Grand Prix Glasgow. Opening at 5.50, he got over 5.75 on his second try. He sailed over 5.84 on his first attempt and then 6.00, a UK indoor all-comers' record. 
The bar moved up to 6.18m. A technical glitch on the track allowed an attempt at the world record height, and almost casually, Duplantis went up and over. "This was such a great competition," said Duplantis. "There was such great energy the crowd was giving me and I really thrive off that."
Jemma Reekie lived up to her promise to win the 1500, finding space on the inside to challenge and overcome Ethiopia's 2016 world indoor silver medallist Dawit Seyaum to win in a new Scottish native record of 4:04.07 to remove another of Laura Muir's records.
Laura Muir though did not achieve her world record target in the women's 1000, but won convincingly in 2:33.47, the 11th-fastest indoor clocking of all time. Anna Dobek was an unconvincing pacemaker but took Laura through 400 in 60.04 and 600 in 1:31.13. Muir passed 800 in 2:01.65 but was tiring in her quest to reach Maria Mutola's world record of 2:30.94.
There was a Scottish all-comers' record for Ronnie Baker of the USA who slaughtered the sprint field in the men's 60 to win in 6.50, giving him joint custody of the record.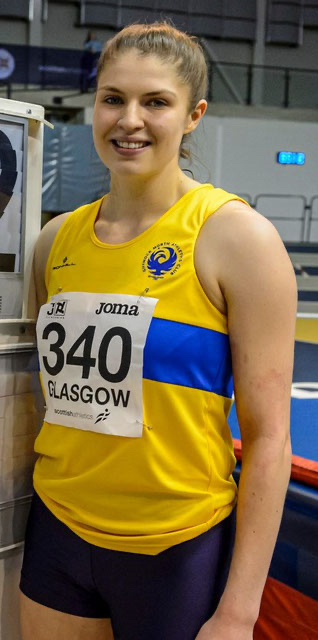 The two rising stars of the Scottish athletics indoor season put their mark on the weekend's performances with further record performances.
In the week that Emma Nuttall announced her retirement, Nikki Manson showed the High Jump is in safe hands as she raised her indoor record by 1cm to 1.93 metres at Hustopece in the Czech Republic.
First time clearances at 1.80, 1.84, 1.87 and 1.90 led to achieving her record 1.93 on the second attempt before attempts at 1.95 and 1.96. Nikki has now put 5cm between her and the next ranked indoor high jumper.
And what can one say about the incredible start to the year that Jemma Reekie has made. Running in the Wanamaker Mile at New York's Millrose Games, Jemma set a new British indoor mile record and, for good measure, added the 1500 record en-route. Going through 400 metres in 63.78 behind the 63.50 set by Germany front-runner Konstanze Klostenhalfer, the positions remained as they were through 800m and 1200m which Jemma passed in 2:08.46 and 3:13.18, before USA's Elle Purrier came through with a final lap of 61.84 to win in 4:16.85, overcoming Klostenhalfer and Reekie. Jemma finished in 4:17.88, having passed 1500 at 4:00.52, bettering the British records of Laura Muir which stood at 4:01.84 and 4:18.75.
The following changes of club have been approved by scottishathletics with effect from 1 February 2020:   
Joshua Benton, Deeside Runners to Metro Aberdeen RC; Daniel Boyle, Whitemoss AAC to Giffnock North AC; Andrew Campbell, Bellahouston RR to Giffnock North AC; Janette Clarkson, Hamilton Harriers to Shettleston Harriers; Matthew Davies, North Herts RR to Edinburgh AC; Jacqueline Etherington, Sunderland Harriers & AC to Cambuslang Harriers; Charlie Frew, Whitemoss AAC to Giffnock North AC; William Gardner, Edinburgh AC to Corstorphine AAC; Patrick Gibbons, Helensburgh AAC to Garscube Harriers; Tim Hely, Troon Tortoises to Edinburgh AC; Alice Hosking, London Heathside to Edinburgh AC; Karen Kennedy, PH Racing Club to Fife AC; Kieran Kivlin, Edinburgh AC to Lasswade AC; Alison McGill, PH Racing Club to Fife AC; Megan McKay, Moray Road Runners to Elgin AAC; Erin Partridge, Central AC to Falkirk Victoria Harriers; Gary Pirie, Falkland Trail Runners to PH Racing Club; Rebekah Rose, Perth Strathtay Harriers to Dundee Hawkhill Harriers; Ramsay Sloss, Larkhall YMCA Harriers to Law & Dist AC; Alison Sutherland, Carnegie Harriers to Fife AC; Phil Thompson, Spey Runners to Moray RR; Vincent Taylor, Montrose & Dist AC to Pitreavie AAC; Jennifer Urquhart, Nairn Road Runners to Forres Harriers.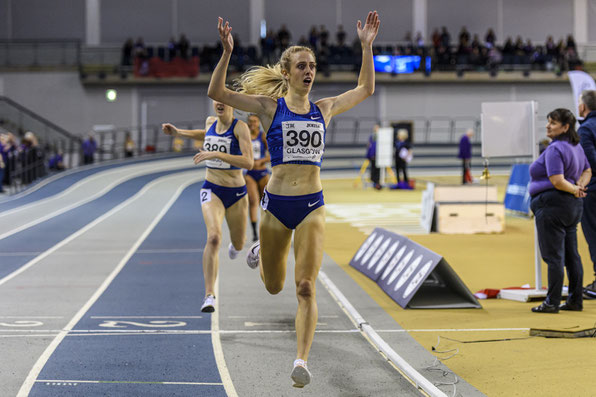 1 February 2020. What a run from Jemma Reekie! Not only beating Laura Muir but setting a new British record of 1:57.91 smashing Jenny Meadows' best of 1:58.43. Her first run under 2 minutes and beautifully captured by Bobby Gavin. Scottish national, native and all-comers' records and the fastest women's indoor 800 in the world since 2006!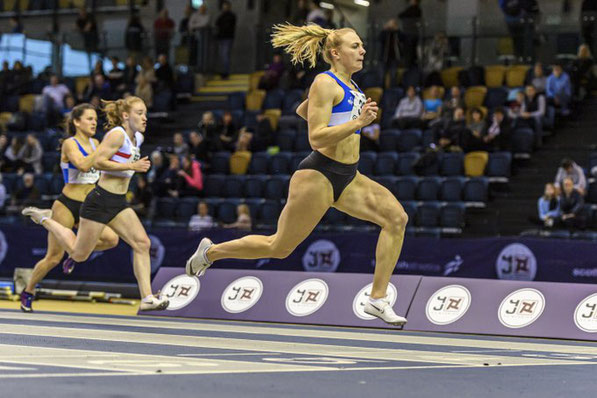 26 January 2020. Alisha Rees and Nikki Manson were the stars of the Scottish Senior Indoor Championships at the Emirates Arena, Glasgow. Alisha, pictured above by Bobby Gavin, bettered Susan Burnside's 60 metres national record of 7.35 with her winning run of 7.33 seconds. She also gained the Native Record which stood to Burnside and Melanie Neef at 7.36. 
Nikki set a new PB of 1.92 metres to better her own National and Native Records of 1.90 in the high jump.
In the USA, Jake Wightman captured the British indoor record for 1000 metres with his run of 2:17.51 at the New Balance Indoor Games at Boston.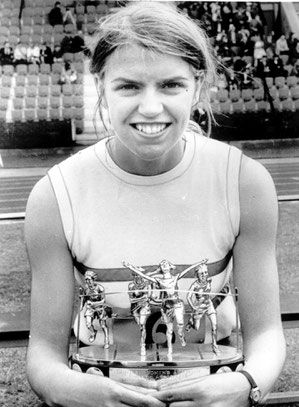 11 January 2020. New-ish additions to the website for this year: 
I've been writing historical articles for scottishathletics over the last few months. You will now be able to find them here as well - the first three have been added to Arnold's Archive which you can locate on the menu on the right.
There's also a new Athletes section added (see the menu on the top). Six years ago, Colin Shields and I published The Past Is a Foreign Country featuring biographies of Scottish athletes. These are now being added to the website (corrected and updated as appropriate) together with additional factual information on the athletes' careers. The first three have been added covering Helen Golden, Mike Hildrey and John Linaker, and this section will be added to regularly in the weeks and months ahead.
6 January 2020. Today sees the start of a new Facebook group, the SATS Scottish Athletics Network, which replaces the Forum which has been closed down.
The Network is open to everyone interested in athletics and will be a meeting place to chat, share opinions, ask questions, offer advice, discuss events, make friends.
Before we've even launched, we have over 130 members who have joined, so make it successful, take a look, and join today.
Join now and pass it on!
Most notable among this month's club moves is that of Andrew Fyfe, the Anglo middle-distance runner from Belgrave, who strengthens Edinburgh AC. Andrew set bests last year of 3:53.84 at 1500 metres, 8:26.83 for 3000, 14:22.51 for 5000 and 30:16.88 at 10000, the latter two being his first year at the events.
The following changes of club have been approved by scottishathletics with effect from 1 January 2020:  
James Barnet, Falmouth RRC to Fife AC; Nicola Caig, North Ayrshire AC to VP Glasgow AC; Karen Campbell, Falkland Trail Runners to Fife AC; Ramsay Cook, Montrose & Dist AC to Aberdeen AAC; Steven Cooper, Calderglen Harriers to Whitemoss AAC; Skye Davidson, Springburn Harriers to Hamilton & Dist AC; Andrew Fyfe, Belgrave Harriers to Edinburgh AC; Emily Guest, Central AC to Falkirk Victoria Harriers; Harry McGill, Greenock Glenpark Harriers to Kilbarchan AAC; Roisin Napier, Dunbar RC to Team East Lothian; Matthew Sanders, UKnetrunner to Moray RR; Femke Waite, Ross County AC to Inverness Harriers; Euan Webster, Aberdeen AAC to Ayr Seaforth AC.
The Scottish Association of Track Statisticians has documented athletics performances in Scotland for over 50 years and this website provides authoritative and factual information on performances, rankings, athlete profiles, and records as well as documenting the history of the sport in Scotland.
You can follow us as well on our facebook page for information and stories.