Jimmy BRYCE. d. May 2020, age 88. Renowned athletics coach, famously taking Linsey Macdonald to the Moscow Olympics in 1980 and Gemma Nicol to the Commonwealth Games at Manchester in 2002. A winner of the Powderhall sprint in 1956, he was a founder of Lochgelly & District AC, which has since evolved into Dunfermline Track and Field Club.
Joseph CLARE. b. 9 October 1939; d. February 2020. Joe was a tall, powerful, very reliable English athlete who trained for a while in Aberdeen with international runners Alastair Wood and Steve Taylor. He won the North District XC title in 1969. His marathon best of 2:18:43 was set while winning the 1968 Inverness to Forres Marathon. Earlier that year he had won a silver medal in the Scottish 10 Miles track championship. In 1970, on his debut, he was victorious in the famous London to Brighton ultra-marathon. He was part of the Aberdeen AAC ten man squad that broke the John o'Groats to Land's End Relay record in 1973.
Anthony COHEN. b. Glasgow, 26 January 1939, d. 19 May 2020. An international shinty player, Tony Cohen was twice Scottish Amateur Heavy Events champion in 1970 and 1971 as well as East African amateur heavyweight champion during National Service.
Aileen Killorn DRUMMOND LUSK. b. 1928, d. 11 December 2020. Aileen Lusk, who under her maiden name of Drummond was one of the pioneers of women's middle distance running in the 1950s. Aileen was the Scottish women's mile champion 1953-1955 and 880 yards champion 1954-1955. She won the national cross country championship in 1954, 1955 and 1956, leading Maryhill Harriers to the club title in each of these years. 
Douglas Morris EDMUNDS. b. Springburn, Glasgow, 29 May 1944, d. 30 October 2020. Doug was a shot and discus champion, winning the discus title in 1964, 1965 and 1967 and the shot in the four years from 1965-1968. When the indoor championships were briefly held in Perth in the 1970s, he added the indoor shot title in 1974. His distances have held up well in the 50 years that have passed since he achieved them - a 15.86 shot in 1967, 46.03 discus in 1968, and 42.93 for the hammer in 1968.  He was a strong supporter of the Highland Games and Strongman circuit. A world caber champion, his son Gregor became SHGA world champion. His book The Warrior Breed explored the warrior culture of the great Scottish Highlanders, taking the reader through centuries of Celtic history from the days of the Vikings and Rob Roy to the modern era where Highlanders have traded swords for cabers to do battle in the athletic arena. 
Donald FAIRGRIEVE. b. Galashiels 1938, d. St Boswells 2020.  Donald was the public face of campaigns to save the King's Own Scottish Borderers, having served as an officer during the Malaya Emergency of the 1950s. Captain and later president of Gala Rugby Football Club, he competed for Melrose AC and Teviotdale Harriers in the early 1960s, achieving bests of 1.87 for the high jump and 55.02 for the javelin.
Gilbert FOWLER. d February 2020, age 79. Athletics official whose dedication and enthusiasm for athletics was always evident as part of the scottishathletics start team, before retiring from officiating in early 2000.
John FREEBAIRN. b. Kilsyth, 1 January 1938. d. 24 April 2020. Scottish decathlete, finishing 5th at the AAA Championships in 1958, when he also high jumped 6' 0" and pole vaulted 11'7 3/4". His amateur career ended when he signed as a goalkeeper for Partick Thistle, making 115 appearances for Thistle. He continued on the Highland Games circuit and in coaching and competed on the veterans circuit as a member of Cumbernauld AAC into the V75 age category. Father to discus thrower Susan Freebairn.
David Keir GRACIE. b. 26 January 1927, d. 26 October 2020. Scottish Olympian, David Gracie, passed away at the age of 93. David was a semi-finalist in the 400 metres hurdles at the 1952 Olympic Games in Helsinki. He won the gold medal at the 1953 World Student Games in Dortmund and set a British record of 52.7 seconds for 440 yards hurdles in 1952. He won seven Scottish championship titles between 1949 and 1954 over 440 yards and 440 yards hurdles.  See his athlete profile. 
Ian Samuel HALLIDAY. b. Glasgow, 1934, d. Redbourn, Lincs., 14 February 2020. Victoria Park AAC sprinter, a member of their successful club team which won the Scottish 4 x 110 yards relay championships in 1958 and 1959, both in Scottish record times.
James HARRISON. 22 August 1983-29 June 2020. Corstorphine AAC athlete and team manager who was killed in a tragic cycle accident. A lead research nurse in cardiology, he was a committed athletics official, a high level triathlete and part of Corstorphine's road relay Scottish championship team.
Donald Forbes MACGREGOR. b. Edinburgh, 23 July 1939- 3 June 2020. Scottish long-distance runner, teacher and politician. He competed in the 1972 Summer Olympics in Munich, representing Great Britain in the men's marathon, in which he finished in seventh position in 2:16:34. He also competed for Scotland at the Commonwealth Games in 1970 in Edinburgh and 1974 in Christchurch, New Zealand. He had a personal best time for the marathon of of 2:14:15.4.  Macgregor ended a long, tiring 1970 by taking part in an invitation race attempting to better the world 2 hours track record at Pitreavie Stadium on December 12. A good quality field had been assembled running on a cold but bright day with no wind. Donald and Alastair Wood set the pace from the start covering 5 miles (25:30), 10 (51:06), 15 (1:16:31.8) and by 20 miles, recorded 1:42:06.8, Macgregor had a lead of 13 seconds as he chased Jim Alder's 6-year-old world 2 hour record of 23 miles 1071 yards. In a very even paced race Macgregor covered 11 miles 1344 yards in the first hour and 11 miles 1387 yards in the final hour for a total distance of 23 miles 971 yards – just 100 yards behind Alder's record with Wood 400 yards behind in second place. He achieved a new world best of 1:50:59.8 for the rarely-run 35 kilometres distance and also achieved numerous Scottish native, national and all-comers' records at intermediate distances.
He studied at the University of St Andrews and was chairman of the Royal Burgh of St Andrews Community Council until 2007, and served as a Liberal Democrat councillor on North East Fife District Council from 1988 to 1996. He was principal teacher of German in Madras College, St Andrews from 1974 until 1999, when he retired from full-time teaching. Until 2006 he taught French and German part-time in the Business School of the University of Abertay Dundee and was also a German-language tour guide. He published a book of poetry, Stars and Spikes (2004), following in the footsteps of his father Forbes, who was a prolific author. Following his running career, he coached distance athletes as a member of Fife Athletic Club. In 2010 he published an autobiography, Running My Life. In 2016, with co-author Tim Johnston, a fellow Olympian, he published His Own Man , a biography of Dr Otto Peltzer, a German athlete.
In a long, eventful and successful career over track, road and cross-country, he won 5 Scottish titles over 6 miles, 10 miles and marathon, setting a personal marathon best of 2:14:15 at the 1974 Christchurch Commonwealth Games, ran in numerous international cross-country races for Scotland and won two World Veteran titles over 10,000 and Marathon. 
John George (Jack) MACLEAN. 20 June 1929-23 January 2020. Jack MacLean was a well-liked, much respected athlete who was seriously involved in middle and long distance running since the 1950's.   A life member of Bellahouston Harriers, he joined the club in 1950 after his National Service was over.  Jack ran all distances from 880 yards up to marathon in his career and has even won a medal, as part of an English team, for walking. Known throughout Scotland, he was a member of the Scottish Marathon Club, the British Marathon Runners' Club and a founder member of the Scottish Veteran Harriers Club. 
Thomas Perry Lang McGLASHAN. 29 December 1925 - 17 September 2020. Scottish rugby internationalist who was also an accomplished field event athlete. In September 1948, he won the handicap shot put at the Edinburgh Highland Games. His throw of 40ft 2.25in (12.25 metres) put him in the top 5 in Scotland in the event that year. He married Glasgow University hurdles athlete Doris Young (1926-1985) in 1949.
John MELVIN. 9 September 1942-16 June 2020. Athletics coach at City of Glasgow AC, helping many high jumpers to international selection and success at national championships, most recently Ray Bobrownicki to a native record and Commonwealth Games in 2014. He was a life member of the club and was named 2014 Scottish Performance Coach of the Year. A highly regarded and likeable official and team manager, he sat on the Glasgow Athletics Association committee for many years. Father of high jumper Hazel Melvin. 
George MEREDITH.  14 November 1948-15 December 2020. A member of Victoria Park AAC and Cambridge Harriers, George was a tough runner who matured very well as a veteran. In his youth, he ran the Edinburgh to Glasgow four times, winning three medals: silver in 1978 and bronze in 1970 and 1980. He won the Scottish Veterans M40 cross-country title in 1990. For several years he ran consistently well for Scotland in the annual British and Irish Five Nations Masters International XC. In addition, George secured a silver medal in the 1990 British Veterans 10 miles road race. In 1982, he ran a 2:27:31 marathon. Once a knee injury stopped him racing, he turned to indoor rowing and won British age-group titles and World championship medals.
Chelsea O'RAWE-HOBBS. 24 May 1991-20 September 2020. Scottish junior international racewalker who died in a motorbike crash in September at the tragically young age of 29. Chelsea, who came from a race walking family, competed in her teens and represented Scotland in 2008.  She was fourth in the British Olympic Trials in 2008, behind fellow Scot Diane Bradley (both are pictured above in that race). Her most successful year was as a 15-year-old in 2006 when she was victorious in the AAA Under-17 5000 Walk, the AAA Under-20 5000, the RWA 10km and the English Schools 3000 metres walk. When her boyfriend passed away following a bike accident, Chelsea re-trained as a nurse, qualifying in 2019 and working as an ITU nurse in Royal London Hospital. 
John OULTON. 1931-6 February 2020. Born in Warrington, Cheshire, Mr Oulton joined the Fleet Air Arm after leaving school in 1947. He had been stationed at Condor, on the outskirts of Arbroath and following his retirement from the Navy after 25 years, the family returned to the Angus town where John took up a specialised post in the repair shop of the then new Michelin factory in Dundee. In 1978,  he led the formation of Arbroath and District Little Athletics Club (ADLAC), involving his family and fellow enthusiasts Roly Hill and Des Mardle. The club went from strength to strength and continues under the name of Arbroath and District Athletics Club.
John's love of athletics saw him compete throughout his life, including long jump and high jump as a veteran and he remains the holder of six Hawkhill Harriers vets records. A move to Monifieth in 1986 led John to move to Dundee Hawkhill Harriers, developing his own coaching methods which included the pioneering practice of using polytunnels to prepare athletes for hot weather conditions. The highlight of John's coaching career came at the 2000 Sydney Olympics when physically-challenged athletes Pauline Latto and Caroline Innes took gold medals in the javelin and 400 metres respectively. He remained a regular at the Caird Park track into the 1990s and was honoured with lifetime membership by Hawkhill Harriers.
In 2003, John received the MBE for services to sport and coaching in Scotland and he enjoyed the honour of carrying the Olympic torch through the streets of Monifieth in preparation for the 2012 London Games.
Alistair SHAW. 20 September 1936-13 May 2020. Runner and timekeeper. A member of Giffnock North AC, he started running at 46 and won a world bronze marathon medal with the UK vets team, an individual European Masters' half marathon medal and was twice British vets champion.
Daniel UPTON.  12 November 1975-29 November 2020. Thrower Dan Upton died suddenly shortly after his 45th birthday. A member of Richmond & Zetland AC, he had featured in recent years in our Scottish ranking lists. A decathlete in his early career (5719 points in 2001), he returned to the sport aged 40 and achieved a shot PB of 13.54 in 2020.
Guy VAN HERP. Belgian-born sports physiotherapist, a consultant to UK Athletics and the Scottish Football Association, he assisted many athletes over the years. A lecturer at Queen Margaret University, he also gained success on the track as a Masters athlete, winning Scottish Masters' titles at 800 metres and 1500 metres.
Dorothy Eliza WALBY,  30 October 1929- 19 January 2020.  A medical student at Glasgow University, she won the Scottish high jump championship in 1950, 1951 and 1952, and holds the distinction of being the first Scottish woman to have high jumped 5 feet. She graduated in Medicine in 1952 and, following marriage, was known as Dr. Dorothy Williamson. (Any further information would be appreciated).
Heather WELSH. 19 September 2000-4 July 2020. Throws athlete with Nairn AAC who tragically passed away after a short illness. She was North district hammer champion and bronze medallist at the 2019 Scottish under-20 championships with a personal best of 42.69 metres.
James ADAM. July 1928 - 27 October 2019. A member of Victoria Park AAC, he won the SAAA Youths One Mile championship in 1946 in 4:43.3 and won the bronze medal at that year's AAA Youths Championships. 
William Smith ANDERSON, 6 October 1937-12 August 2019. Bill Anderson was a huge man, a leading figure at the traditional events at Highland Games in Scotland, winning Scottish all-round titles from 1959 as well as a World title in 1961. He set a Scottish Championship record of 122' 5" with the 22lb wooden-shafted hammer thrown from a standing position. He was the first to throw the standard Scots hammer over 150ft and was also four times world caber-tossing champion. Awarded the MBE in 1977.
Jack BROWN. Jack Brown was basically an 880 runner with a best of 1:56 who did other events.  He ran in everything that his club was involved in and was a real inspiration to generations of young Dumbarton AAC runners. Tall, dark, deep chested he was the very model of a middle distance athlete. He was club captain from 1961 to 1969, cross-country champion from 1960 to 1963 inclusive, hill race champion 1962, 1964 and 1967, track champion 1952 to 1956 inclusive, 1960 – 1963 inclusive (1962 shared with Bobby Mills).  Jack was the club man par excellence. After his racing days were over he officiated at many meetings and was easily recognisable at Highland Games with his height, carriage and kilt. 
(from http://www.scottishdistancerunninghistory.scot) 
Janice EAGLESHAM,  1958-2019. Janice was a tireless worker for disability sport in Scotland. In 1990, together with future husband Ian Mirfin, she founded Red Star, in Glasgow, Scotland's first specialist club for athletes with a disability. It has since been responsible for Paralympic and World championships medallists, but at least as pertinently it has transformed the lives of hundreds of people with mental and physical impairment. Both she and Ian were recognised with MBEs for their huge contribution to disability sport.
Meldrum Barclay EDWARDS, 2 December 1942-8 November 2019. He set PBs of 4:11.8 (1M), 8:56.2 (2M), 13:48.6 (3M), 14:22.8 (5000m), 28:27.0 (6M), and 2:18:25 for the marathon. He went on to become a coach and all-round inspirational figure and was awarded the MBE for services to athletics and myeloma.
Sidney Thomas ELLIS, 1931-2019.  Sid was part of the popular Ellis brothers who along with Jimmy and Norrie were dedicated distance runners who represented Victoria Park AAC throughout the 1950's. He was in the 8-man team that won the Edinburgh to Glasgow relay race in 1951 along with his brother Jimmy and again in 1956 along with his brother Norrie. On the seven occasions Victoria Park won the Edinburgh to Glasgow relay race, the Ellis brothers occupied ten places.
Dawn Marie FLOCKHART, 16 May 1967-4 February 2019. Dawn Flockhart, after a brave battle against cancer, passed away at the tragically early age of 51. Dawn was one of Scotland's leading sprinters throughout the 1980s and into the mid-nineties. She was an outstandingly talented young athlete, setting an under-15 200 metres record of 24.63 seconds in 1981 which still stands 38 years later. Her all-time career best of 23.71 still ranks in the top 20 Scots of all time. She never won a senior title but was a medallist on 13 occasions, winning 4 silver medals and 9 bronze medals. She represented Scotland in 8 international matches and ran for Great Britain against Yugoslavia in 1984 as a member of the 4x100 metres relay team. She won a bronze medal as part of the GB 4x400 team at the European Junior Championships in 1985 where she was 5th in the 200 metres. A member of Edinburgh Southern Harriers/Edinburgh Woollen Mill, her career bests were 7.72 (60m), 11.80 (100m), 23.71 (200m), 54.4 (400m)  and she even tried her hand at triple jump with a legal best of 10.90. Since 2002, Dawn had been working and studying with some of the most renowned Neuro Linguistic Programming trainers in the world and was an extensively qualified Licensed NLP Trainer & High Performance Coach. She was also a qualified hypnotherapist/psychotherapist and a certified yoga teacher. She had a scientific background with a Degree in Computing Science and a teaching qualification from the University of Cambridge. 
Elsie GIBSON. d. October 2019. Elsie Gibson was responsible for the revival of Kilbarchan AC in 1974, after it had fallen out of existence for several years. In November that year, the Kilbarchan woman placed adverts in a local newspaper inviting interest in restarting the organisation, as she was keen to keep her two sons active.
A group of 12 met in the village's Steeple Hall to bring the club back to life. Jim Green, current club president, said: "I only met Elsie a few times but she always seemed like the sort of person who, if she had an idea, would try to make it happen. The club has been so successful thanks to her."
Ronald GRAY, 4 August 1932-17 August 2019. Ronald Gray was an Australian Olympian, competing in the triple jump at the Melbourne Games in 1956. He came to Scotland the following year, competing for Edinburgh Southern Harriers in 1957 and Shettleston Harriers in 1958 and met his wife Mary, the sister of Shettleston team-mate, Graham Everett. At the Scottish Championships, he won three silver medals in these two years, two in the triple jump and one in the long jump. 
Dale Sheldon GREIG, 15 May 1937 - 12 May 2019. Best known as a pioneering woman distance runner who ventured into the area of marathons and ultra-distance running that even seasoned and hardened male runners regarded with trepidation, Dale Greig became one of the first women to run a marathon, setting the inaugural recognised IAAF women's world best for the distance. In addition to her competitive achievements, she acted as a national administrator, official, race organiser and athletics writer over a long period of time, editing "Dale's Diary" in the Scots Athlete magazine. 
Beginning as a schoolgirl sprinter, she soon found that her natural métier was stamina rather than speed. Between 1956 and 1959 she won a silver medal over 880 yards and two bronze medals at one mile in the Scottish women's national championships (she won four bronze over one mile between 1958 and 1966) before going on to specialise in cross country and road running. She was the founder member of Tannahill Harriers, named after the famous Tannahill weavers from Paisley. In 1960, she won the first of four national women's cross country titles. This was the last Scottish Cross Country Championship organised by the Scottish Women's AAA and she is the only runner to have won national titles under both the SWAAA and the subsequent Scottish Women's Cross Country Union organisations. As a member of the group of active women enthusiasts who established the SWCCU at a time when the sport was languishing in Scotland, Dale was the national secretary for six years and treasurer for a further five years.
Her interest in long distance running grew from a meeting with the inspirational Rhodesian, Arthur Newton, pioneer of ultra-long distance running. Her first competition over the standard marathon distance of 26 miles 385 yards came during her annual holiday in the Isle of Wight in May 1964, where sympathetic officials allowed her to run a time-trial on the day of the race, starting 4 minutes ahead of the male competitors. Despite the hilly terrain, and being shadowed by an ambulance throughout the race at the insistence of the athletics authorities, she had no qualms about completing the distance, having included several continuous runs of around 20 miles in her training schedule. Her finishing time of 3 hours 27 minutes 45 seconds was remarkable, being recorded as an IAAF inaugural world best over an officially certified and measured course, giving clear indication of what she might have achieved if she had prepared thoroughly for further marathon races. However, she enjoyed conventional competition too much to break from the standard women's events, and it was not until 1971 that she made her next attempt at a long distance event. After a thorough build up, running from 60 to 100 miles per week with continuous runs of 30 to 40 miles, she competed in the Isle of Man 40 miles race over the famous motorcycle TT course, finishing the distance in 6:48:00. Another pioneering effort came in hill running, where she was the first woman to compete in and finish the Ben Nevis 10 mile mountain marathon race in Fort William. This race, regarded as the toughest in Britain, she termed "body-shattering".
The following year she decided to run in the classic London to Brighton 53 mile race. Her normal schedule of 50 to 60 miles per week was supplemented by three 40 mile runs, plus other continuous runs over 45 and 50 miles. For some of these long runs she ran from her Paisley home over country roads to the Clyde Coast, carrying her tracksuit in her shoulder rucksack. Stopping at Largs or another coastal town where she had a snack, she ran on to Greenock, donned her tracksuit, and travelled home by rail. Setting off on her solo run at 6 a.m. from Big Ben at Westminster Bridge, one hour before the male runners in the official race, she completed the arduous event, running non-stop with no noticeable aches or strains, in 8:30:03, representing a pace of under 9 minutes per mile. She continued to compete on the track in mile races and won her 4th and final Scottish cross country title in 1968, going on to finish 8th in the English championships and 14th in the International championship at Blackburn. In 1974, she recorded her most notable international marathon success when winning the women's World Veteran Championships in Paris in 3:45:21. This race was the first officially sanctioned marathon for men and women to race together and her win was part of a memorable Scottish double, as Alastair Wood won the men's race.
Her pioneering efforts opened the way for women throughout the world to be admitted to marathon races having ventured into unchartered territory at a time when some respected authorities still believed that running such long distances was harmful for a woman. Even though the current world marathon best is now well over an hour better than she ran in 1964 when 800 metres was the longest distance for women in the Olympic Games, she earned great credit and admiration for showing the world that women are biologically better suited for endurance races, rather than the explosive events which make up so much of their athletics programme. Their athletics achievements have been confirmed by cycling and swimming where the longer the distance the more closely women approach men's standards of performance.
Her achievements and influence on the sport were recognised with her induction last year into the scottishathletics Hall of Fame.
Edward KNOX, 9 May 1947 - 15 October 2019. Springburn Harrier best remembered for winning the junior title at the International Cross Country Championships. Eddie was an outstanding junior athlete who represented Scotland at the International Cross Country Championships (the predecessor to the IAAF World Championships) on 3 occasions. He finished 5th in 1965, improved to 3rd in 1966, and won the title in 1967 - a remarkably consistent quality culminating in victory.  On the track, he won the SAAA Youths mile title in 1964 and Junior mile title in 1966. He medalled at the seniors over 3 miles, winning the bronze medal in 1967. His career bests on the track were 4:15.1 (1 mile), 8:38.0 (3000m), 14:37.6 (5000m) and 30:42.6 (10000).
Michael Robert LINDSAY,  2 November 1938 - 11 December 2019. Mike Lindsay was Scotland's and Britain's most successful field events thrower, not only in distances achieved in his speciality shot and discus events, but also in championship titles won and performances recorded in major international Games over more than a decade.  Born in Glasgow in 1938, but resident in England for most of his life, he represented Scotland four times in the Commonwealth Games over a twelve year period starting in Cardiff in 1958 and continuing through Perth, Australia 1962, Kingston, Jamaica in 1966 and ending in Edinburgh 1970 - gaining silver medals in both the shot and discus at Perth in 1962.  He won the AAA Junior shot/discus double on two occasions in 1957 and 1958 and also set UK junior records for shot 60 feet 9½ inches (18.52 metres) and discus 193'5" (58.95).
These achievements resulted in him becoming one of the first ever British athletes to win an athletics scholarship in the USA, where he studied at Oklahoma State University from 1958. There he developed for competitive use the revolutionary O'Brien shot putting technique and adopted weight lifting as a method of developing strength and muscle building, improving by over 5 feet in his first year at Oklahoma University.  He bettered 58 feet in 1959 and was selected for the shot and discus at the 1960 Rome Olympic Games.  The first ever Scot to compete in the Olympic Games shot competition, he excelled to finish 5th with a personal best throw of 58'4¾" (17.79), the best ever performance by a Briton in Olympic competition. He bettered the 60 feet barrier in 1963, achieving the distance twice within twelve days with a best of 60'8½" (18.50) which lasted as a Scottish best until 1977 and also defeating future Olympic champion Randy Matson when winning the GB v. USA international match as well as winning the AAA title. He was equally at home in the indoor arena winning the AAA titles in 1964 and 1966.  In the discus, he won the AAA senior title for the first time at the early age of eighteen years, completing a treble win with successive titles in 1959 and 1960. He set his first UK record of 181'6" (55.32) in America, threw over 170 feet on thirty-one occasions and was a regular in British international teams between 1957 and 1968, representing Britain 27 times.  His domination of his two speciality events in Scotland was total, leading the rankings over a fifteen year period from 1957 to 1971 inclusive, displaying both durability and excellence. 
As well as his excellent record in the Commonwealth Games, he represented Britain in the Olympic Games at Rome in 1960 and Tokyo in 1964 as well as the 1962 European Championships at Athens. While at Oklahoma University, he represented Great Britain in the 1963 World Student Games, winning silver medals in both the shot and discus. Competing sparingly in Scotland, he only won two national shot titles in 1964 and 1970, setting a championship record of 56'8¾" (17.29) in 1964 which lasted twelve years until bettered by Paul Buxton in 1976. In his long competitive career he 12 times improved the best shot distance achieved by a Scot from 47'6" (14.47) to 60'8½" (18.50) and, in six increments, raised the discus best from 155'3¼" (47.32) to 181'6" (55.32).
He headed the Scottish Shot and Discus rankings for 15 years in a row and bettered the Shot record 12 times and the Discus record 6 times. He represented Scotland in 13 internationals between 1957 and 1971.
Kenneth (Kenny) Daniel MARSHALL. 25 July 1951 - 20 November 2019. Scottish athletics official, he was a member of the Track and Field Commission and President of the Forth Valley League. As an athlete, he was a member of Lewisvale Spartans but he was best known as a starter and official for over 30 years.
Frederick McCLUSKIE. 2 March 1942 - 15 November 2019. Livingston AC stalwart was a dedicated Scottish athletics official, President of the East District Cross Country League and helper at many other leagues and events.
 Robert (Bobby) QUINN. b. Detroit, USA, 13 May 1929; d. Glasgow, 28 October 2019. One of Scotland's leading track athletes of the 1950s and later a highly regarded official. He was twice national champion at 440 yards and earned 12 gold medals as a member of Victoria Park AAC's championship-winning relay teams. He represented Scotland twice in international matches. After competing, he made an important contribution as an official for more than 30 years as both a committee member of Victoria Park and Secretary/Treasurer of the West District of the S.A.A.A. He was very involved in the preparations for the initial Glasgow Marathons and at the 1986 Edinburgh Commonwealth Games was transport co-ordinator. Later he officiated at the European Indoor Championships and the World Cross Country Championships, both in Glasgow. In 2014 he was delighted to be given the honour of carrying the Commonwealth Games baton along Paisley Road West, days before the opening ceremony.
Willie ROBERTSON, 28 October 1947-14 June 2019. Scottish thrower and wrestler, he represented Scotland at wrestling at the Commonwealth Games in both 1974 and 1986, having been a British wrestling champion in 1971, 1972 and 1973. He had a best in the hammer throw of 57.30 metres, which ranked him 5th in the 1974 lists and is still in the Scottish top 30. He won three medals at the Scottish championships in the hammer - silver in 1974 and bronze in 1971 and 1973 - and had bests of 14.25 (shot) and 38.20 (discus). 
 Stephen TAYLOR, 17 March 1938 - 29 July 2019. Steve was a Scottish track champion over 3 miles in 1961 and 1962 and 10 Mile champion in 1970. He represented Scotland in cross-country 3 times in the ICCU Championships between 1960 and 1962 and 5 times in track internationals between 1961 and 1966. He paced Alastair Wood to his World 40 Mile track record at Pitreavie in 1969, setting joint Scottish bests at 30km, 20 miles and two hour on the way.
Ian Stuart BAIN, 16 February 1934-20 April 2018. Scottish Champion, Hammer Throw, 1956, 1957 & 1959. Scotland international 1959. GB International 1959. SAAA Junior Champion 1952. AAA Junior Champion 1952. 
Joe BRUCE. 1938 - April 2018. Road, cross-country and hill runner whose career was curtailed by injury in 1962 and turned to officiating. A qualified timekeeper for over 50 years, including at the Commonwealth Games of 1970 & 1986 and the World Cross-Country Championships of 2008. Honorary Life Member, Scottish Athletics.
Gerald CAMERON. 18 December 1943 - July 2018. One of a small band of Scottish walkers, Gerald competed in the sport between 1967 and 1973 at distances from 3,000 metres to 50 kilometres. In 1973 he took over Buckhaven Sports building it into the biggest independent sports retailer in Scotland, trading under the Intersport banner.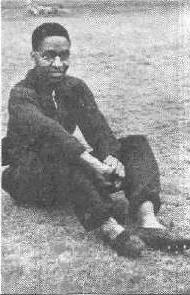 Quamina COFIE, 1920- 29 January 2018. Quamina Cofie was born in Ghana (then the Gold Coast), as Ezekiel Quamina Allotey Cofie, and came to Scotland in the 1940s to study dentistry at the University of Edinburgh.
While here, he represented Scotland in the 220 yards at the international v England & Ireland in 1947 and was 3rd in both the 100 and 200 metres at the International University Games in 10.8 and 22.5, that same year. He returned to the Gold Coast Medical Service as a qualified Dental Surgeon in 1949, retiring in 1975.
He was appointed as the James Town mantse (king) and Paramount Chief and President of the Ngleshie Alata Traditional Area in Ghana, titled Oblempong Nii Kojo Ababio V, where he ruled for 39 years.
Married for over 60 years, he was father to nine children.
Kinnaird St. Clair CUNNINGHAM, 24 September 1930-11 February 2018. Scottish Champion, High Jump, 1953. Silver medal 1952, Bronze medal 1951, 1955. Scotland international 1951.
Rita DOCHERTY. (née Stevenson), 1939-3 March 2018. Life member of Greenock Wellpark Harriers and Inverclyde AC and Honorary Life Member of Scottish Athletics. Founding member of Greenock Rankin Park Harriers.
Charles GREENLEES, 1932-19 March 2018. Charlie featured in the annual Scottish rankings six times (all for marathons) between 1967 and 1974; and finished 8th in the 1968 Scottish Marathon championship; but his best time was 2.37.08 (1977), set in Turku, Finland. By that time he was living in Finland and racing there and in Sweden, although he returned to Scotland eventually. Well before the 'marathon boom', Charlie ran a total of 30 marathons and completed the Finlandia 50 miles cross-country ski race four times. In 1974 he took part in the World Veterans Marathon in Paris, on a very hot day over a difficult course, and finished 23rd (from 500 finishers) which made him second Scot (behind M40 winner, Alastair Wood) and third Scottish Veteran Harrier (behind Wood and Charlie McAlinden of Ireland, who had both been Scottish Marathon champions). The World Veteran Marathon club gold medals went to the SVHC. (Acknowledgements to http://www.scottishdistancerunninghistory.scot for the info.)
Eleanor GUNSTONE. 1927 - 7 July 2018. Executive Member of the Scottish Women's Amateur Athletic Association 1974-92, including Honorary Secretary 1983-86. She was also a General Committee member of the SWCC&RRA from 1975 and Honorary Treasurer from 1977-92. Member of the Interim Council of Scottish Athletics Federation; acted as both Vice–Convener and Convener of the RR&CC Commission 1992-98.
George KIRK. 1923 - October 2018. A great stalwart of Pitreavie AAC and played an emormous part in developing it into one of Scotland's major Athletic clubs. He was a member of Pitreavie for 46 yearrs, having already been involved in athletics in his native Lancashire before moving North of the Border. He was Pitreavie's Cross Country Team Manager for 33 years and coached distance events for many years. Involved in setting up the Young Athletes T&F League, he was awarded Honorary Life Membership of Scottish Athletics in 2006.
Hilda McGILLIVRAY. March 2018, age 95. Honorary Life Member of Scottish Athletics. Former secretary to Lesmahagow AAC, Clyde Valley AC and L&L Track Club. Committee member of the Scottish Women's AAA. 
Ian McWATT. 13 February 2018.  A well-known figure in the photo-finish team and timekeeping, Ian was a huge supporter of athletics across a range of events over a number of years. He officiated at Glasgow 2014 as part of the large cohort of local Officials.
Robin MORRIS, 12 July 1949-4 February 2018. Scottish hill running champion. On the track, ranked at 3000 metres steeplechase, 1970-1981. Sports reporter. Founder member of the Eric Liddell Centre.
David SHAW. 19 Oct 1936 - 4 Aug 2018. Greenock-born British international at 3000 metres steeplechase, an event in which he set Scottish bests of 9:17.0 (1957) and 8:57.0 (1958). 3rd AAA 3000S 1958. He was the first professional General Secretary of the British Amateur Athletic Board 1978-81 and was subsequently an executive with ITN and with UK Badminton.
George SPANKIE. 1939-11 December 2018. Long-serving Scottish official who officiated as a grade 1 timekeeper and photo-finish judge at matches from the Commonwealth Games, European Championships, International matches - both for UK and Scottish Athletics - to league matches and Ayr Seaforth Club Championships. Husband of fellow official Helen Spankie and father to former athlete Gillian Spankie.
Stewart TOGHER, 14 November 1937-22 March 2018. Hammer Throw. Bronze medal, Scottish Championship 1972. Successful hammer coach: USA National Hammer Coach for 10 years; University of Oregon throws coach, 1983 to 1997.
Bruce TULLOH. 29 September 1935 - 29 April 2018. Influential British athlete, European 5000 metres champion in 1962. Competed for Scotland at the International Cross Country Championships 1960 & 1961, and set Scottish 2 Miles all-comers' record 1960.
Phyllis Jane WILLIAMS (nee BRODIE). 1946-2018.  Phyllis was ranked as a sprinter in the 1960s when she attended the High School of Glasgow and Dunfermline College of Physical Education.  She was a member of Maryhill Ladies, then Glasgow Athletic Club and City of Glasgow A.C. She was President of City Of Glasgow A.C from 1990 - 1995 and then Vice President from 1999 - 2001. She coached the younger members (U13 and below) of GAC and City Of Glasgow A.C from 1986 - 2007.