The following athletes have been approved by scottishathletics to compete in team competition for their new club from 1 January 2018: 
Ariane H Baillie, Worcester AC to Pitreavie AAC; Darcie Black, Pitreavie AAC to Dunfermline T&F AC; Sarah E Bonad, Garscube H to VP-Glasgow AC; Aislynn Crichton, Dunfermline T&F AC to Fife AC; Katie Frances Forbes, Edinburgh AC to Giffnock North AAC; Courtney Fraser, Airdrie H to Whitemoss AAC; Nicola Gauld, Aberdeen AAC to Metro Aberdeen RC; Flora J Henry, Musselburgh & Dist AC to Team East Lothian; Angela Irving, Perth Road Runners to Stirling Triathlon; Shona McIntosh, Dulwich Runners to Hunters Bog Trotters; Georgie Newlands, Moray Road Runners to Elgin AAC; Jodie Robertson, Mid Argyll AC to Cumbernauld AAC; Jim Scott, Portobello RC to Edinburgh AC; Addison Sladek, Musselburgh & Dist AC to Team East Lothian; Jasmine Tickner, Edinburgh AC to Corstorphine AAC; James Waldie, Carnethy HRC to Hunters Bog Trotters; Kyle Wilkinson, Moray Road Runners to Elgin AAC; Andrew Wright, Ochil Hill Runners to PH Racing Club.
and with effect from 1 December 2017:
Mhairi Boyle, Fife AC to Kinross RR; Angus C Bryce, Tweed,Leader Jed Track to Pitreavie AAC; Chloe Cox, Lothian RC to Edinburgh AC; Andrew William Fleming, Scarborough AC to Tweed,Leader,Jed Track; Telfer M Gray, Wee County H to Central AC; Alistair Gudgin, Perth RR to Fife AC; Jana Grace Hamilton, Haddington RC to Team East Lothian; David Houston, Springburn H to Cumbernauld AAC; Keith Kong, Pendle AC to Lasswade AAC; Colin Langan, Newport H to Cumbernauld AAC; Andrew Lawrie, Lauderdale Limpers to Gala H; Cara McCafferty, Lothian RC to Shettleston H; Norman McNeill, Ochil Hill Runners to Kirkintilloch Oly; Aidan O'Hara, Dunfermline T&F Club to Fife AC; Robbie Ewan Paterson, Forres H to Moray RR; Eve Rennie, Dunfermline T&F Club to Fife AC; Holly Ann Shearer, Kilbarchan AAC to Giffnock North AAC; Carly Tragham, Fife AC to Dundee Hawkhill H; Grace Eva Tremlett, Haddington RC to Team East Lothian; Ross Whitelaw, Airdrie H to VP-Glasgow AC; Graeme Wilson, Wee County H to Carnegie H.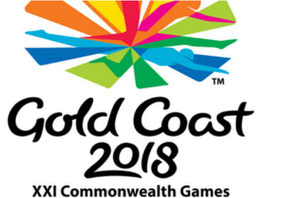 12 December 2017. Commonwealth Games Scotland today announced the 25 athletes who will represent Team Scotland in the track, field and marathon at the Gold Coast 2018 Commonwealth Games.
The team going to the Commonwealth Games is:
Men: Chris Bennett, Andrew Butchart, Mark Dry, Callum Hawkins, Guy Learmonth, Chris O'Hare, Robbie Simpson, Allan Smith, David Smith, Jax Thoirs, Jake Wightman.
Women: Amy Carr (para), Zoey Clark, Eilidh Doyle, Rachel Hunter, Sammi Kinghorn (para), Maria Lyle (para), Holly McArthur, Kirsten McAslan (relay), Eilish McColgan, Emma Nuttall, Lynsey Sharp, Kelsey Stewart (relay), Stephanie Twell, Lennie Waite.
The following athletes have been approved by scottishathletics to compete in team competition for their new club from 1 November 2017: 
Joseph Barton, Helensburgh to Aberdeen; Daniel Bryant, Tonbridge to Edinburgh; Eilidh de Klerk, Arbroath & District to Dundee Hawkhill; Ryan Donnelly, Motherwell to Cambuslang; Greig Glendinning, Bellahouston Road Runners to Cumbernauld; Christopher Graham, Tynebridge to Shettleston; Euan Grierson, Musselburgh & District to Team East Lothian; Erin Hall, Haddington to Team East Lothian; Cameron Johnson, Musselburgh & District to Team East Lothian; Connor Kalkman, Finlay Kalkman, and Harry Lamond, all Kirkintilloch Olympians to Springburn; James MacLeod, Arbroath & District to Dundee Hawkhill; Richard Masson, Peterhead to Metro Aberdeen; India McKendry, Pitreavie to Dunfermline T&F; Kirstie Rogan, Forres to Moray Road Runners; Angus Rollo and Finlay Rollo, Ross County to Inverness; Katie Sampson, Ferranti to Edinburgh; Thea Stewart, Larkhall YMCA to Whitemoss; Fabienne Thompson, Carnegie to Perth Road Runners; Aimili Troup and Alasdair Troup, Musselburgh & District to Team East Lothian; Kyle Wilkinson, Moray Road Runners to Elgin; Valentin Titiro, AHSA (France) to Kilbarchan.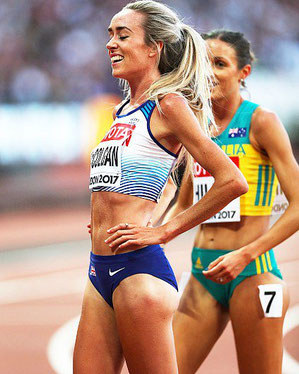 11 November 2017. We have been counting down the top 100 in the SATS Challenge this week and we've reached the final ten. 
Three athletes enter into the top ten this year at the expense of Laura Whittle, Lennie Waite and Nick Percy. They are all middle distance runners with Guy Learmonth at 9, Jake Wightman at 7, and Chris O'Hare at 6. 
In the four years the Challenge has been running, no male athlete has placed higher than number 5 and its no change this year with Andy Butchart top male athlete for the second year running, repeating his no. 5 position.
Lynsey Sharp slios out the top 3, with Eilidh Doyle retaining her 3rd spot. Laura Muir, our winner in 2015 and 2016, can't make it three in a row as this year's winner, following an outstanding season is EILISH McCOLGAN. With PBs at 1500, 3000, 5000 and 10000, including a Scottish record at 5000, Eilish is a deserving winner.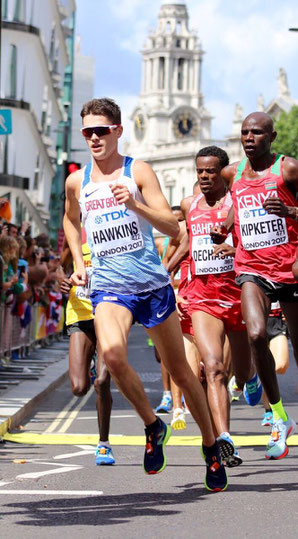 6 November 2017. Callum Hawkins, 4th in the World Championships Marathon, was named as scottishathletics Athlete of the Year at the FPSG Annual Awards ceremony on Saturday. European Junior 1500 metres champion Jemma Reekie, the SATS Challenge Under-20 winner, took the Under-20 award and Joel McFarlane repeated that feat when winning the under-17 award. Philippa Millage took the Masters title, with Edinburgh AC winning the Track & Field Club of the Year. Samantha Kinghorn was named the Para Athlete of the Year.
One thing is certain, though - the SATS Challenge Senior Athlete of the Year which starts this week will not be won by Callum. We focus only on track and field, which does not take road racing into account.
The Challenge starts with a countdown from 100 to 76 today but the overall top 100 sees a number of big names drop out of the top 100 - Laura Whittle (last year's no. 7), Beth Potter (12) - who had only 2 races, Jamie Bowie (22), Emily Dudgeon (32), Ben Stevenson (33), Luke Caldwell (48), Jo Moultrie (55) and Greg Louden (59) among others. Into the first list of athletes come Scottish 100 metres champion Katy Wyper at 84, Livingston's 400m runner Shawn Wright at 81, while 400m champion Kelsey Stewart moves up 20 places to 76.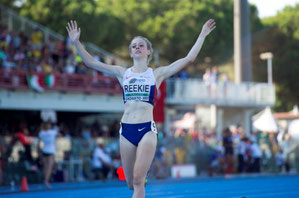 3 November 2017. The SATS Challenge continues with a hugely competitive under-20 category, where the 2016 winner, Cameron Tindle, finds himself in 6th place.
Last year, George Evans and Ben Greenwood were 4th and 5th. This year, they added 170 and 250 points respectively to their totals but still placed 4th and 5th.
Ahead of them, the top three had outstanding seasons. Holly McArthur, who shattered the under-20 heptathlon record, is 3rd placed in her first year as an under 20.
Alisha Rees, 3rd last year, moved up to one place. Alisha bettered the 100 metres record in the year but it was her 200 metres runs that scored more highly on our performance tables.
But our winner this year is Kilbarchan's Jemma Reekie, European Junior Champion, who moved up from 16th in 2016 to take this year's title, following on from Kimberley Reed, Jack Lawrie and Cameron Tindle.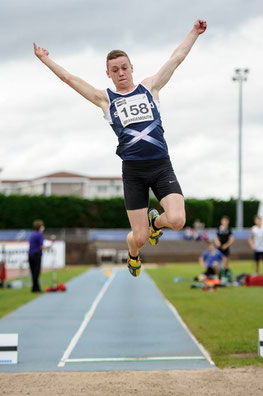 27 October 2017. Joel McFarlane, Central and Arbroath's multi-talented athlete who was the winner of the under-15 title in 2015 emerged at the top again, beating off the challenge of Giffnock's Adam Clayton to take the under-17 SATS Challenge title.
Joel, who set a new under-17 decathlon record this year moved up from 6th last year, with Adam, the new 100 metres record holder coming from nowhere to place 2nd, ahead of VP-Glasgow hurdler Jade Henry in third.
Lewis Pentecost was 4th, one of several steeplechasers in the top 20.
Previous winners of the title have been Erin Wallace (2016), Ben Greenwood (2015) and George Evans (2014).
Photo of Joel, courtesy of Bobby Gavin.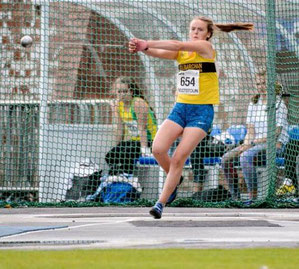 23 October 2017. After a season in which she has set new Scottish records for both hammer and javelin, it was no surprise to find Kirsty Costello breaking new records on her way to winning the SATS Challenge Under 15 Athlete of the Year title.
She becomes the first athlete to win an age-group title three years running, having been our Under 13 winner in 2015 and our Under 15 winner last year. She added 273 points to her winning score in 2016, which was already the highest score recorded in the age-group.
She bettered the challenge from distance runners Lily-Jane Evans-Haggerty and Anna Hedley, who both scored highly over 3000 metres, with Lily also bettering the previous highest score in the age-group.
As with the under-13s, the boys were left trailing in their wake with 4th-placed Annan hammer thrower, Danny Gracie, the leading boy.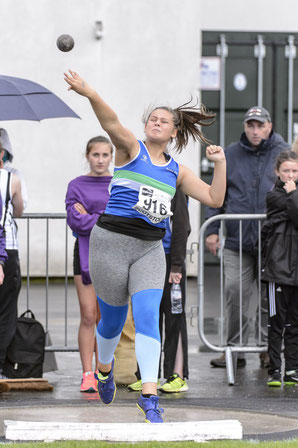 19 October 2017. It's back! The SATS Challenge returns for a fourth year and today we reveal our under-13 winner.
The Challenge scores the best 3 performances by athletes with bonus points given for medaling at championships.
This year's under-13 list saw the girls dominate, filling 14 of the top 20 places, with pentathletes featuring well. 8 of the athletes recorded one of their best scores in the pentathlon.
Victoria Park City of Glasgow athletes were wll to the fore and high jumper Connor McNally was the top boy in 3rd position overall.
Last year's winner was Emma Johnson and sister Katie Johnson made a tremendous effrort to repeat the family success in finishing 2nd.
But our winner and under-13 athlete of the year for 2017 is shot putter Meghan Porterfield who caps a tremendous season where she added one metre to the Scottish shot record.
The results are here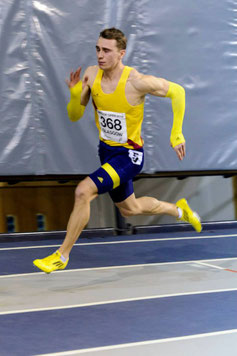 6 October 2017.  It takes a few years for championship results to be finalised these days and the latest round of doping violations are significant for one Scot.
Russian athlete Maksim Dyldin has been banned for 4 years with his results from 5th August 2012 to 22 May 2015 being lost. That includes the bronze medal that Russia's 4 x 400 metres relay team won at the 2013 World Championships with Dyldin on the first leg. As a result, Great Britain will be promoted to 3rd position.
That means that Jamie Bowie, who ran the third leg for GB in the heat in an excellent 44.64 seconds but did not run in the final, will receive a bronze medal as part of the GB team. 
(Thanks to Athletics International)
Photo credit: Bobby Gavin
The following athletes have been approved by scottishathletics to compete in team competition for their new club from 1 October 2017: 
John Crookston, Carnegie Harriers to PH Racing Club; Derek Fish, Wee County Harriers to Carnegie Harriers; Rebecca Grieve, Edinburgh AC to Pitreavie AAC; Julia Henderson, Helensburgh AAC to Stirling Triathlon Club; Michelle Hetherington, Helensburgh AAC to Carnethy Hill RC; Yan Horsburgh, Penicuik Harriers to Gala Harriers; Alex & Molly Jamieson, Kidderminster& Stourport AC to Inverness Harriers; Nicole MacGilp, VP Glasgow AC to Kilbarchan AC; Jamie Mackinnon, VP Glasgow AC to Cambuslang Harriers; Leah McKean, Kilbarchan AC to VP Glasgow AC; Archie McRonald, Aberdeen AAC to Perth Strathtay Harriers; Cameron Muffett, Stewartry AC to Nithsdale AC; Matthew O'Brien, Garscube Harriers to Kilbarchan AAC; Craig Prior, Dumbarton AAC to Kilbarchan AC; Ewan Purves, Tweed Leader Jed Track to Gala Harriers; Katie & Molly Reville, Nithsdale AC to Edinburgh AC; Fergus Rule, Aberdeen AAC to Falkirk Victoria Harriers; Alex Sutherland, Highland Hill Runners to Inverness Harriers; Ellis Togher, Law & District AAC to Giffnock North AAC; Zachary Uduehi, Harmeny AC to Edinburgh AC.
The following athletes have moved to Team East Lothian:
Jessica Bullen, Corey Campbell, Aidan Page, Olivia Robbins (all from Dunbar RC); Zoe Doig, Tom Kelman, Hannah Pathirana, Jack Renton, Colin Riley, Rudie Shearer, Maja Thomson, Gemma Walkingshaw, Alice Walter (all from Haddington RC); and Theo Cunningham, Jack Field, Sebastian Inglis, Zoe MacDonald, Finn Middleton, Scott Ramsay (all from Musselburgh & Dist AC).
The following athletes have moved from Kirkintilloch Olympians to Cumbernauld AAC:
Stephen Allan, Robert Bartley, Scott Bradley, Vincent Carroll, Liam Casey, Niamh Casey, Sean Casey, Adam Cassidy, Dylan Elliott, Howard Elliott, Rory Elliott, Martin Fitchie, Martin Glancy, Lewis Hale, Mark Hale, David Hogg, Gordon Humphreys, Robert Keenan, Tomas Lennon, Derek Martin, Katie Martin, Aidan McCaffrey, Luke McCaffrey, Ross McEachern, Louis O'Hare (x2), Robin O'Hare, Paul O'Hare, Pamela Parker, Martin Paton, Caoimhe Quail, Frankie Quail, Mhairi Quinn, Alex Reid, David Scott.
The following athletes have been approved by scottishathletics to compete in team competition for their new club from 1 September 2017:  
Ross J Bain, Ayr Seaforth AC to Kilmarnock H; Mirren Callaghan, Kilmarnock H to Helensburgh AAC; Cameron Macleod, Clydesdale H to Glasgow City AC; Cara McAneny & Holly McAneny, Giffnock North AAC to East Kilbride AAC; Shannon McGregor, Peterhead AC to Ellon AAC; Jennifer E Murray, Kilmarnock H to Giffnock North AAC; Rachel Newstead, London Heathside to Carnethy H; Peter Rieu-Clarke, Falkland Trail Runners to Fife AC; Colin Stewart, Shettleston H to Bellahouston RR; Sol Stewart. Larkhall YMCA to VP-Glasgow AC; John Wilkie, Perth Strathtay H to Central AC.
From 1 August 2017: Craig Scott, Metro Aberdeen to Aberdeen AAC; David Woods, Haddington RC to Edinburgh AC.
From 1 July 2017: Ella Bruce, Banchory Stonehaven AC to Aberdeen AAC; Fraser Gorvett, Tweed Leader Jed Track to Edinburgh AC; Jane Keogh, Inverness Harriers to Aberdeen AAC; Barry McComish, Falkirk Victoria Harriers to Lothian RC; Charlotte Morrison, Lasswade AAC to Moorfoot Runners; Euan Sweeten, East Kilbride AC to Cambuslang Harriers; Erin Thomson, Banchory Stonehaven AC to Aberdeen AAC; Daisy Waite, Aberdeen AAC to Metro Aberdeen; Lauren Watson, Inverness Harriers to Aberdeen AAC.
In addition, the following athletes have had their eligibility to represent Scotland confirmed: Ruaridh Lang (Morpeth, U17), Holly Rees (Cambridge & Coleridge), Josh Tyler (Exeter, U17), and Katy Wyper (Blackpool, Wyre & Fylde).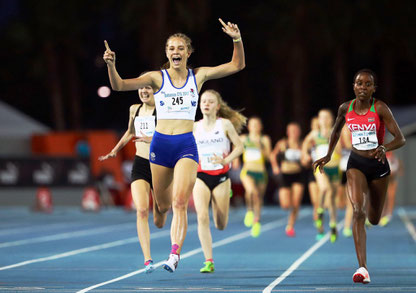 24 July 2017. That was the weekend that was! Success for Scottish athletes across the globe and particularly in the 1500 metres. So far this year we have seen Laura Muir win the European Indoor 1500 title, Josh Kerr win the NCAA 1500 titles, and Chris O'Hare & Jake Wightman gain Diamond League victories. 
On Thursday evening, that roll of honour was added to with victory for Erin Wallace at the Commonwealth Youth Games in the Bahamas, holding off Kenya's Viola Chemutai in 4:16.61. Erin becomes only the 4th Scot to win gold at these games, following on from James Campbell and Morag MacLarty in 2004 and Tom Holligan in 2011.
That was followed on Friday evening by Chris O'Hare bettering the Scottish record of 3:33.83 set by John Robson way back in 1979 with his run of 3:33.61. The run was greeted by Robson himself who tweeted "Well run @chrisohare1500 the record was set at age 22 now 60 best of luck at london2017" O'Hare was 7th in a race won by Kenya's Elijah Manangoi and went through 300m in 41.4, 700m in 1:38.6 and 1100m in 2:36.4 on the way to his Scottish record.
And then ... the final day of the European Junior Championships in Grosseto saw Jemma Reekie convincingly win the 1500 title in 4:13.25 to win by a clear 3.48 seconds. After the disappointment of coming 4th in the 3000 the previous day, Jemma was clearly delighted: " The track was very nice and I enjoyed running on it. My legs were a little bit tired from yesterday' s semifinal but I was determined so I gave what ever I had in this race so I' m happy for my result and for my team-mate that won the bronze medal."
These weren't the only successes for Scottish athletes in Grosseto with George Evans winning the bronze medal in the discus, Alisha Rees taking bronze in the sprint relay, and Jill Cherry and Holly McArthur gaining bronze medals for being part of the 4x400 line-up in qualifying. That medal put the gloss on a fine championships for McArthur, having smashed her Under-20 heptathlon record by setting PBs in every one of the seven events. Only Jayne Barnetson has scored higher.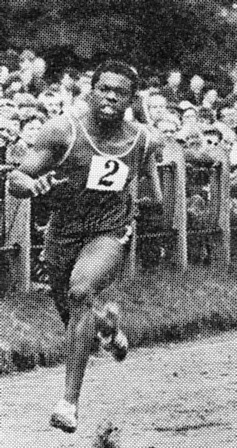 4 July 2017. News has reached us of the death of sprinter Bernie Nottage, a leading figure in Scottish sprinting in the late 1960s. 
A member of Aberdeen University, Aberdeen AAC and Bellahouston Harriers, he represented Bahamas on the international stage, competing in the 1966 & 1970 Commonwealth Games and the 1968 Olympic Games, but he also competed for Scotland in 4 internationals between 1966 and 1969.
He won the Scottish 100 and 220 yards titles in 3 consecutive years from 1966 to 1968, a feat achieved by only four other athletes in the history of the championships (Alf Downer 1893-95), Eric Liddell (1921-25), Willie Jack (1951-53), and Ming Campbell (1963-65)).
He qualified as a doctor in Britain in 1969 and became the longest-serving president of the Bahamas AAA, also being president of the Central American and Caribbean Athletics Confederation. He entered politics and served as a minister of national security, education, health and consumer affairs, being described as a "political giant" in The Bahamas. 
Bernard Jonathan Nottage, b. 23 October 1943. d. 29 June 2017.
(with acknowledgements to Athletics International)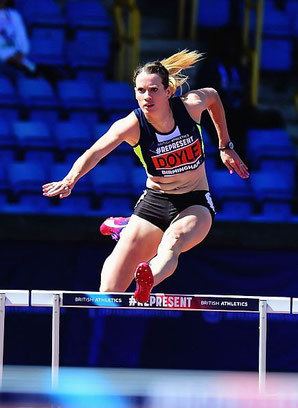 3 July 2017. Well what a weekend that was! 18 medals gained to add to the 3 from the 10000 and Combined Events. Record numbers going to the World Championships. A Scottish 1-2-3-4 in the men's 1500.
I'm still doing the fact-checking but I'm fairly confident that 21 medals (7 gold, 9 silver and 6 bronze) will turn out to the most that Scottish athletes have ever gained from the British Championships, beating the 18 gained last year.
As recently as 2010, we won only 6 medals and in 2011, the gold medal tally was one. Now, following the weekend, we already have 11 athletes going to the World Championships - Calum Hawkins, Robbie Simpson, Laura Muir, Beth Potter, Andy Butchart, Eilidh Doyle, Chris O'Hare, Zoey Clark, Steph Twell, Eilish McColgan and Josh Kerr. That betters the previous record of 7 Scots at the World Championships.
Eilidh Doyle (pictured) won her fourth consecutive hurdles title with Steph Twell winning her fourth 5000 title in the last 5 years. Chris O'Hare led a memorable Edinburgh AC 1-2-3 in the 1500, with Josh Kerr just edging Jake Wightman on the line. A word, too, for Neil Gourley, fourth on the day and out of the medals but ahead of every non-Scot in the field. Andy Butchart was a dominant winner of the 5000 and Zoey Clark has emerged as the leading U.K. 400 metres runner. Nick Percy, repeating his discus victory was the one Scottish winner who did not gain automatic selection for the Worlds as he has not achieved the extremely tough 65.00 qualifying standard.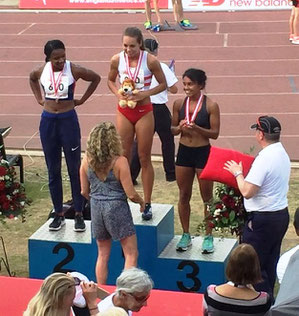 19 June 2017. Scottish athletes won 8 gold medals at the England Athletics Under-23 and Under-20 championships at Bedford at the weekend, with a further 3 silver medals and 8 bronze medals, for a haul of 19 medals.
George Evans and Jemma Reekie led the way with two golds each. George's shot and discus victories, for the second year in succession, matched the feat of Mike Lindsay who took both titles 60 years ago, in 1956 & 1957. Jemma's 1500 & 3000 double made her the first Scot to achieve that double in the history of the Under-20 championships.
Neil Gourley, returning from a successful college season in the USA where he placed 5th in the NCAA Championships, repeated his 2015 victory to take the Under 23 1500 title for the 2nd time.
Alisha Rees won the Under 20 metres 200 in a personal best of 23.52, becoming the first Scot to win an Under-20 women's 200 title. Kelsey Stewart also recorded a new PB, taking a big step forward to win the Under-23 400 in 53.63 and Mhairi Hendry had a fine victory the Under 23 800 title.
Top performances were not confined to the gold medallists thouch. Jack Lawrie, 2nd in 50.25 in the Under 23 400 hurdles, was just one-hundredth of a second outside the senior national record held by Charles Robertson-Adams. Javelin thrower Adam Boyle added 8 metres to his previous best with 62.44 for the bronze medal.
The following athletes have been approved by 
scottish
athletics to compete in team competition for their new club from 1 June 2017: 
Peter Bradshaw, Greenock Glenpark to North Ayrshire; Bob Douglas, Harmeny to Livingston; Nicola Duncan, Portobello to Carnethy; Kevan Harvey, Calderglen to Cambuslang; Grant R    MacDonald, Bellahouston RR to Garscube; Alison Marven, Falkirk Victoria to Falkland Trail Runners; Ross A Mc Eachern, Springburn to Kirkintilloch Oly; Kierr Miller-Archibald, Perth Strathtay to Edinburgh; David Murdoch, Inverclyde to North Ayrshire; Shaun G Perry, Forres to Elgin; Graham Porterfield, Aberdeen to Central; Shannon Prevost, Lothian to Livingston; Jacqueline Rainger, Portobello to Edinburgh; Edward Smith, Plymouth to Edinburgh; Malcolm C Smith, Carnegie to PH Racing Club; Shannon Waldron, Law & District to VP–Glasgow; Philip N Waring, Notts to PH Racing Club; Brodie Wright, Airdrie to VP–Glasgow; Fraser Wright, Airdrie to VP–Glasgow; Shane P Hand, Kilbarchan to Glasgow City.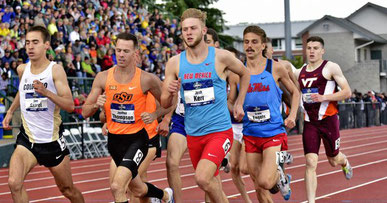 10 June 2017. Josh Kerr followed up on his NCAA indoor mile title to win the NCAA outdoor title in 3:43.03, his finishing kick proving too strong for the 12-man field, which included fellow-Scot Neil Gourley, an outstanding 5th in 3:44.39.
Josh makes history as he becomes the first Scot ever to win the indoor and outdoor titles in the same year. Only Meg Ritchie among Scots has won both indoor and outdoor titles, but these were a year apart.
Nick Percy, however, was unsuccessful in his bid to repeat his 2016 discus victory, coming in 14th in the field with a throw of 56.15. But Nikki Manson leapt to a fine 5th place with a new high jump PB of 1.85.
For a record of Scottish successes at the NCAA Championships, click here.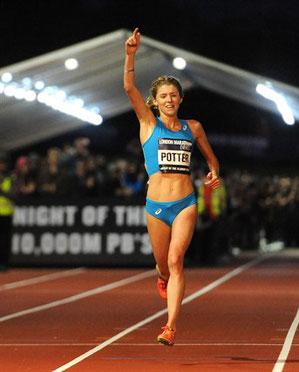 20 May 2017. Beth Potter was just outside her lifetime best when winning the British Championship 10000 and gaining selection for the World Championships in 32:04.63.
Potter broke clear of 10000 debutant Steph Twell with five laps remaining to win by 12 seconds, Twell coming home second in 32:16.23.
Beth said afterwards: "Last year, I felt like I was getting chased down but tonight I was getting stronger and stronger. I wasn't surprised, I'm running well – my sessions were going great but I hadn't raced (on the track) since Rio so I didn't really know.
"I'm just going to carry on with what I'm doing (the triathlon training) – it's working, I'm improving in the tri and in the running so there's no point in changing anything at the moment. I run about 30-miles a week less now, I'm only in the mid-50's but I'm getting my aerobic work from the biking and the pool as well, so my legs are fresh – win-win!
Making her 10,000m debut and season-opener, Twell just missed the 32:15.00 qualifying time for the World Champs but gained the Commonwealth Games standard. Steph:  "It was a different sort of race, it was just about touching my foot in the water today so qualifying would have been nice but it was just about seeing the over-distance work and see where I am ready for 5,000m and 1500m.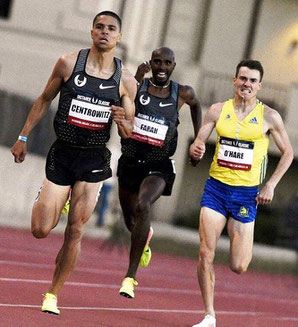 18 May 2017.
Chris O'Hare set his best-ever 1500 time at the USATF Distance Classic meet when finishing 3rd behind Matt Centrowitz (3:33.41) and Mo Farah (3:34.19). Farah took the field through 300m in 42.02, with O'Hare in 42.42; Chris then clocked 58.86 and 57.87 with Farah leading and Centrowitz 2nd, before the American reeled off a last 54.38 400m to win, with Chris going through the last 400m in 55.21 and Farah in 55.38.
Chris's 3:34.35 places him 3rd on the Scottish all-time lists, led only by John Robson (3:33.83) and Graham Williamson (3:34.01).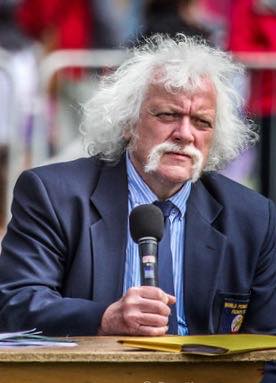 13 May 2017. Hamish Davidson, one of the legends of heavy events on the Games circuit, has passed away at the age of 62.
When he won the Scottish Amateur Athletic Association shot putt title in 1978 with 17.44 metres, a championship record, he should have been chosen for the Edmonton Commonwealth Games, but his hell-raising reputation kept him off the team. He was so upset he turned professional.
That was the 3rd of his Scottish titles, having won in 1973 (aged 19) and 1975.  In addition, he gained 6 silver medals and represented Scotland in 7 international matches.
He competed in the World's Strongest Man competition nearly beating Geoff Capes. He later recalled "The night before the World's Strongest Man final, a lot of the guys were talking about what steroids they were on. All I was on was 20 pints, then discoing all night - and I still nearly beat Capes the next day!''
This larger-than-life character will be missed by all who knew him.
Glasgow City have strengthened their squad for this year's British League campaign with a number of athletes changing their first claim club to join them. The team looks to have made some good additions in the jumps, where Chris Mackay and Marcus Morton will strengthen their high jump pool, while Fraser O'Rourke will join Jax Thoirs and Canadian-based Sam Adams in the pole vault. Central AC will no doubt benefit in their Scottish League matches from the addition of heptathlete Joel McFarlane.
The following athletes have been approved by scottishathletics to compete in team competition for their new club from 1 May 2017: 
Eve Davidson, Dunfermline T & F Club to Fife; Findlay Donegan, Elgin to Edinburgh; Hannah L Dow, Pitreavie to Fife; Lewis Dow, Pitreavie to Central; Patrick Dunne, Inverness to Glasgow City; Robbie Ferguson, Bellahouston to Kilbarchan; Morna Fleming, Carnegie to Pitreavie; Katie Forbes, Aberdeen to Edinburgh; Craig Freshwater, Westerlands to Hunters Bog Trotters; Sasha Gillon, Corstorphine to Edinburgh; Amy Gullen, Pitreavie to Central; Craig Knowles, Corstorphine to Edinburgh; Amit Kumar, East Kilbride to Glasgow City; Brian Lees, Falkirk Victoria to Lothian; Linda Lucey, Wee County to Falkirk Victoria; Chris Mackay, Giffnock North to Glasgow City; Kaitlinn Mackay, VP City of Glasgow to Springburn; Finlay Macleay, Inverness to Glasgow City; Jack McComb, VP City of Glasgow to Glasgow City; Joel McFarlane, Arbroath & District to Central; Clare McLaughlin, North Ayrshire to Ayr Seaforth; Marcus Morton, VP City of Glasgow to Glasgow City; Stephen Murphy, Lasswade to Dunfermline T & F Club; Cian O'Donnell, VP City of Glasgow to Glasgow City; Fraser O'Rourke, Giffnock North to Glasgow City; Zoe Pflug, Tweed Leader Jed Track to Gala; Emily Ramsay, Portobello to Edinburgh; Callum Robertson, Edinburgh to Aberdeen; Anna Widdowson, Harmeny to Edinburgh.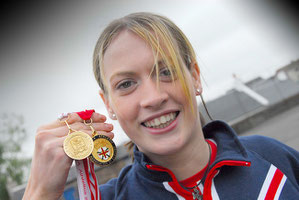 24 April 2017. The doping scandals surrounding Russian athletes continue unabated with 5 more Russian athletes being suspended for 2 years after retrospective testing gave rise to positive tests for the banned steroid turinabol.
One of the athletes suspended is Antonina Krivoshapka has had her results from 11 Aug 2012 to 10 Aug 2014 annulled, so will forfeit her 400 metres bronze medal from the 2013 World Championships and her gold medal from the 4x400 metres.
This may have a knock-on effect for Eilidh Doyle. If the Russian relay team is disqualified, the revised medallists would see the Great Britain team promoted from the bronze medal to the silver medal position, and that includes Eilidh who ran the lead-off leg.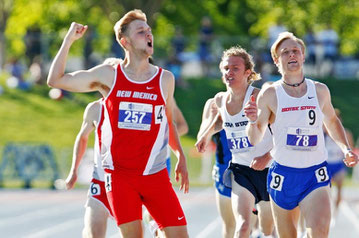 14 April 2017. Josh Kerr, fresh from success at the NCAA Indoor Championships, took his running to a new level when winning the Bryan Clay Invitational 1500 metres at Azusa, California.
Going into the meeting with a best 1500 time of 3:41.08, he convincingly won the race in a world-leading 3:35.99, over a second ahead of the runner-up and a time that places him 6th on the Scottish all-time lists.
In a race that featured professional runners from Bowerman Track Club in Ryan Hill and Mo Ahmed, as well as top NCAA athletes like Craig Engels and Joshua Thompson -- it was Kerr who led the way, running the 6th fastest collegiate mark all-time in 3:35.99.
The 19-year-old has now progressed from 3:58.87 (2013), 3:52.46 (2014), 3:44.12 (2015), 3:41.08 (2016) to 3:35.99.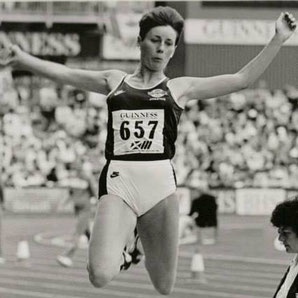 I am delighted to advise that the work on Scotland track and field international matches has now been completed with the final period from 1986 to 2016 being added today.
This work covers a history of Scotland international matches from the first one in 1895 to the current date. This covers 231 internationals with full details of results from all of them. The international careers of 1,636 athletes have been recorded and there is further information on athletes who have represented Scotland the most and the youngest and oldest athletes.
I believe this is the first time a work like this has been done, certainly for Scotland, and allows Scottish Athletics to give recognition to the athletes who have represented them.
The information is held on the Scotland tab of the website with the last 30 years coverage HERE and the statistical information HERE. 
There are gaps in the information so any amendments, corrections, additions and photographs would be greatly appreciated.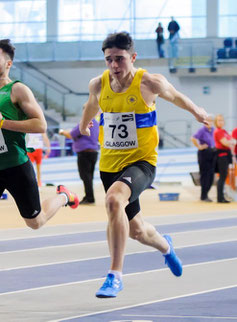 31 March 2017. 31 performances from the indoor season have been ratified by scottishathletics as new Scottish indoor records.
The complete list of new records are:
National
Andrew Butchart, 3000m, 7:42.97 & 7:41.05.
Laura Muir, w1500m 4:02.39 & w300m 8:26.41.
Heather Paton, w60mH, 8.34
Edinburgh AC, 4x200m, 1:40.95.
Native
Andrew Murphy, Heptathlon, 5402
Heather Paton, w60mH, 8.37
Edinburgh AC, 4x200m, 1:40.95.
All-Comers
Ben Gregory, Heptathlon, 5834
Joanna Rowland, wPentathlon, 4103
Under-20
Alisha Rees, w60m 7.43; w200m 24.18, 24.18 & 23.79
Jemma Reekie, w800m 2:05.52 & w3000m 9:28.19
Under 17
Adam Clayton, 60m, 7.90; Joel McFarlane, Heptathlon, 4845 & 4948; Giffnock North AAC, 4x200m, 1:31.24; VP-Glasgow, w4x200m, 1:43.92
Under-15
Reuben Nairne, Pole vault, 3.35; Gemma Bruce, w300m, 41.69 & 41.56; Lily Jane Evans-Haggerty, w1500m, 4:36.99; Ellie O'Hara, wTriple jump, 10.98; Giffnock North AAC, w4x200m, 1:46.62.
Under-13
Finlay Ross, 800m, 2:19.89; Mya McMahon, wHigh jump, 1.56 & wPentathlon 2649.
You can see the updated indoor record lists HERE. There are also complete lists of all previous record holders via the 'Historical record' links at the foot of each record list.
The following athletes have been approved by scottishathletics to compete in team competition for their new club from 1 April 2017: 
Nana Akuoko, Dunfermline T & F Club to Fife AC; Georgia Brawley, Ayr Seaforth AC to Kilmarnock H & AC; Gregor Campbell, Dunfermline T & F Club to Fife AC; Callum Campbell, Corstorphine AAC to Hunters Bog Trotters; Emily Corrigan, Central AC to VP Glasgow AC; Alastair Dunlop, Stornoway R & AC to Kirkintilloch Olympians; Jennifer Elvin, Clapham Chasers to Metro Aberdeen RC; James Fraser, Musselburgh & Dist AC to Team East Lothian; Michael Girdler, Moorfoot Runners to Edinburgh AC; Kenneth Gray, Falkirk Victoria H to Linlithgow AC; Cameron Marshall, Dunfermline T & F Club to Fife AC; Lucy McLeod, Aberdeen AAC to Metro Aberdeen RC; Stewart Robertson, Bellahouston RR to Springburn H; Cosima Schwahn, Central AC to VP Glasgow AC; Rachel Watson, Edinburgh AC to Aberdeen AAC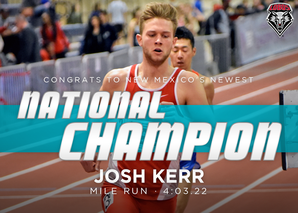 11 March 2017. Edinburgh AC's Josh Kerr, a freshman for the University of New Mexico track & field team, captured the NCAA title in the mile in 4:03.22 seconds during the final day of the 2017 NCAA Division I Indoor Track and Field Championships on Saturday.
Kerr held off pre-race favourite Oregon's Edward Cheserek, largely considered one of the best distance runners in NCAA history and who recently set an NCAA record time of 3:52.01, during the final three laps in the finals, becoming the second Scot in program history — along with Chris O'Hare — to win a national title in the mile.
Kerr had bettered 4 minutes for the first time in the heats and his strength over the final parts of the slow-started final was impressive as he broke Cheserek to win by 2.2 seconds. Fellow-Scot Neil Gourley, at Virginia Tech, showed up prominently in the early stages but just missed out on a medal by 0.15 seconds, finishing 4th in 4:06.26.
Kerr becomes the 4th Scot to win an NCAA indoor title, Meg Ritchie having won the shot in 1983, Chris O'Hare the mile in 2012 and Jax Thoirs the pole vault in 2016. Outdoors, Ritchie took the shot and discus titles in 1982 and Nick Percy won the discus title last year.
The following athletes have been approved by scottishathletics to compete in team competition for their new club from 1 March 2017: 
Daniel Boyle, Hamilton & District AC to Whitemoss AAC; Gemma Cormack, Aberdeen AAC to Inverness Harriers; June Duggan, UK Run Chat to Bellahouston Harriers; Max Evans, Joe Fraser, Andrew Gilbert, Lewis Goodall, and Paul Serpenskas all Musselburgh & District AC to Team East Lothian; Lewis Grimmer, Garscube Harriers to VP Glasgow AC; Amy Kerr, Penicuik Harriers to Portobello RC; Lorna Mahoney, Milburn Harriers to Westerlands XC; Euan McLew, Cambuslang Harriers to East Kilbride AC; Ellie Miller, Lochie Milne, Amy Paul, Niamh Richards, Lucy Thomson, and Joe Younger, all Dunbar RC to Team East Lothian; Steven Phillips, Cambuslang Harriers to Airdrie Harriers; Alice Robertson, Falkirk Victoria Harriers to Edinburgh AC; Paul Rogan, Forres Harriers to Moray Road Runners; Gary Stewart, Bellahouston Harriers to Kilmarnock Harriers AC; Matthew Stewart, Kirkintilloch Olympians to VP Glasgow AC; Matthew Sutherland, North Highland Harriers to Central AC; Stuart Tite, Fife AC to PH Racing Club; Scott Wilson, JP Morgan RC to Giffnock North AAC.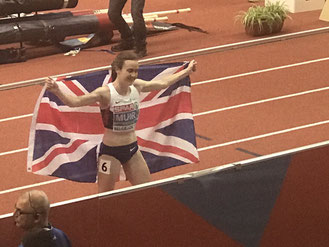 5 March 2017. Laura Muir today added the 3000 metres title to the 1500 yesterday as she finished nearly 8 seconds clear of Turkey's Yasemin Can (8:43.46) in a Championship record of 8:35.67, with Eilish McColgan third in 8:47.43. 
Having won the 1500 metres on Saturday in a Championship record of 4:02.39, breaking the Scottish and British records, Muir became the first Scot ever to win 2 individual gold medals at a major championship, Dougie Walker having won gold at 200 metres and 4x100 metres at the 1998 European Championships.
Eilidh Doyle gave the GB 4x400 metres relay team a vital lead on the first leg as the team went on to gain the silver medal. That was Eilidh's 3rd medal at these championships equalling the 3-medals haul of Yvonne Murray and Lee McConnell. It also gave her her 12th medal at World, European, and Commonwealth level, moving out on her own as the most-medalled Scottish athlete in international competition. 
These weren't the only achievements from the 6 Scottish athletes representing Great Britain. Firstly, 6 equalled the largest ever representation at these championships (Prague, 2015), and the 4 medals doubled the previous Scottish best at these championships of 2 in 2013 and 2015. Never before have we had 2 gold medals at the Euro Indoors and with Stephanie Twell 5th in the 3000 and Allan Smith 8th in their respective events, the total of 5 finalists equalled the Prague record. Guy Learmonth just lost out in the 800 qualifying and will learn from the experience.
And finally, after we all delighted in Laura evading the official who wanted to stop her lap of honour after her 1500 win, it was good to see European Athletics president Svein Arne Hansen tweet "Sometimes in athletics we can forget the little things that are important, glad we have Laura Muir to keep us right".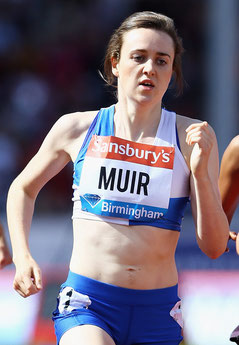 18 February 2017. Another race, another record or two. Laura Muir won the 1000 metres at the Muller Grand Prix at Birmingham in a new European and British record of 2:31.93.
The pre-race talk had been of breaking the world indoor best of 2:30.94 set by Maria Mutola in 1999, but Laura also had two other targets: Kelly Holmes' British indoor best of 2:32.96 and the European indoor record of 2:32.16.
Jenny Meadows set the early pace, going through 400 in 59.65 and 600 in 1:29.71. Muir maintained the pace with a fourth lap of 30.85, passing 800 in an indoor PB of 2:00.56, that put her 2nd on the Scottish all-time indoor lists. Roared on by the crowd, a final lap of 31.37 brought her home in 2:31.93.
Her performance puts her 2nd on the world indoor all-time list and within one second of Mutola's mark. It was Muir's third record-breaking performance of 2017, having set a British indoor 5000m record of 14:49.12 and a European indoor 3000m record of 8:26.41 over the past six weeks.
"I am delighted," said Muir. "I really wanted to get the win; that was really important. To beat Kelly's (Holmes) record is amazing and to be so close to the world record is also very encouraging for me. It is every athlete's dream to be running well every time you come out on the track and being injury free. Hopefully I can carry this sort of form into the summer."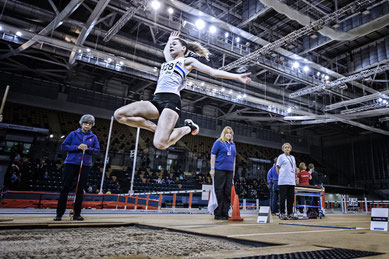 13 February 2017. The Scottish record-book continued to get re-written at the weekend with athletes competing at the British Championships, Scottish Age-Group Championships, and in the United States.
Andrew Butchart continued his outstanding season with 3rd place at New York's Millrose Games, decimating the Scottish 2 Mile Best of 8:28.4 set by Ian Stewart in 1973 with a time of 8:12.63 in the rarely-competed event. On the way, he bettered his own Scottish 3000 Metres record, set 2 weeks previously (see below) when he passed that distance in 7:41.05.
Eilish McColgan was one of four gold medallists at the British Athletics Indoor Team Trials (ridiculous name for the British Championships) at Sheffield, out-sprinting Steph Twell  to take the 3000 title before adding the 1500m silver. Allan Smith won the high jump title, Guy Learmonth the 800, and Eilidh Doyle the 400, the three of them winning their 2nd indoor titles.
At the age-group championships, there was an outstanding run from VP-Glasgow's Lily-Jane Evans-Haggerty as she set an under-15 championship best (superior to the U17), and a new Scottish U15 record in the 1500 metres of 4:36.99. This came after she had set a Scottish U15 best over 3000 at the start of the year. Ellie O'Hara (Edinburgh AC) improved her own U15 triple jump record and championship best by 22cm with 10.98.  In the under-13 age-group, Harmeny's Finlay Ross became the first Scot in his age-group to better 2:20 for 800 metres with a new Scottish record of 2:19.89.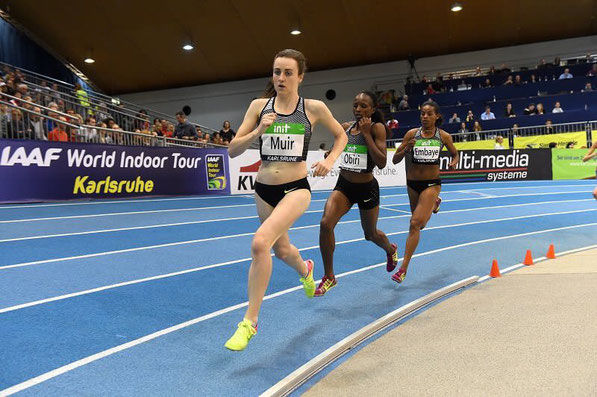 5 February 2007. Laura Muir won the 3000 metres in Karlsruhe last night in 8:26.41, 8 seconds better than Liz McColgan's Scottish record and a new European record. McColgan's record of 8:34.80 had lasted since 1989 and is the last of her indoor records to go. Muir beat Russian Liliya Shobukhova's European record by 1.45 seconds and moves to 5th in the world all-time list.
Muir, who recorded a 5000m world lead and British indoor record in early January, and world leader Helen Obiri were the ones to watch and provided a thriller of a race. In a tactically perfectly paced race, Laura came out on top with a European indoor record of 8:26.41.
Jenny Meadows was assigned to pace the leaders through the race till 1000m with 34-second laps and operated like clockwork. Muir, Obiri and Ethiopia's Axumawit Embaye stayed a few metres behind Meadows as she led through the first kilometre in 2:49.34. Muir led for the next couple of laps before Obiri decided to take over at the halfway mark. The Olympic 5000m silver medallist went through 2000m in 5:40.57 with Muir right behind the Kenyan as the leading trio became a duo.
With 600m to go, Muir took over the lead and slowly tried to pull away. Coming off the penultimate bend, Obiri attempted to switch gears, but the pair hit traffic going into the final bend, allowing Muir to make a break. She closed strongly with a 29.82 final lap to take the victory in 8:26.41, moving to fifth on the world indoor all-time list. Obiri finished second in 8:29.46 to extend her World Indoor Tour lead to 17 points.
Meanwhile, in New York ... Andy Butchart was running in the Armory Track Invitational elite mile where the meeting record was held by fellow Scot Chris O'Hare at 3:54.59. Led to the 2 minute mark by pacemaker Graham Crawford, Butchart, who has already broken the Scottish 3000 record this year, was out on his own and continued to run strongly to emerge a clear winner by 4.55 seconds in a time of 3:54.23, the second fastest indoor mile by a Scot, beating Chris O'Hare's meet record, and becoming the new world leading mark this year. ahead of Matt Centrowitz's 3:55.78, set in Boston last week.
And in Japan ... Having lost his 60:24 Scottish best after the Great Scottish Run was announced earlier this week to have been almost 150 m short, Callum Hawkins was out to prove he had done it for real when he lined up at today's Kagawa Marugame International Half Marathon.  Against a field including sub-60 man Kenneth Kipkemoi of Kenya and a group of Japanese athletes aiming for the 60:25 Japanese best, Hawkins went to the front from the gun and never relented.
After a relatively slow 14:20 opening 5 km, the next 5 km went by in 14:07 and shook the lead group down to ten including Hawkins, Kipkemoi, Kenyan Joel Mwaura, Osako and three other Japanese men. The 28:27 split at 10 km was hot, on pace for 60:01. Hawkins and Kenyan Abraham Kipyatich began to pull away on the return trip, 16 seconds ahead as the pair hit 15 km in 42:37 and a shot at sub-60 in the cards.
At 15 km Hawkins attacked, dropping Kipyatich to race the clock.  On 60:02 pace at 20 km in 56:55, he bore down in the home straight and saluted as he crossed the finish line in 60:00, just short of a sub-60 but a new Scottish best that surpassed his disallowed Great Scottish Run mark and more than demonstrated his true quality.
The following athletes have been approved by scottishathletics to compete in team competition for their new club from 1 February 2017: 
Josiah Canter, North Ayrshire AC to Kilbarchan AAC; Ellie Eboji, Fife AC to Pitreavie AAC; Ross Freck, Inverness Harriers to Aberdeen AAC; Michael Fullerton, Portobello RC to Edinburgh AC; David Gardiner, Kirkintilloch Olympians to Motherwell AC; Mitchell Graham, Central AC to Falkirk Victoria Harriers; George Harrand, Garscube Harriers to VP Glasgow AC; Mark Haskett, Thames Valley Harriers to Corstorphine AAC; Thomas McDonald, Kilbarchan AAC to Cambuslang Harriers; Kevin McPhillips, Springburn Harriers to Motherwell AC; Billy Mitchell, Central AC to Stirling Triathlon Club; Michael O'Connor, Linlithgow AC to Livingston AC; Philippa Robertson, Tweed,Leader,Jed Track to Teviotdale Harriers; Ava Smith and James Smith, Central AC to VP Glasgow AC.
Our detailed annual rankings have now been updated to include the 2016 rankings for senior men and senior women, complete with 10-year trends.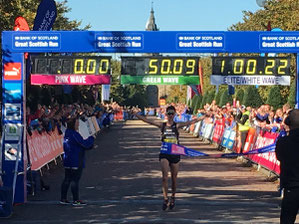 30 January 2017. The organisers of the Great Scottish Run half-marathon have confirmed the 2016 course was 149.7m short of the stipulated 13.1 miles.
There was controversy following the event in Glasgow after some competitors questioned the length of the course.
The Great Run Company, which organised the race, confirmed the error in a statement today.
The failure means the Scottish half-marathon best performance set on the course by Callum Hawkins is now invalid.
The Half Marathon does not have record status and the best performance reverts to Paul Evans who recorded 61:38 in 1992. Evans gave up his Scottish status when he competed for England in 1993. The next best is Allister Hutton's 62:28.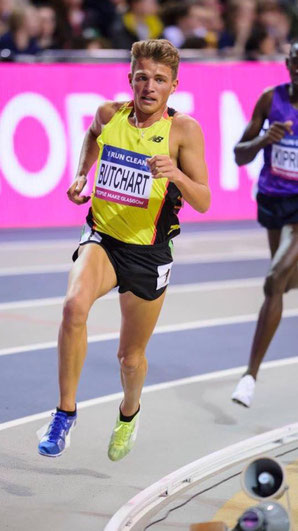 28 January 2017. The Scottish outdoor 3000 and 5000 record holder Andy Butchart has opened his 2017 year with a national indoor record over 3000 metres of 7:42.97, breaking Ian Gillespie's 7:49.86, which was coming up to its 20th anniversary.
The occasion was the New Balance Indoor Grand Prix at Boston where Lynsey Sharp, Butchart and Jake Wightman were competing. Butchart was 2nd in the 3000 behind the Olympic silver medallist, Paul Chelimo, who won in 7:42.39. 
Jake Wightman had a fine run in the mile, coming in 3rd in 3:57.24 to move into 3rd place in the Scottish all-time list. The USA's Matthew Centrowitz won the race in 3:55.78.
Lynsey Sharp opened her season with 3rd place in the 800, behind Charlene Lipsey (USA) 2:02.01 and Habitam Alemu (ETH) 2:02.38, recording 2:02.88.
There was success in Austria for Guy Learmonth and Eilidh Doyle who both won their events at the Vienna Indoor Classic. Guy took the 800 in an indoor PB of 1:47.20 (3rd all-time) and Eilidh won the 400 in a season's best 51.86.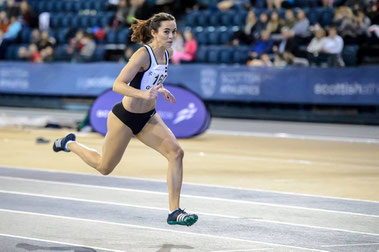 28 January 2017. The Scottish indoor championships saw one new senior record and two under-20 records in a packed programme with the seniors competing alongside the under-17s. 
Birchfield's Heather Paton has progressed season-by-season at the 60 metres hurdles - 8.94 in 2013, 8.81 ('14), 8.77 ('15), 8.58 ('16) - opened her season with a PB of 8.40. Today, she retained the Scottish title in 8.37, a new Native record, convincingly breaking Gemma Werrett's 8.50 from 2008.
Alisha Rees nearly broke 2 under-20 records. Her 60 win in 7.51 was just 0.01 outside Jenna Wrisberg's record, but she set another PB to win the 200 unchallenged in 24.18, removing the longest-standing women's junior record, Linsey Macdonald's 24.20, set 35 years ago in 1982. 
The under-20 women's 800 record was also held by Linsey Macdonald at one stage, her 2:08.4 lasting for 30 years before being broken by Laura Muir in 2012. Mhairi Hendry captured the record with a 2:07.00 in 2015 and it was Mhairi who took the senior title in 2:05.27, but behind her Jemma Reekie, with 2:05.52, added the indoor 800 record to her U20 3000 record. In third, Erin Wallace was also inside the old record in 2:06.94.
It wasn't all about the young generation however. Gillian Cooke won her 5th long jump title, the last one dating back to 2007, while Francis Smith, a five-time winner of the men's 60 hurdles, took his 4th silver at the event, in a new Scottish Masters record in the V35 category.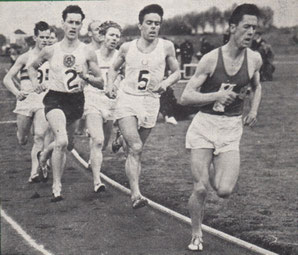 Scotland's premier miler of the 1950s, Graham Everett (Shettleston Harriers) has died on his 83rd birthday. He won the national mile title on eight occasions (equalling the record of Thomas Riddell between 1925 and 1935), seven of them in succession between 1955 and 1961, a feat never equalled or bettered in the history of the mile / 1500 metres championships. In spite of his domestic domination of the event, however, he never achieved his own high ambitions of becoming the first Scot to run the mile in under 4 minutes or gaining 1500 selection for the 1960 Olympic Games at Rome.

Everett's first Scottish native record came in 1956 when recording 4 minutes 07.5 seconds in third position behind Stanislav Jungwirth (Czechoslovakia) at Glasgow Police Sports at Ibrox, and he further reduced the record to 4:06.6 behind Derek Ibbotson's European and British record run of 3:58.4 at the same meeting the following year. Two months later, Everett again improved his best to 4:06.0 when finishing second in the prestigious Emsley Carr mile at the White City Stadium.
In 1958, he gained selection for the Scottish team for the Empire and Commonwealth Games at Cardiff after three fast early season runs under 4:09.9 and bettering Alex Breckenridge's Scottish Championship record by 4.9 seconds when winning the national title in 4:07.0. He competed in the AAA Championship mile in July, recording an excellent 4:06.4 win over a top-class international field. After a slow first three laps in 3:11.4, he unleashed a final lap sprint of 55.0 for a seven yard win over New Zealander Murray Halberg, who had a personal best of 4:01.0 and was to win the Empire Games three miles title at Cardiff and the Olympic 5000 in Rome two years later. After being spiked in the Games 880 yards heat at Cardiff, Everett failed to qualify for either the 880 or one mile finals in his only major Games competition, losing selection for the European Championships in Stockholm later in the summer.
He improved his own championship and Scottish records with a front running time of 4:03.9 to win the national title in the Olympic year of 1960, a championship best performance that was not bettered over the mile or its metric equivalent for 18 years until John Robson won the 1500 title in 1978 in 3:40.1. Further runs in lifetime bests of 4:02.70 for the mile and 3:45.7 for the 1500 followed in swift succession (both just outside the Olympic qualifying standard) and he narrowly missed his goal of running for Britain in the Rome Olympics.
He showed excellent form over the two miles distance, reducing the Scottish record from 8:57.2 to 8:38.2, the third fastest time ever run by a British athlete at that time, in the two year period from 1959 to 1961. Like so many track stars of the time, Everett regularly competed over cross country and road in the winter. Though regarding the winter season competition as purely to develop strength and stamina for the track he won the Scottish Cross-Country Championship title from clubmate Alastair Wood in 1960, was Midland District champion three times and represented Scotland on four occasions in the international cross-country championships as well as being a valuable member of Shettleston's successful team in the Edinburgh to Glasgow relay race. 
He became a successful airline travel executive with his daughter Andrea, who won a sports scholarship to the University of Wyoming in the USA, becoming one of Scotland's top runners over 10,000 metres, recording a time of 33:40.6. Under her married name of Andrea Paolillo, she later ran 2:54:27 in the 1999 Chicago marathon. His interest in athletics continued after competing, being actively involved in coaching athletes at Shettleston Harriers and Glasgow University. 
Graham Emmerson Everett, b. 20 January 1934.. d. 20 January 2017. The above career article was first published in the SATS book "The Past is a Foreign Country"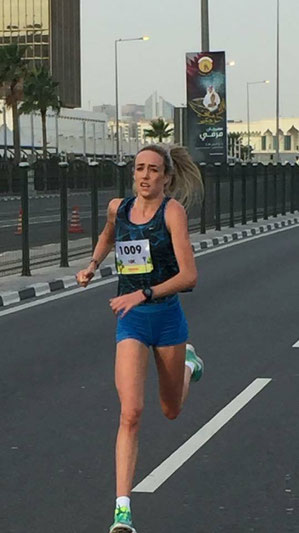 16 January 2017. With anticipation levels at a high after Laura Muir's British 5000 metres record at the GAA Miler Meeting, this weekend saw more of Scotland's Olympic stars showing fine form.
Eilish McColgan (left) was first woman home in the Ooredoo 10k in Doha in 32:01 (her chip time was 31:56). That moves her up to 2nd place in the all-time list behind mum Liz, who holds the Scottish best with her 30:39 at Orlando in 1989.
Eilidh Doyle opened up her season with a fine 52.75 400 metres to comfortably win the Southern England title.
There was a notable improvement for Birchfield Harrier Heather Paton, whose 8.40 60 metres hurdles win at Loughborough was an improvement of 0.18 and puts her 3rd all-time, within 0.06 of Gemma Werrett's Scottish record. 
The Scottish National Open at Glasgow produced a host of fine performances and a look at the results will show the impression made on the Scottish all-time lists. A word for the Johnson sisters from Edinburgh AC though in the 800 metres, with Katie Johnson moving to 3rd all-time at under-13 and older sister Emma Johnson moving to 6th on the U15 all-time lists.
Athletes can be eligible to represent Scotland if they are (a) born in Scotland; (b) have a parent born in Scotland; or (c) have been resident in Scotland for a period of 3 years. (Commonwealth Games have stricter requirements). 
The following athletes have recently had their Scottish qualification confirmed by scottishathletics:
Patrick Taylor (Vale of Aylesbury) - 800 metres best 1:50.33.
Amy Carr (Middlesbrough) - T37 100 metres (14.86), 200 metres (30.69)
Jordan Spence (Corby) - 100 metres (11.07), 200 metres (22.14)
Paul Ogun (Croydon) - Long jump (7.79)
Lea Stephenson (Tynedale) - 400 metres (49.09)
Callum McKay (Colchester) (U17) - 100 metres (11.11)
Angus McMillan (City of York) (U20) - 3000 metres (8:57.1)
The following athletes have been approved by scottishathletics to compete in team competition for their new club from 1 January 2017: 
Sarah Allan, East Kilbride AC to Giffnock North AAC; Morgane Artacho, Long Eaton RC to Cairngorm Runners; Louise Beveridge, Dundee Hawkhill Harriers to Falkirk Victoria Harriers; Oleg Cheplin, Shettleston Harriers to Hunters Bog Trotters; Andy Cullen, Corstorphine AAC to Lasswade AAC; Ross Gollan, East Sutherland to Shettleston Harriers; Megan Gowans, Arbroath & District AC to Dundee Hawkhill Harriers; Bryony Harding, Stratthclyde Uni Harriers to Shettleston Harriers; Rachel Hunter, Law & District AC to VP Glasgow AC; Jade Hutchison, Dunfermline Track & Field AC to Pitreavie AAC; Emily Miller, Cumbernauld AAC to VP Glasgow AC; Paige Stevens, Central AC to Falkirk Victoria Harriers; Tyler White, Pitreavie AAC to Aberdeen AAC.
Wishing you all a happy, healthy and successful 2017. Welcome to SATS 2017 - the 2016 news stories have been relocated in the Earlier News pages (see menu on the right).
Early 2017 will see the final rankings for 2016 added, archive updates, and the final instalment of the Scotland track and field internationals history, taking the story up to 2016 ... as well as all the current results updates.
The Scottish Association of Track Statisticians has documented athletics performances in Scotland for over 50 years and this website provides authoritative and factual information on performances, rankings, athlete profiles, and records as well as documenting the history of the sport in Scotland.
SATS have published a book The Past Is a Foreign Country covering a history of athletics in Scotland through the stories of the athletes themselves.
See the Book page on the menu at the top right for details.
You can follow us as well on our facebook page for information and stories.