The international match has changed over the last 20 years with the cost of staging or travel to matches leading to the virtual demise of international matches against foreign opposition. Since 2005, the only foreign opposition that Scotland has faced in outdoor internationals (outside of the Commonwealth Games) has been the USA Juniors and Ethiopia in limited events internationals at Grangemouth in 2008 and 2009. Unbelievably, the last outdoor international match across a full events programme to be held in Scotland was in 1991. The international has become a "competitive opportunity" rather than a team event, witnessed by the combined events internationals no longer getting full teams entered; or by the lack of attention to the scoring at Loughborough and Manchester in 2016, both incorrectly scored.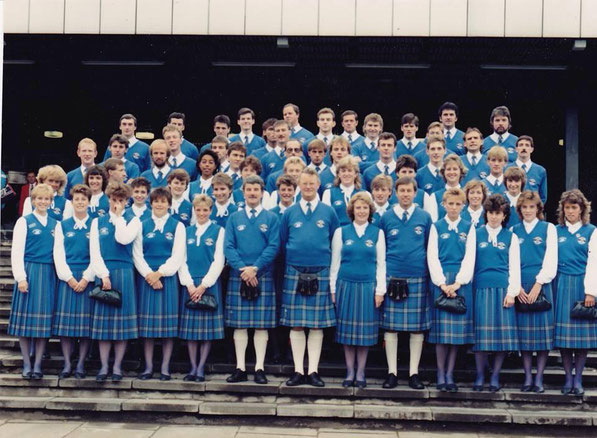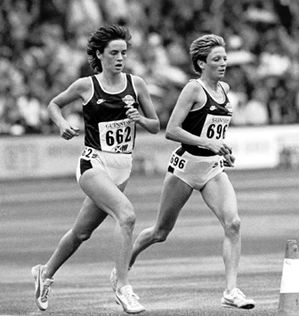 This period from 1986 to 2016 commenced with the Commonwealth Games returning to Edinburgh after their successful holding of the event in 1970. These Games were beset by financial difficulties and African boycotts and did not have the same impact as the 1970 Games but they did propel Liz Lynch (later Liz McColgan) on to the international stage with victory in the 10000 metres. 10th in that same race was Christine Price who, as 17-year-old Christine Haskett, had finished 8th in the 1500 metres 16 years earlier, the only Scottish athlete to compete in both Games. Geoff Parsons, the 'Praying Mantis' high jumper won the silver medal in his 2nd of what was to be 4 Commonwealth Games appearances.
Just two weeks after the close of the Commonwealth Games, Scotland's men travelled to Leiden in the Netherlands to compete against the home country and Northern Ireland. The Dutch won the event comfortably, although the Scots won 8 of the events, including the 800, won by Paul Forbes. This was Forbes' last international for Scotland, his 22nd - at that time, a new record for international appearances. 36-year-old Chris Black, 2nd in the hammer, was also competing in his last international, his 21st, both bettering the previous record of 20 set by high jumper Crawford Fairbrother. Sadly, Fairbrother was to pass away only 3 months later, at the early age of 50.
Combined events internationals were now a regular feature of the calendar. The first international had taken place at Tullamore in 1983 between Ireland, England and Scotland with the women taking part in their first international in Hungary in 1986. In 1989 the men's decathlon and women's heptathlon were held together in the home countries international at Aberdeen, wth Scotland's women winning the team contest (in the absence of England). As a team event, it was dominated by England, who won both the men's and women's matches in every contest from 1991 to 2005. They have continued to dominate since but the event has turned into more of an individual competition opportunity, with Scotland, Wales and Northern Ireland rarely entering full teams.
In 1987, an international standard indoor 200 metres track was opened at the Kelvin Hall in Glasgow, with the first meeting being held there - an open graded meeting - on 2 December 1987. The arena changed indoor athletics in Scotland, attracting the first British international match (v France) on 6 February 1988 and staging the European Indoor Championships in 1990. The Kelvin Hall's life as an athletics venue came to an end in 2012 when it was replaced by the Emirates Arena in the Dalmarnock area of Glasgow, a 5000-seater capacity arena with a hydraulically-lifted 200 metres running track.
Scotland had competed in two tentative international matches held at Cosford in 1969 and 1970, but the opening of the Kelvin Hall arena led to a surge in indoor athletics. Scotland travelled to an international in Athens in 1989, where they were soundly beaten in a 5-team contest, Mary Anderson being the only Scottish winner in the women's 400.  On February 17, 1990, Scotland held its first ever indoor international, finishing 3rd in the mach against Belgium and Norway.  This was a prelude to the European Indoor Championships, held in Glasgow two weeks later, where the high point for the home country was Tom McKean's triumph in the 800.
Surprisingly, only 3 senior international matches were held at the Kelvin Hall after these championships, the last in 1993 and between 1995 and 2005, Scotland took part in just one indoor international, in Cardiff in 2000.  Cardiff was the venue of 7 Celtic Cup international matches between 2006 and 2012, Scotland triumphant in six of these matches which gave valuable competition to a younger generation of Scottish athletes.
The opening of the Emirates Arena, combined with the renewed interest around the 2014 Commonwealth Games in Glasgow, saw two British international matches held, with Scotland competing in the match against a British side as well as overseas opposition. Scotland acquitted herself well, but there no longer seems interest in holding indoor international matches in what is an ideal environment for such events.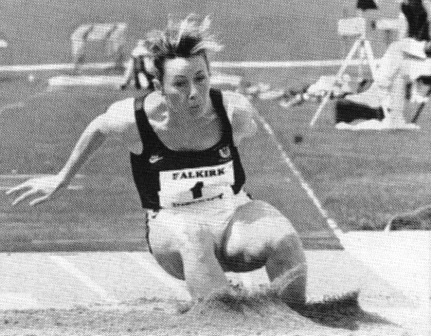 There were generally around 4 international matches a year at the end of the 1980s, early 1990s, and Scotland entertained a variety of international opposition, and competed overseas in Austria, Czechoslovakia, Greece, Iceland, Israel and Turkey.  While sometimes weakened by call-offs and unavailability, many athletes were staunch supporters of the Scotland team. Long jumper Lorraine Campbell made her international debut against Denmark & Ireland in 1981 and nine years later she made her 25th international appearance in Athens against Greece, Ireland & Portugal, the most appearances any athlete has made for Scotland.  Decathlete Allan Leiper's international career stretched from 1979 to 1999, competing in the 60 metres hurdles, 110m hurdles, high jump, pole vault and shot as well as the decathlon, across 23 international matches, the most by a male Scottish athlete. 
In 1991, Scotland faced Iceland, Ireland, Northern Ireland and Wales at Grangeemouth and emerged overall winners, but this was to be the last international match across a full range of events held in Scotland. An international at Meadowbank in 2001 was across a total of 20 events and there were combined events matches at Linwood and Aberdeen and then the introduction of a Celtic Cup international in 2006 across 13 events which was held annually for four years. 
In the 1999 Scottish Athletics Yearbook, I wrote about our solitary Commonwealth Games medallist in Kuala Lumpur in 1998, Allison Curbishley, who was naturally delighted with her success : "How can you end your season better than a PB, a Commonwealth silver medal, and your first senior Scottish vest?", she said. Allison is now a top-class athlete, ranked no.1 in Britain, in the world top 20 and tipped for glory by many over 400 hurdles. Yet here she was making her first appearance in a Scottish senior vest. The absence of international matches now means that many top-ranked Scottish athletes do not have the opportunity to represent their country and many of the CG squad were representing Scotland for the first time. Where is the motivation for athletes to improve if international honours are not provided? Where can they gain the experience to compete at their best when the Games opportunity arrives?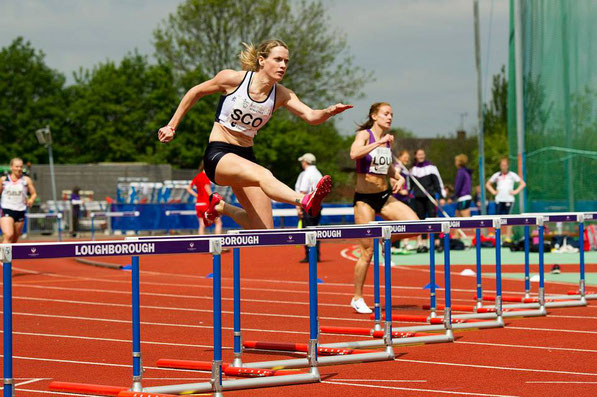 The Loughborough international commenced in 1999 with a televised world record attempt by Paula Radcliffe on the women's 2 miles. Unsuccessful, she had to settle for a British record in the match which produced 4 Scottish winners, Darren Ritchie in the men's long jump, Mary McClung in the women's 800 and Sinead Dudgeon in the women's 400 hurdles, all for Scotland, and Alasdair Donaldson, running for Loughborough. This is a feature of the event whereby Loughborough and the GB Juniors get first pick, to the detriment of the home nations competing.
As a team contest, it is predictable. England has won on 14 occasions, Loughborough once, and an International Select (in the absence of England) twice. Scotland has place third on three occasions - in 2000, 2003 and 2005, winning 7 individual vents in the 2000 competition. It has been in nearly all its 17 years (to 2016), the only international opportunity for Scots outside the Commonwealth Games, with Eilidh Child and Kathryn Evans each appearing for Scotland in 10 matches, Eilidh holding the record of 6 victories.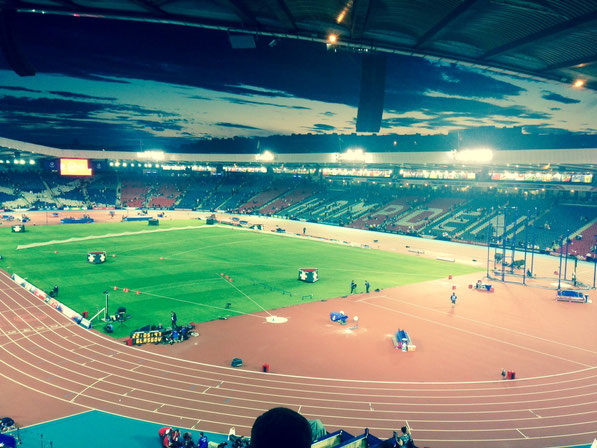 We started this section of Scotland international history with the Commonwealth Games in Edinburgh in 1986. We end with the Commonwealth Games in Glasgow in 2014. In the passage in between, there had been some success for Scottish athletes.
The introduction of the women's 10000 metres in 1986, won by Liz Lynch, sparked a run of 3 consecutive Scottish gold medals at this event. Liz won again in 1990, now as Liz McColgan, and her great rival, Yvonne Murray, took the title in 1994.  The 1990 Games in Auckland was the most successful for Scotland in this period, Yvonne Murray taking silver in the 3000, the men's 4x400 silver, Liz McColgan adding to 10000 gold with bronze in the 3000, and Geoff Parsons a bronze medallist in the high jump.
Parsons repeated his bronze medal at Victoria in 1994, his 3rd consecutive medal at the event, a feat he shared with Yvonne Murray, her 10000 gold adding to medals in 1990 and 1994. Four years later, at Kuala Lumpur, Allison Curbishley's 400 silver was our only medal. At Manchester in 2002, we again gained a silver medal in the 400, this time through Lee McConnell, with Jamie Quarry coming through for bronze in the Decathlon. Medal tallies were increasingly seen as the be-all and end-all for judging the sport, by both the media and the sport's funders, but there can be a very fine line between success and failure. Just ask Darren Ritchie, who missed out on a medal in the long jump at Manchester by just one centimetre.
The silver and bronze medals of 2002 were repeated at Melbourne in 2006 and at Delhi in 2010. Chris Baillie, in the form of his life in Melbourne, broke the national record in qualifying for the 110 metres hurdles final, and then finished 2nd in the final itself, and Lee McConnell, now competing over 400 metres hurdles, won bronze.
The women's 400 metres hurdles was becoming Scotland's best chance of a medal and, in Delhi, Eilidh Child took over McConnell's mantle and went one better, winning silver. Stephanie Twell broke Kenyan dominance to win bronze in 2010.
And so to Glasgow. A marvellously packed Hampden Park cheering all athletes at the start of a period of resurgence of Scottish athletics. The Games possibly came a couple of years too early for maximum impact, given the subsequent achievements of Scottish athletes around the globe but, along with the London Olympic Games of 2012, it can clearly be seen as a driving factor for current success. Maybe not in medal terms where there was memorable success for Lynsey Sharp in gaining silver in the 800, Eilidh Child repeating her Indian silver medal in the 400 hurdles, and Mark Dry, becoming the first Scot to win a medal in a throws event since Meg Ritchie's discus gold in 1982, with his bronze medal in the hammer.  Flower of Scotland deafened the heavens just once in the stadium though, as Libby Clegg, aided by guide Mikhail Huggins, stormed home to win the partially-sighted 100 metres. 
Scottish gold at Hampden Park. And the hope of more to come. A fine way to finish this history of Scottish international matches over the last 121 years.
Thanks  Thanks are due to everyone who provided assistance in the compilation of this narrative and the accompanying statistics. In particular, in the post-war sections, to Brenda Currie, who helped enormously with the Wales results; to Alan Lindop, for assistance with combined events matches; to David Eiger, for his assistance with Israel matches, to Jose Javier Etayo Gordejuela, for his assistance with Catalonia matches; to John Mackay, for the archive material he passed on to me; and to Bobby Gavin, for the continued use of his photographs.