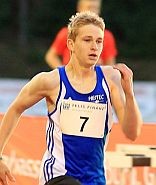 17 December 2014.  One of the great Scottish middle-distance runners of all-time, Graham Williamson, still holds 3 Scottish national records, 2 native records and 4 under-20 records, set in the years 1978 to 1984 and surviving the test of time. Now, another Williamson is set to appear on the scene. Graham's son, Jamie Williamson, who was born in Macclesfield and has been resident in Germany, has opted to run for Scotland. 17-year-old Jamie, a first year under-20 in 2014, improved his 800 metres time this year from 1:58.50 to 1:51.83 and has bests of 50.22 at 400, 2:23.73 at 1000, 4:02.08 at 1500 and 8:47.91 at 3000 and we are sure he will make an impression in the Junior events in 2015. The full story of Graham's career can be read in our book, The Past Is a Foreign Country.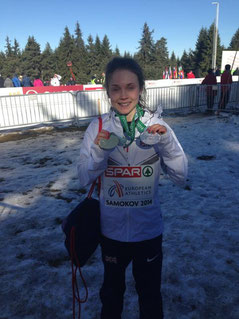 14 December 2014. Rhona Auckland has become the first Scot to win the European Under-23 Cross Country title with an outstanding victory at Samokov. Although Steph Twell won 2 Junior titles in 2007 and 2008, that was before she was recognised as Scottish, and therefore Rhona has become the first Scot ever to win any individual title at these championships since their inception in 1994. In the men's U23 race, Callum Hawkins fought with 3 Russian athletes for most of the way before dropping back and finishing 5th.
Both Rhona and Callum won team silver but Steph Twell was an excellent 7th in the senior race and won team gold.  Andrew Butchart and Jonathan Glen performed well on their international debuts with Andrew 35th in the senior men's race and Jonathan 46th in the junior men's race. Luke Caldwell completed the Scottish contingent, 5 places behind Butchart.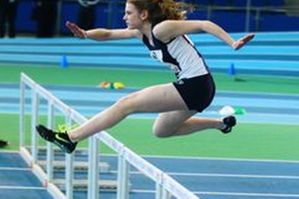 13 December 2014. Caitlin Edgar has bettered the Scottish under-17 record at the British Schools international at the Emirates this Saturday. Although 3rd behind Elizabeth Morland (4045), the impressive Ireland winner, Caitlin's score of 3611, if ratified, will remove Aileen Wilson's score of 3582, set at the same event 15 years ago. Scotland finished 3rd in all 4 age-groups with Holly McArthur the star performer, winning the U16 Girls with 3593 points.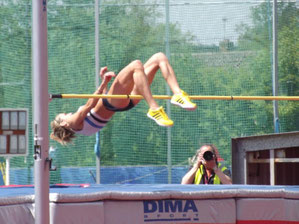 12 December 2014.  Jayne Nisbet has followed fiancee James Campbell by announcing her retirement from high jumping. 
The winner of 10 Scottish senior high jump titles and 2 triple jump titles, Jayne overcame injuries to set an indoor high jump record of 1.87 metres this year. She then went on to qualify for the Commonwealth Games high jump final, where she finished 10th. Details of her career are set out here.
We wish Jayne well in her future career.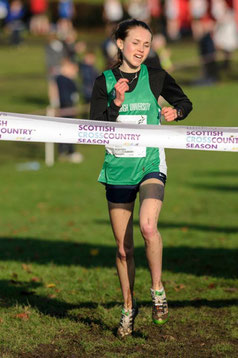 2 December 2014. 6 Scottish athletes have been selected for the European Cross Country Championships at Samokov, Bulgaria on 14 December. Andrew Butchart and Luke Caldwell are selected for the Senior Men, Stephanie Twell in the Senior Women, Callum Hawkins and Rhona Auckland (pictured by Bobby Gavin) in the Under 23s and Jonathan Glen in the Under 20 Men. 4 of the athletes competed at last year's championships at Belgrade, where Luke Caldwell was 5th and Callum Hawkins 7th in the gold-winning Under 23 team. Steph Twell was 15th woman and Rhona Auckland 7th U23. It will be Twell's 8th appearance at these championships, an event where she won the junior women's title in 2007 and 2008. Both Rhona and Callum will be making their 3rd appearance.

The event sees Andrew Butchart and Jonathan Glen representing Great Britain & Northern Ireland for the first time.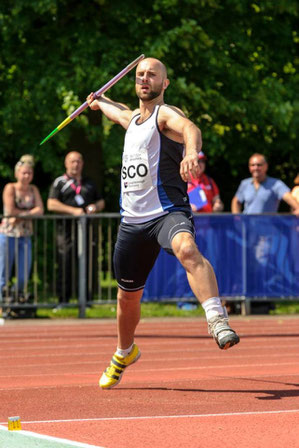 26 November 2014. Scottish javelin record-holder James Campbell has announced his retirement at the age of 26. He has improved the Scottish record from 70.80 to 80.38 metres and set 25 Scottish records from under-15 to senior level.
As a youth, he won a gold medal in the 2004 Commonwealth Youth Games and he was recognised as Scotland's Athlete of the Games. In 2006, he set the Scottish javelin record throwing a distance of 73.18 metres at the World Junior Championships in Beijing, ranking him 8th junior in the world. In 2009 Campbell improved his lifetime best to 76.71 to set the 6th National record of his career. At the Commonwealth Games trials, just weeks after he became UK Champion in 2010, James became only the 10th Briton and 3rd British Under 23 to ever throw over 80m recording a new Scottish National Record and a lifetime best of 80.38 metres. He was again over 80m in 2011 but serious shoulder injury kept him out of action in 2012 and 2013. He returned in 2014, throwing twice over 70m to gain selection for the Commonwealth Games, where he narrowly missed the cut for the the final.

We wish him well in his future endeavours.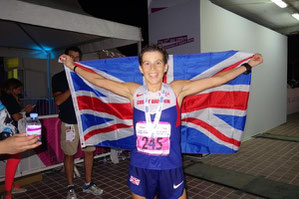 21 November 2014. Ellie Greenwood was victorious at the IAU 100k World Championships at Doha, Qatar, winning the women's title in the fastest-ever time run by a Scot, 7:30:30. She finished almost 8 minutes ahead of Mochizuki of Japan to take her second world 100k title, having won in 2007. Joasia Zakrzewski was a superb 3rd in 7:42:03. In the men's race, Paul Giblin finished 11th in 6:56:14, becoming only the 3rd Scot to better 7 hours for the distance.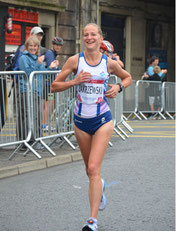 3 November 2014. Dumfries's Joasia Zakrzewski finished an outstanding 2nd in the World 50 kilometres road race at Doha, Qatar on Saturday. Emily Harrison of the USA was first woman home in 3:32:30 with Jo gaining the silver medal in 3:33:23 ahead of Canada's Catrin Jones in 3:37:57. It was Jo's 2nd silver medal at the event, having previously been runner-up in 2011. You can see the record of Scotland's ultra runners on our ultra distance page here.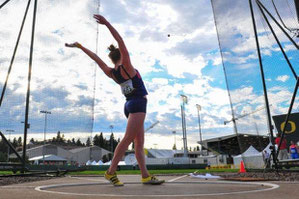 21 October 2014. Kimberley Reed completes our 2014 track and field SATS Challenge winners by taking the Under-20 title by 17 points from Shaun Wyllie. Our 2 World Junior Championship representatives were out on their own at the front with a 350 points gap to the 3rd placed Jack Lawrie. The strength of hammer throwing at Under-20 level showed through with 5 hammer throwers in the top 20. See our top 20 here.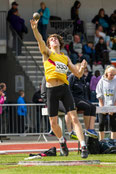 19 October 2014. Our Challenge rankings continue and one of the most closely-fought age-groups sees us head to Inverness where the British and Scottish under-17 shot champion, George Evans, has beaten off the challenge of Edinburgh's Josh Kerr and Banchory sprinter Alisha Rees to take the SATS Under-17 Challenge title. Although triumphing at UK level in the shot, George's discus throws scored highly as well to help him to the title. There was a strong showing from our under-17 middle-distance runners with several 800 metres runners featuring in the top 20. Photo of George (right) by Bobby Gavin. See the top 20 here.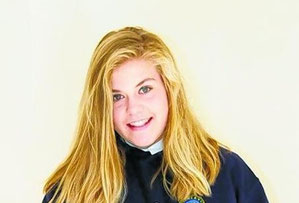 12 October 2014. In a top 20 notable for the prominence of throwers, Pitreavie's Emma Rae tops our Under 15 SATS Challenge.  The Under 15 hammer record-holder led the way from Whitemoss's Holly McArthur and Inverness pole vaulter Andrew McFarlane, all of whom topped the 2000 points score.  10 throwers made the top 20, where the equivalent of an under-15 Power of 10 target earns 600 points. Bonus points were also given for performances at the British and Scottish Championships. Emma's success came by virtue of her 3 scoring performances all being over 7 metres better than the 44-metre UK standard. See the top 20 here.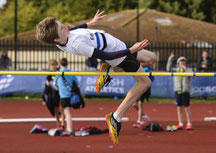 7 October 2014. Edinburgh's young high jumper Owen Ashall has emerged the clear winner of the SATS Challenge Under 13 Rankings. The talented youngster, who sits 2nd in the UK high jump lists, was the only athlete in our lists to better 1000 points. Central AC provided 5 of the top 20, including their Scottish record-beating relay quartet, in these unique lists. The under-13 scoring is based around a score of 300 points for the equivalent of a top 10 Power of 10 UK ranking and is judged on the athlete's 3 best performances, with a bonus for medals at the Scottish Championships. See the top 20 here.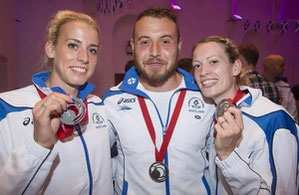 4 October 2014. Eilidh Child (right) is the winner of our 2014 SATS Challenge Rankings, our ranking of the top 100 Scottish athletes based on scoring their performances and taking into account their achievements at the major championships. She edged Lynsey Sharp (left) into 2nd place with Laura Muir finishing 3rd. Jax Thoirs was the top male athlete in 5th place, one spot ahead of Mark Dry (centre). The full rankings can be seen on the SATS Challenge page.
The tables will continue over the next two weeks with the age-group rankings and the road race rankings.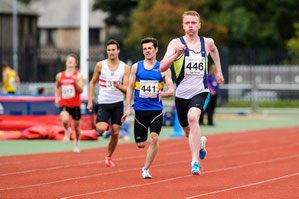 30 September 2014. New - The SATS Challenge Rankings: We rank the top 100 athletes in track and field in 2014, scored on our Performance Tables. Starting today: Positions 81-100, with Jack Lawrie, pictured right, in at 81. Over the next few days we'll gradually work down to our number one. And we'll follow it up with road running rankings and age-group rankings. Follow it here.  (Photo by Bobby Gavin)

Such is the nature of athletics these days, that League competition hardly gets a mention but it remains an important part of athletics competition the length and breadth of Great Britain. Delays in publishing scrutinised results can make the leagues easy to lose track of, so we've gathered the results of the league competition here, in the one place.
It was a successful year for Scottish clubs on the national scale, with Edinburgh AC winning the UK Women's League, Glasgow City AC gaining promotion to the British Men's League Premier Division, and Team Edinburgh (pictured) (a composite team of Edinburgh AC, Lasswade AC and Corstorphine AAC) winning the upper-age group of the UK Youth Development League.
Central AC held off the challenge of Aberdeen AAC to win the Scottish Men's League, while Edinburgh AC were clear winners of the Scottish Women's League.
Giffnock North AAC triumphed in the Central & South of Scotland League; Arbroath & District AC and Inverness Harriers took the senior men and women's titles respectively in the Petrofac League, while Edinburgh AC took the Forth Valley League, now extended to three divisions.
It was certainly a memorable year for Edinburgh AC as they won the Scottish Under 13/15 arm of the  UK Youth Development League and achieved a fine 4th place in the UK Final.
Here's the full detail of how the League positions turned out: 2014 League Results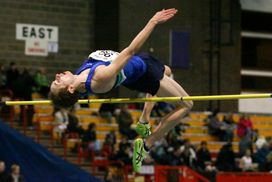 Scottish Athletics' Track & Field Commission has ratified 70 performances from the summer season as Scottish records, including a near re-writing of the Scottish all-comers' records following the IAAF Diamond League meeting and Commonwealth Games at Hampden Park.
The updated record lists can be seen on the Records page of this website. The full list of ratified performances are:
At Pitreavie, Scottish Relay Championships, 15 June: 4x100 Relay (U13 Girls) - 53.46 Central AC

3x800 Relay (U15 Girls) - 7:00.08 Giffnock North AAC.
At Hampden Park, Glasgow, Scottish Schools Championships, 21 June: Pole Vault (U15 Boys) - 3.70 Andrew McFarlane
At Bedford, England Athletics Championships, 21 June: Pole Vault (U20 Women) - 3.85 Anna Gordon. 
At Grangemouth, Open Graded Meeting, 2 July: Indoor Pole Vault (National/Native) - 5.61 Jax Thoirs (& 5.40). 
At Paris, France, IAAF Diamond League, 5 July: National record w1500 Laura Muir 4:00.07.
At Hampden Park, Glasgow Grand Prix, 11 July: All-comers records 100 Kemar Bailey-Cole JAM 10.03, then Nickel Ashmeade JAM 9.97/+0.3 & Michael Rodgers USA 9.97. 5000 Hagos Gebrhiwet ETH 13:11.09. 110H William Sharman ENG 13.21/+0.7. 400H Javier Culson PUR 48.35. SP Tom Walsh NZL 21.23 & Reese Hoffa USA 21.67. w400 Francena McCorory USA 49.93. w1500 Sifan Hassan NED 4:00.67. w400H Eilidh Child SCO 54.39. wLJ Tianna Bartoletta USA 6.97/+0.3 & 6.98/+1.2. w4x100 GBR (Asha Philip, Ashleigh Nelson, Jodie Williams, Desiree Henry) 42.74. Native records HJ David Smith 2.22. PV Jax Thoirs SCO 5.35. w400H Eilidh Child SCO 54.39. 
At Hampden Park, Glasgow Grand Prix, 12 July: All-comers records 400 Issac Makwala BOT 44.71. 1500 Silas Kiplagat KEN 3:32.84. 4x100 Great Britain & NI (Richard Kilty, Harry Aikines-Aryeetey, James Ellington, Daniel Talbot) 38.39. w100 Dafne Schippers NED 11.03/+0.9, then  Michelle Lee-Ahye USA 11.01/+0.3. w200 Dafne Schippers NED 22.34/+0.2. w800 Ajee Wilson USA 1:59.68. w3000S Hiwot Ayalew ETH 9:10.64. w100H Queen Harrison USA 12.58/+0.2. wPV 1 Fabiana Murer BRA, Katerina Stefanidi GRE & Yarisley Silva CUB 4.65. Native records 1500 Chris O'Hare SCO 3:35.06. w800 Lynsey Sharp SCO 2:00.08. w3000S Eilish McColgan SCO 9:44.69. 
At Grangemouth, Scottish Men's League, 13 July: Native record HJ Ray Bobrownicki 2.24 & 2.28.
At Hampden Park, Glasgow, Commonwealth Games, 27 July to 2 August: All-comers records
400 Kirani James GRN 44.24. 10000 Moses Kipsiro UGA 27:56.11. 3000SC Jonathan Ndiku KEN 8:10.44. HJ Derek Drouin CAN 2.31. 4x100 Trinidad & Tobago 38.33 & Jamaica 37.58. 4x400 England 3:00.46. w100 Blessing Okagbare NGR 10.93 & 10.85. w200 Blessing Okagbare NGR 22.25. w400H Kaliese Spencer JAM 54.10. wTJ Kimberley Williams JAM 14.11 & 14.21. wHT Sultana Frizell CAN 71.97. wJT Kim Mickle AUS 65.96. wHep Brianne Theisen-Eaton CAN 6597. w4x100 Jamaica 42.44 & 41.83. w4x400 Jamaica 3:23.82. National records 4x400 Scotland 3:03.94. Native records PV Jax Thoirs 5.35 & 5.45. DT Angus McInroy 57.28. 4x400 Scotland 3:03.94. w5000 Laura Whittle 15:33.72. wMar Susan Partridge 2:32:18. w3000SC Eilish McColgan 9:44.65. w4x400 Scotland 3:33.91.
At Zurich, Switzerland, European Championships, 16 August: National record w800 Lynsey Sharp 1:58.80. 
At Bedford, England Athletics Under-17 Championships, 30 July: U17 1500 Josh Kerr 3:52.46.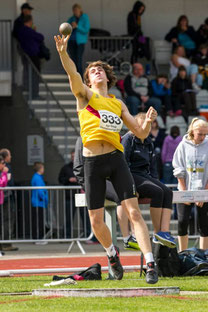 5 September 2014. Lynsey Sharp and Eilidh Child became the first Scots to finish in the top 3 in the IAAF Diamond League after the final Grand Prix meeting at Brussels on Friday evening. Lynsey Sharp bettered 800m DL winner Eunice Sum for the second time, but both had to give way to USA's Brenda Martinez who won in 1:58.84 with Sharp and Sum both timed at 1:58.94. Sharp picked up 4 points from the double-point finale to go with the 4 points from her win at Stockholm to clinch 3rd place in the standings behind Sum and Martinez.
Eilidh Child, adapting to a new stride pattern, came 3rd in 54.76 in the Brussels meeting, bringing her total to 7 points, following 4 third places and 1 second, to take 2nd in the DL standings behind runaway winner and Commonwealth champion, Kaliese Spencer, who won 6 of the 7 Diamond League races.
At the UK Schools Games at Manchester, Scotland's England Athletics Under-17 champions, Josh Kerr and George Evans, confirmed their No. 1 standings with victories in the 1500 and Shot respectively. Kerr won the 1500 in 3:58.70 and Evans was nearly a metre clear in taking the shot with 16.79 metres. Carys McAulay, representing North West Schools, won the Girls' 800 metres, as the Scottish Schools finished 6th of the 7 competing regions.
30 August 2014. Edinburgh AC's Josh Kerr set a new Scottish Under-17 record when winning the 1500 metres at the England Athletics age-group championships on day 1 of the meeting at Bedford. His time of 3:52.46 removes Glen Stewart's 3:52.6 from the record books, a performance that has lasted 27 years. There was further Scottish success when Lewis McGuire set a PB of 2.02 (5th all-time) to take the U17 high jump title, Andrew McFarlane won the U15 pole vault title with 3.60, and George Evans won the U17 shot with 16.93. Evans also took bronze in the discus, while Dionne Milne took silver in the women's discus. Andrew Costello moved to 8th all-time when he won silver in the U15 hammer, bettering 50 metres for the first time with his throw of 51.83. Jade Carlyle was also a silver medallist, clearing a personal best of 1.69 in the high jump.

30 August 2014. Central AC won the final men's league competition of the season at Scotstoun by 68 points to give them the overall men's league title for the 5th consectutive year, and 6th time overall. Aberdeen AAC placed 2nd on the day and overall and with Falkirk 3rd and Kilbarchan 4th, the same top 4 teams as in 2013 finished in the top 4 positions again. Inverness, in their first year in the top division, retained their Division 1 status in 6th, but Lasswade and Arbroath were relegated. Central's endurance athletes as always helped their cause (including a tough double victory at 10000 and 3000SC from Alexander Hendry), but they had a double win in the 400 where under 17s Jamie Paterson and Ewan Corbett took the A and B races. Lasswade may have gone down, but they produced the 100/200 winner in Greg Louden, who had wind-assisted 10.83 and 21.84 victories.

Shettleston Harriers, after being relegated last year, bounced back at the first attempt, winning the Division 2 title over final match winners Victoria Park City of Glasgow AC. Both relegated teams from 2013 are therefore promoted back to Division 1.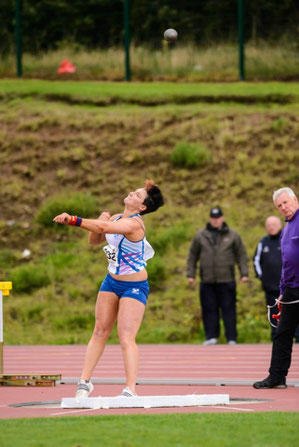 18 August 2014. After the thrills and excitement of the Commonwealth Games at a packed Hampden Park, the Scottish Championships at the Ayrshire Athletics Arena, Kilmarnock at the weekend were a shock to the system. Wet, windy and cold, with depleted fields that made every planned semi-final unnecessary, this was reality athletics at its worst. The elements certainly played havoc with the track performances, but the paucity of the fields was notable in many events. The men's 100 & 400, for instance, featured only two of our top 20 ranked athletes. Only two men's sprint hurdlers competed (one from France) and there was no rival for Commonwealth discus finalist Gus McInroy and just one Scottish male shot putter, where the bronze medal was won with less than 10 metres.

If there was a glaring lack of Commonwealth Games athletes on the track, the same could not be said in the field, where our hammer throwers especially had a 100% turn-out and produced quality competitions. Mark Dry produced the one championship best performance of the day, his season's best 74.63 being the top mark in Britain this year, giving him his 5th Scottish title, equalling his rival Andy Frost's achievement. Susan McKelvie may not have the leading women's mark this year but she has clearly proven herself the most competitive athlete, winning her 7th consecutive hammer title and a record 8th title overall, throwing the hammer out to a season's best of 64.21. There were wins, too, for fellow CG throwers Angus McInroy, his 6th title, with only guest thrower Greg Millar for company; Kirsty Yates, a 3rd title in the Shot; and Kirsty Law, her 7th discus title equalling the event record of Meg Ritchie. Javelin thrower Greg Millar is on a roll as well, his winning throw of 62.33 giving him his 3rd consecutive title.
In the jumps, particularly affected by the high winds with readings of +9.6 on the Sunday (the wind gauge was broken on the Saturday), Inverness's Rachael MacKenzie took her first high jump title in the absence of the injured Jayne Nisbet and Emma Nuttall. In the extreme Saturday conditions, she cleared 1.75 to gain success after 4 silver medals and 1 bronze. Sarah Warnock again got the better of Jade Nimmo in the long jump to retain her title, and Zara Asante was a clear winner in the triple jump for a 3rd title. Caroline Adams retained her pole vault title and Richard Hurren won his 7th men's title, just one behind the event record of 8, set by Pat Ogilvie (1929-36) and David Stevenson (1962-70). Teenager Robert Ferguson was a new name on the title list for the high jump, as were David J. Martin and Tony Daffurn in the long and triple jumps.
Kathryn Christie, still 19, repeated her 2012 sprint double to be the only double-winner of the day, and there was a fine 800 victory for Emily Dudgeon in a very respectable 2:04.29. Perhaps the best track event of the championships was the women's 400 metres hurdles where, despite the high winds and cold weather, the quality of the times was the best in nearly 20 years. It provided the youngest winner of the day in 17-year-old Katie Purves who edged Trafford's Nisha Desai 60.21 to 60.22. Gemma Nicol, running her first hurdles race since she ran 63.80 in 2004, came home 4th in 61.38, suggesting that she can certainly better 60 seconds with more hurdling practice and better conditions. The effect of the wind could be seen in the women's sprint hurdles, where a wind of -6.2 compared with the +6.3 at Scotstoun last year. Hazel Ross took control to win in her 2nd titles but other athletes' hurdling was clearly affected by the conditions.
The men's track events were disappointing with 4 events being won in the slowest times ever. One can only imagine what French-based Scot Benoit Lardy made of it. Having travelled over for the championships,he faced only one opponent, Aberdeen's Ryan Hewitson, who was disqualified for pushing over a hurdle. This event, in particular, has collapsed in depth and quality since the departure of Allan Scott and Chris Baillie and one can only hope Benoit continues to come to the Scottish and gets better competition in future. Sean Fontana (5000) and Ryan McKinlay (3000S) retained their titles and David Martin took his 5th consecutive 400 hurdles title to equal the event record held by Robert Hay (1959-63) and Stan Devine (1980-84).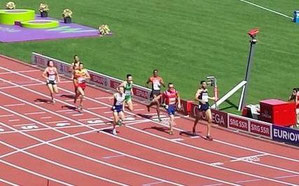 17 August 2014. Chris O'Hare won a bronze medal in the 1500 metres and Eilidh Child led off the British team to a bronze medal on the final day of the European Championships at Zurich. That gave Scottish athletes a total of 4 medals from these championships, equalling their previous best of 4, achieved at the 1986 championships at Stuttgart where Brian Whittle (4x400) won gold, Tom McKean (800) silver and Yvonne Murray (3000) and Elliot Bunney (4x100) took bronze.
O'Hare set off at the back of the field in a slow-run 1500 metres, where David Bustos of Spain led the field through two laps of 63.47 and 66.25. The field bunched with Ireland's Ciaran O'Lionaird the first casualty, badly spiked. Chris moved up on the outside and moved to the front at 1000m and upped the pace. France's controversial Mahiedine Mekhissi-Benabbad burst to the front, taking the lead at 1100m and striding clear as Holusa (Czech Republic) fell and brought down Britain's Charlie Grice. Mekhissi's stunning burst of pace took him well clear and he was a comfortable winner. O'Hare, caught by Mekhissi's electric pace, was only 6th going into the finishing straight but showed tremendous fight to take 3rd at the tape in 3:46.18. Mekhissi was disappointingly booed for celebrating well before the end - but if you're that good, why not flaunt it!
Eiidh Child led off the British women's quartet in the 4x400 metres relay with a fine 51.3 leg, the fastest of the first leg runners and Kelly Massey took it on with a 50.9 run to keep Britain in the lead. Shana Cox (51.26) was just overtaken by Russia at the bell, but Margaret Adeoye fought well on the final stage, her 50.74 taking the team within 0.02 of Ukraine. However, no one expected the stunning last leg from France's Floria Guei. Having only run 52.82 and failed to make the individual 400 final, she produced an amazing 49.71 to take France from 4th to 1st on the line.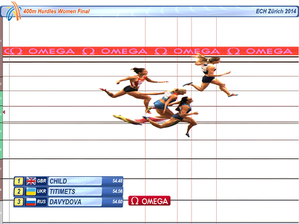 16 August 2014. Eilidh Child fulfilled her favourite status and emerged from Zurich as the new European 400 metres hurdles champion. A master of her craft, her hurdling technique remained smooth throughout the 3 rounds. In a hotly contested final in which 0.22 seconds separated the first 4 places, Eilidh remained controlled to win in 54.48 seconds, ahead of the fast finishing Ukranian Anna Titimets (a PB of 54.56) and Irina Davydova (Russia)(54.60). 
Lynsey Sharp went out strongly at the start of the 800 metres, heading the field at the bell in 58.26 seconds.With only Maryna Arzamasova (Belarus) for company, Lynsey continued to force the pace and went through 600 in 1:27.51 (a Scottish best for the distance). The two athletes were well ahead of the field but Arzamasova proved the stronger winning the title in a European leading 1:58.15, with Lynsey setting a new personal best and Scottish record of 1:58.80 for a fine silver medal. 

It is not the first time that Scottish athletes have won European Championship medals on the same day. In 1990,at Split in Yugoslavia, Tom McKean won the 800 and Yvonne Murray won the 3000 on the same day, while 8 years later at Budapest, Dougie Walker and Allison Curbishley both won relay medals on the same day.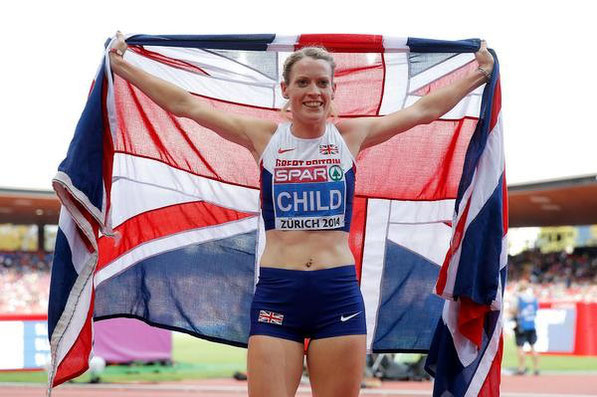 14 August 2014. Eilidh Child and Lynsey Sharp ran controlled races, leading from the front, to reach their finals unbeaten in the European Championships at Zurich today. Eilidh won her semi-final in 54.71 to enter the final as the fastest qualifier, while Lynsey dominated after going to the front at the break on the first lap and never giving up the top spot, winning her semi final in 2:01.32. No Scot had previously gone through 2 rounds unbeaten at the European Championships to reach the final.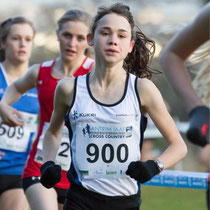 9 August 2014. George Evans recorded a winning throws double at the Celtic Games at Dublin but Scotland were beaten into 3rd place as Ireland dominated the competition winning all the titles and winning the overall competition with 184 points. Wales were 2nd with 150 points but Scotland trailed in 3rd with 136 points. Evans shot and discus double included a 53.85 discus pb which puts him 2nd all-time on the under-17 lists behind Nick Percy. There were sprint victories for Alisha Rees (U16 100) and Cameron Tindle (U18 200) and Kelsey Stewart took the U18 400. The Under 18 Girls took distance victories in the 1500 and 3000 through Caelidh Ross and Gillian Black (pictured) respectively. Dionne Milne (U18 DT) joined Evans as a throws winner and there were jumps victories for Amy Gullen (U18 HJ), Anna Gordon (U18 PV) and Ross McLachlan (U18 LJ). Stewart earned a 2nd victory as part of the Scottish U18 women's 4x400 team, but overall this was the poorest result Scotland has had in these Celtic Games for many years.
7 August 2014. Scotland will have 6 representatives at the European Championships, which commence in Zurich on August 12. Chris O'Hare will go in the 1500 but has lost fellow-Scot Jake Wightman who had to withdraw as a result of the hamstring problems that affected him at the Commonwealth Games. Jax Thoirs, 4th at Hampden, earns his first GB senior vest in the Pole Vault. Silver medallists Eilidh Child and Lynsey Sharp are joined on the women's side by Laura Muir in the 1500 and Beth Potter in the 10000. Scotland has not had more than 5 athletes representing them in the championships in the years since 2000.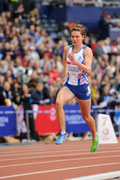 7 August 2014. When Lynsey Sharp and Jenny Meadows qualified for the final of the women's 800 metres at the Commonwealth Games as fastest losers, the athlete to miss out on the final was Emily Dudgeon of Scotland. On our features page, Emily tells SATS about her Commonwealth Games experience.
Jamie Bowie ran a 45.0 relay split and Greg Louden and Grant Plenderleith were both under 46 seconds in the heats of the 4x400 metres relay helping Scotland to their national record of 3:03.94. The relay splits were: Kris Robertson 47.3, Jamie Bowie 45.0, Greg Louden 45.89, Grant Plenderleith 45.60. In the final, the splits in the 3:04.07 run were: Robertson 47.0, Plenderleith 45.8, Bowie 45.21, Louden 45.97.
In the women's 4x400 native record run, Gemma Nicol ran a sub-53 leg as the team's splits were: Kirsten McAslan 53.4, Diane Ramsay 53.0, Gemma Nicol 52.72, Zoey Clark 54.72 in the 3:33.91.
(As reported in Athletics International)
3 August 2014. Scotland finished 8th in the overall points table, based on 8 points for 1st place down to 1 point for 8th place. That's an improvement of 2 places on Delhi. Scotland scored 73 points compared with 54 points four years ago.
The women contributed 47 points to the total, ranking them 6th of the countries (up from 8th in Delhi) while the men scored 26 points in 9th place, an improvement of four places on 2010.
The points total is the best achieved since 1986, when we scored 107 points, but it should be remembered that there was a major boycott of these 1986 Games and far fewer countries took part that year.
The most improved nations were Jamaica, who increased their total by 90 points, and South Africa, up by 53 points. Wales slipped out of the top 10, dropping 22.5 points, while India, the host country in 2010, plummeted from 149 points in 2010 to 36 points in 2014, falling 7 places to 12th.
The leading countries (with 2010 position in brackets) were:
1 (1) England 328 (330); 2 (3) Australia 224 (255); 3 (2) Kenya 205 (255); 4 Jamaica 179 (89); 5 (4) Canada 164.5 (160); 6 (11) South Africa 101 (48); 7 (9) Nigeria 85 (55); 8 (10) Scotland 73 (54); 9 (8) New Zealand 55 (70); 10 (13) Trinidad & Tobago 54 (36).
For the full points table, including the men's and women's tables, click here
For Scotland's points record since 1970, click here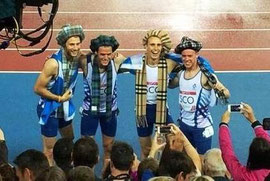 2 August 2014. It's all over. The Commonwealth Games ended with Usain Bolt after some more fine performances by Scottish athletes. Chris O'Hare produced the best performance by a Scot in the showpiece 1500 metres final since Graham Williamson placed 4th in 1982. In a tightly bunched field, O'Hare made a supreme effort on the last lap, moving up the field on the back straight and fighting hard round the top bend. The leaders proved too fast in the home straight, the Kenyan Magut winning in 3:39.31, with Chris holding on to 6th place in 3:40.63 and finishing the top Briton in the race.
It was 6th place, too, for Laura Whittle in the women's 5000. After a slow start, running at the back of the field of 17 athletes, she seemed to grow in confidence as the race progressed. She started to pick off backmarkers and then as athletes wilted in front of her, she finished stronger than most of them. With a couple of laps to go, she caught up with Beth Potter, who had started the race more aggressively, and by the tape had passed Potter and two athletes stronger on paper - Canada's O'Connell and Emelia Gorecka of England - to finish 6th in a new Scottish native record of 15:33.72. Potter was just outside her best, 9th in 15:44.38, but Stephanie Twell was a shadow of the athlete who won the bronze medal in Delhi in 2010. She trailed in 14th in 16:30.66 in her first 5000 of the year, looking short of the fitness levels necessary to compete at this level.
Scotland's men's 4x400 produced another fine run, getting within 0.13 seconds of their new national record. Kris Robertson produced a solid first leg, handing over this time to Grant Plenderleith who took Scotland into 6th place. Jamie Bowie put in a storming run to bring the team up to 5th place and Greg Louden kept Scotland solidly in 5th place, bringing the team home 5th in 3:04.07. That's an average of 46 seconds per athlete for the team.
The heavy rain played havoc with the women's pole vault. In short, it was a massacre. A new Commonwealth Games record was set as 60% of the field was wiped out without clearing a height. If this event had been scheduled for any other night, it would probably have been postponed and held on a later day. As it was, it had to go ahead and Henrietta Paxton was one of the unfortunates who could not get over the opening height of 3.80 metres. As with others, Paxton was clearly over the bar but saw the pole slide back to knock the bar off. It was doubly unfortunate for Henrietta who now has the ignominious record of having competed in two Commonwealth Games without clearing a height.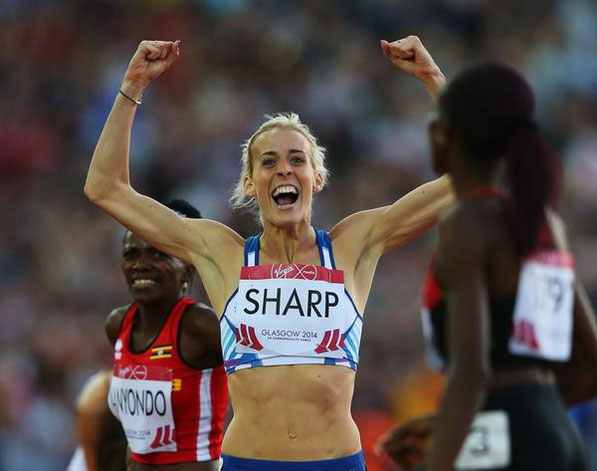 1 August 2014. There was only going to be one outcome. For an athlete who has had to overcome injury, who at one stage was potentially missing the Games as she underwent surgery, who was sick and on a drip overnight, and who only qualified for the final as a fastest loser, the words "Get out strong. Commit." written on her hand were unnecessary. This was as committed a performance as you will see. Lynsey Sharp went out strong from the start as the world champion Eunice Sum led the field through at a fast pace. Sharp was in contention throughout with her main rivals Sum, Winnie Nanyondo of Uganda, and England's Jessica Judd and Jenny Meadows. As they rounded the bend for the final time at the start of the home straight, they were all there. Sum led from Nanyondo, Judd and Meadows. Sharp made one last committed effort, moving faster on the outside of Meadows, past Judd and then fighting all the way to the line. Eyes closed, she caught Nanyondo at the tape, winning the silver medal in 2:01.34, Nanyondo in 2:01.38, with Eunice Sum, a worthy world champion, winning in 2:00.31.
The crowd went wild. There is a recognition in these Games that we are in the presence of great athletes from around the world. No medal is easy and every one is richly deserved. Lynsey's silver brought Scotland's medal tally to 4, bettering the performance at each of the previous 5 Games. For the Sharp family, her silver medal complemented father Cameron's relay gold in 1978 and his 3 bronze medals from 1978 and 1982.
There is a very tight margin between success and 4th place. In the case of Jax Thoirs, it was his one failed clearance at 5.45 that saw him miss out on a bronze medal to the Canadian Shawnacy Barber. In a competition won in a jump-off by England's Steve Lewis (following his silver and bronze at the last 2 Games) in 5.55 from England's Luke Cutts, Jax had seen his team-mate, Gregor MacLean, tear a hamstring in the warm-up and have to sit out the competition. Jax had first-time clearances at 5.20 and 5.35, before that crucial first miss at 5.45. He cleared it on his second attempt for a new Scottish Native record, but could not clear 5.55. Barber also failed at 5.55 but took the bronze medal by virtue of having cleared 5.45 on his first attempt.
We may not have had an individual runner in the 400 metres but the focus solely on the 4 x 400 metres relay may have benefited the Scottish team of Kris Robertson, Jamie Bowie, Greg Louden and Grant Plenderleith. This was the first time in the history of these Games that Scotland have entered a team of four natural 400 metres runners, rather than adapting from other team members. It was also the first time since 1990 that Scotland had entered a team in this relay. On that occasion, a makeshift quartet came away with the silver medal in a national record of 3:04.68. That time still stood as the record until tonight when the Scottish quartet produced the run of their lives to come home 3rd in the heat behind England and Jamaica in a new record run of 3:03.94 to qualify for the final.
James Campbell, like Lynsey Sharp, has not had his troubles to seek, a series of operations on his shoulder seeing him only return to throwing last year. When he threw the javelin out to 70.78, a season's best, in the final round of the qualifying, that put him into the vital 12th qualifying spot, with only 3 throwers remaining. India's Davinder Singh landed at a frighteningly close 70.56 with his final effort, England's Dunderdale fouled, and then with the very last throw of the qualifying competition, India's Kasana reached 71.95 to agonisingly eliminate James from the competition.
Our women's 4x400 squad, running without Eilidh Child, also missed out on qualifying for the final day, as Kirsten McAslan, Diane Ramsay, Gemma Nicol and Zoey Clark, finished 9th of the qualifiers. When Gemma Nicol brought Scotland into a good position and a superb hand-over to Clark saw Zoey tearing off into 2nd place, it looked as if Scotland could grab one of the automatic qualifier positions. It was not to be, alas, as they slipped to 4th and it was scant consolation that their time of 3:33.91 destroyed the Scottish Native record of 3:41.45 which had stood for 13 years.
Chris O'Hare qualified for the 1500 metres in a ferocious first heat which saw the first four automatic qualifiers separated by just 0.04 seconds, Chris 4th in 3:40.80. Jake Wightman faded in the wind-up to the line, finishing 8th in 3:43.87 and a similar fate befell David Bishop in heat two, left adrift in 8th place in 3:43.10. There were 3 Scots, too, in the men's 10000 metres final. Andrew Lemoncello fared the best, finishing 12th in a season's best of 28:36.63. Behind him, Luke Caldwell set a new PB of 28:47.39 in 14th and Callum Hawkins finished 20th in 29:12.52. Stephen Lisgo found the 3000 metres steepechase tough going and finished 8th in 9:05.13.
In the finals of the women's discus and high jump, both our qualifiers could not match their qualifying performances. Kirsty Law, like Angus McInroy the previous night, was down on her qualifying mark of 54.68, managing 52.33 with her final throw for 11th. It was not to be, either, for Jayne Nisbet, who had jumped so impressively in the qualifying, clearing all her heights first-time up to and including 1.85. One day later, she managed 1.78 before going out at 1.82 in joint 10th position.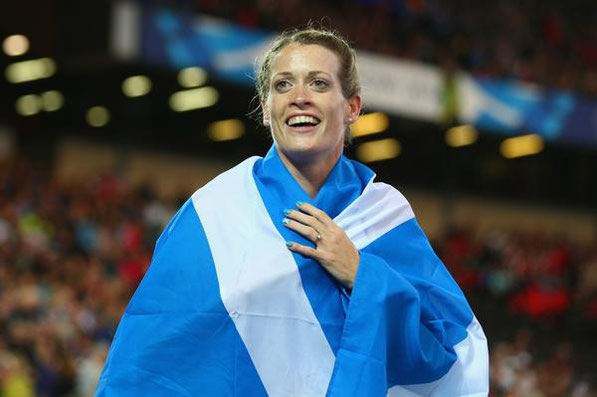 31 July 2014. Eilidh Child set Scottish hearts alight as she withstood all the pressure of expectation to win the silver medal in the 400 metres hurdles. Her performance gives Scotland the complete set of medals - one gold, one silver, and one bronze - at these Games, the first time that has been achieved since 1990. It earned Eilidh her second silver medal, following the one she gained four years ago in Delhi. Any tension at the start was enhanced when, just as in her heat, the start was delayed. This time it was because there was a crash in the silence when the two remote-controlled cars that carried the discuses back from the field crashed into each other! Child started well, as did the favourite Kaliese Spencer of Jamaica, but as they entered the home straight, Spencer, the world number one with 53.41, had moved ahead with Eilidh clear in 2nd. So it remained to the line as Spencer pulled clear to win in 54.10, an outstanding time in the cool, wet conditions, and a new Scottish all-comers' record surpassing Eilidh's own mark of 54.39. Eilidh took the silver in 55.02 and Jamaica's Janeive Russell the bronze in 55.64. The Proclaimers' 500 Miles blared out all round the stadium on her lap of honour, although I'm not sure a Hearts fan would have wanted to hear a song by two Hibs-supporting brothers!
Guy Learmonth lined up in the 800 metres final, his third race alongside the great David Rudisha in three days. On paper, Guy was the slowest in the field by some margin, 1.35 seconds behind the 8th fastest, but he ran a committed race. At the bell, he was 7th as Rudisha led the field in 52.71. He dropped to the back but refused to accept that fate and came back strongly in the home straight to pick off 3 athletes and finish in a personal best of 1:46.69 for 6th position. These have been an outstanding Games for Learmonth.
The women's 800 metres semi-finals were dramatic races for the Scots. Lynsey Sharp, a medal hopeful, looked as if she was being dropped as they came into the home straight but fought back strongly and dipped on the line to edge England's Jenny Meadows for 4th position in 2:02.28. Heat 2 saw Emily Dudgeon, like Guy Learmonth, the slowest on paper with 6 of the 8 having sub-2:00 PBs. The heat was slower than the first, the bell being taken in 60.76. Emily dropped back to go round the outside at the start of the back straight and by the next bend had moved into 2nd. She fought hard to retain her spot but at the line was 4th in 2:03.00, just 0.17 off 2nd spot. With the first 3 qualifying automatically, Sharp and Meadows gained the fastest loser slots.
In the women's T53/T54 1500 wheelchair race, the wet conditions were not favourable and times were slower as a result. Samantha Kinghorn finished 5th in 4:03.95 and Meggan Dawson-Farrell 7th in 4:07.86.
Angus McInroy could not match his native record of 57.28, set in the discus qualifying, in the final and he would have needed to break it convincingly to reach the final 8. After the first 3 rounds, he was back in 12th position with his third-round throw of 54.12, failing to advance to the final 3 rounds. In the women's discus, Kirsty Law comfortably went through to the final, her 54.68 giving her 8th position, but it looks as though she will need to throw 57 to 58 in the final to have a chance of a top 6 placing.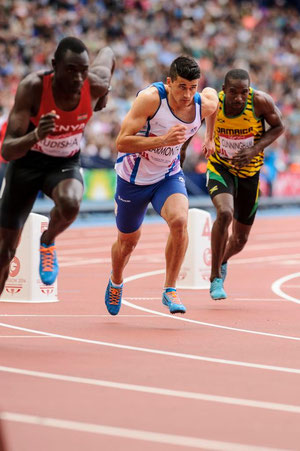 30 July 2014. Day 4 of the Commonwealth Games showed how tough a competition these Games can be with high standards in the qualifying in the field and quality finals. Angus McInroy produced the first Scottish native record of the Games, 57.28 in the 3rd round of the discus qualifying, for 11th position in the final, and Eilish McColgan improved her own native record by 0.04 seconds in the Steeplechase to claim 6th place.
Kirsty Yates, only recently turned 21, and competing alongside the great Valerie Adams - both of them sharing the honour of being former Scottish under-15 champions - was certainly not overawed by the occasion as she fired her first round shot putt to a new personal best of 16.42 and temporarily led the leaderboard. The throw added 33cm to her PB, and was the 3rd best throw by a Scot in Scotland, behind Meg Ritchie's 16.80 and 16.66. Although she couldn't improve on her opening round throw, she should be proud of her 8th position in an excellent competition. Alison Rodger was 10th with her one legitimate throw of 14.76.
There was a gutsy performance by Guy Learmonth, roared on by the home crowd, who qualified automatically in 3rd place (1:47.78) in heat 1 of the 800 metres semi finals, behind Kenyans David Rudisha and Ferguson Rotich. Guy turned the tables on Ricardo Cunningham who had edged him in the heat and left the Australian Jeff Riseley, a 1:44.48 man, trailing in 5th.
The women's high jump qualifying was stronger than could have been anticipated as 15 athletes were still in the competition as the bar was raised to 1.85 metres. Jayne Nisbet was in great form as she followed faultless attempts at 1.71, 1.76 and 1.81, with another first-time clearance at 1.85. The height proved too much for Emma Nuttall though. Looking good over 1.71 and 1.76, she cleared 1.81 at the 2nd attempt, but had 3 close fails at 1.85. Scotland's third entrant Rachael MacKenzie, cleared 1.66, 1.71 and 1.76, but went out at 1.81, a height equal to her personal best.
While the women's competition was fierce, the men had to complete their final in cold and windy conditions, and 2.25 was enough to eliminate 8 athletes, including Ray Bobrownicki, equal 9th with 2.21 metres.
There were excellent runs in the 800 metres heats from Lynsey Sharp and Emily Dudgeon to qualify for the semi finals. Lynsey took 2nd in heat 1 in 2:03.04, and in a faster heat 3, Emily advanced in 3rd in 2:02.35.
Eilish McColgan ran her season's best of 9:44.65 for 6th place in the Steeplechase where there was a Kenyan 1-2-3 followed by two Australians. Lennie Waite placed 10th in 9:51.93. 
In the men's discus qualifying, Nick Percy's 56.71 saw him place 5th in Group A qualifying (ahead of 2 athletes superior on paper), but the quality of the B Group, saw him place 13th overall, missing the final by just 55cm. In the women's long jump qualifying, 25 athletes started and 6.29 was the mark eventually needed to reach the final 12, but that proved too much for Jade Nimmo (6.23 in 14th) and Sarah Warnock (6.22 in 15th).
These Games are proving compelling viewing but one thing the organisers have got wrong is the scheduling of medal ceremonies after the final event. It was disapponting to see Valerie Adams, javelin winner Kim Mickle (her 65.96 being a Games record and Scottish all-comers' record) and Canadian Derek Drouin (another all-comers' record of 2.31 in the high jump) being presented their medals after 10pm in a half-empty stadium. They deserved better.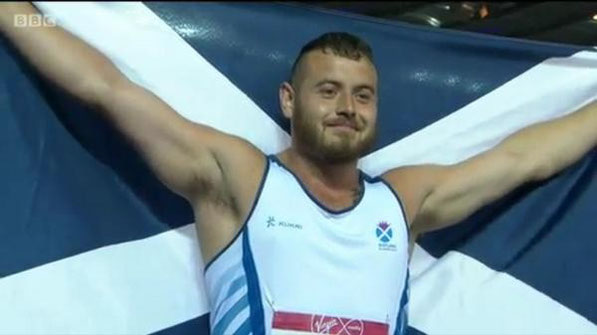 29 July 2014. Commonwealth Games (evening). It has been 20 years since Geoff Parsons became the last Scottish man to win a medal in any field event and 32 years since Chris Black took hammer bronze. Today they were emulated by Mark Dry who took 3rd place in the hammer with a throw of 71.64 metres. The Canadian Jim Steacy opened with 72.61 and led throughout, improving to 74.16 in the 2nd round and proving easily the most consistent thrower with 6 throws over 72 metres in a series that read 72.61-74.16-72.87-73.35-73.96-73.54. England's Nick Miller was 2nd in the first round with 70.80, improved to 72.99 in the 2nd and held the place throughout, but fellow countryman Alex Smith opened with 70.48 in 3rd ahead of Mark Dry's 69.73. Mark responded with 71.64 in the 2nd to move into the bronze medal position, they both fouled round 3, then both fired out over 70 in round 4 - Mark 70.96, Alex 70.99. 2 more fouls in round 5, and when Smith's final throw fell short at 69.58, Mark could afford to foul his final round in the knowledge that he'd won the bronze medal. Andy Frost and Chris Bennett were never in contention and will both be disappointed with their Games, failing to make the final 8, and well below their best, Andy throwing 66.63 for 9th, Chris 61.92 in 12th.
On the track, the Scottish highlight was Beth Potter's courageous run in the 10000 metres. In the early stages, it looked as if this would be totally dominated by the African athletes as a leading group of 3 Kenyans, 2 Ugandans and 2 Rwandans set a fast pace and opened up a gap from from the chasing pack of British athletes (there were no Canadian or Oceania athletes in the field). Gradually the chasers worked back and then had to do it again as the leaders sped up and created another break. Beth picked off the Rwandans as they dropped from the leading group. Moving up to join the leading group, Beth took the lead with just under 10 laps to go (at 20:12), running with a spring in her step (picture on our facebook page). Watching from the stands, it was a joy to see a Scottish distance athlete being aggressive and challenging the Kenyans, and the crowd were responding as Saltires waved all around the stadium. For 4 minutes she led the race before the Kenyans made their decisive break and it was then a battle between them for the medals, won by Chepkirui in 32:09.35 from Kiplagat 32:09.48 and Chebet 32:10.82 but there was still a lovely battle between Potter and England's Kate Avery for 4th. Beth looked to have secured it going up the final home straight but Kate came back and just got 4th on the line by the smallest of margins, 32:33.35 to 32:33.36. The race produced PBs for 5 out of the first 6 athletes, Beth improving by 12.33 seconds for 6th all-time and she produced the 2nd fastest time ever by a Scot in Scotland, behind Liz Lynch (McColgan)'s 1986 win in 31:41.42.
In the 1500 metres, there was great hope for Laura Muir. Unlike her heat, the race started slowly and the field was bunched tightly throughout. Laura was running sensibly, 5th at the bell, keeping clear of trouble, running on the outside of lane 2. But as the athletes came around the final bend, Laura appeared to lose her balance, possibly clipped from behind by Nikki Hamblin of New Zealand, and in the effort to stay on her feet, totally lost her momentum. Disheartened, she came home 11th in 4:14.21, the race won by Kenya's Faith Kibiegon in 4:08.94.
29 July 2014. Commonwealth Games (morning). There is little doubt that the home athlete handling the most pressure in the athletics is Eilidh Child. As she lined up at the start of her heat of the 400 metres hurdles, it can't have helped that Trinidad & Tobago's Josanne Lucas false started from the set position and was disqualified, delaying her starting race a few minutes longer. But if she felt the pressure, it didn't show - this was a confident start from Eilidh, her hurdling technique smooth, and she comfortably won in 55.56 seconds. There was an ominous sign, though, in heat 3 as the favourite for the event, Kaliese Spencer, stuttered a bit in the first half but came through comfortably, easing down in 55.46.
Guy Learmonth, lining up in lane 5 of heat 1 in the 800 metres, with world record holder David Rudisha in the lane outside him, was close to an automatic first 3 qualification, finishing 0.14 behind 3rd placed Ricardo Cunningham, 4th in 1:47.85. His time was faster than the other heat winners and Guy went through to the semi-finals as the clear fastest loser.
Both Samantha Kinghorn and Meggan Dawson-Farrell have reached the final of the T53/T54 1500 metres wheelchair race, Kinghorn an automatic qualifier (4:03.41), Dawson-Farrell a fastest loser (3:58.78) but the speed of their rivals in the final sprint for the line may be significant.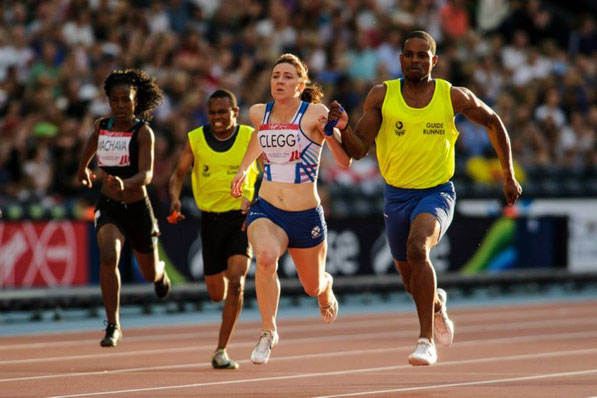 28 July 2014. Commonwealth Games Day 2 (Evening Session). The night belonged to one person, Libby Clegg who stormed to victory in the T12 100 metres in a world-leading 12.20 seconds. She had always been a favourite but turning it into gold is another matter. We need not have worried. A winning margin of 1.13 seconds is impressive in any sprint and she completely dominated the event, thoroughly deserving of the ovation she got and the heart-felt rendering of Flower of Scotland. The announcers at Hampden Park ridiculously try to get the crowd to create the Hampden Roar. This is not something you can turn on - the Hampden Roar happens at the right moment - and it happened this Monday evening for Libby Clegg and her guide Mikail Huggins. It was Scotland's first gold medal in athletics since Yvonne Murray won the 10,000 metres in Victoria in 1994.
In the T37 100 metres, Jason Maclean finished an excellent 5th in 12.93 seconds, a personal best, and you can't ask much more from an athlete than to set a PB when it matters.
The women's hammer final saw a little bit of Games history created - the first time that 3 Scots have ever appeared in the final of a women's throwing event. All 3 bettered 60 metres, with Susan McKelvie setting the way in round 1 with 63.76 metres, a throw that saw her place 6th. After a foul in her opening round, 20-year-old Rachel Hunter produced a series of admirable consistency, 5 throws over 60 metres and a best in Round 4 of 63.29 for 7th place. Myra Perkins threw her best of 60.16 in Round 3, a throw which achieved 10th place, just 50cm away from reaching the final 8. The title itself was won by the supreme Sultana Frizell of Canada with her throw of 71.97, a Games record and a Scottish all-comers' record, removing Kuzenkova's 71.73 (2002) from the record books.
There were two outstanding 100 metres finals sandwiching the medal ceremony for Libby Clegg, with fine wins for Kemar Bailey-Cole (Jamaica) in 10.00 and Nigeria's Blessing Okagbare in 10.85. That followed Okagbare's semi-final win in 10.93, the first time we have seen a sub-11 second clocking in Scotland for the women's 100.
There was a compelling Shot competition of high standard with O'Dayne Richards of Jamaica defeating New Zealand's Tom Walsh 21.61 to 21.19.
28 July 2014 (morning session) Mark Dry led the trio of Scottish hammer throwers through the qualifying and into the final. A first round throw of 71.62 saw him clear the 70 metres automatic qualifying standard with ease. It was more of a struggle for Chris Bennett and Andy Frost though. Bennett, his first round effort seemingly nullified by faulty equipment, hit his best of 68.01 on his 3rd throw, while Andy Frost's 66.54 earned him the 9th qualifying spot. The three Scots are joined in the final by 3 English throwers, as just 4 athletes hit the automatic 70-metre qualifying: Dry, Steacy (Canada) and Miller and Smith, both of England.
On the track, Libby Clegg looked a hot favourite to win the final as she raced to a T12 100m heat win in a season's best 12.23, leading the rest of the qualifiers by over a second. Laura Muir ran a controlled race in a very fast 1500 metres heat, won in a new Games record of 4:04.43 by Kenya's Hellen Obiri, with Laura 3rd in 4:05.19. The top 4 were all faster than the winner of heat 2. The South Africans looked unbeatable in the heats of the men's T37 100m, where Jason Maclean qualified for the final as 5th fastest in 12.96, but Lewis Clow was eliminated in 13.41.
Ray Bobrownicki was Scotland's only qualifier in the high jump, clearing 2.20, but David Smith was disappointingly eliminated at 2.16, well below his best. Allan Smith withdrew from the event and the lack of explanation from Team Scotland, suggests more may be heard of this.
27 July 2014. Susan Partridge finished 6th in the marathon in 2:32:18, a Scottish native record, having stayed with the leading group for the first 15 kilometres. Then the leaders stepped up the pace from 17:39 for 10-15km, to 16:43 and then 16:56 over the next 2 5km stages. Partridge tried to match, stepping up from 17:41 between 10-15km, to 17:18 for the next 5km but was unable to maintain that pace, falling away to 18:00 for the next 5km. Hayley Haining and Joasia Zakrzewski finished 13th and 14th, but for Haining there was a significant achievement, becoming - at 42 years 143 days - the oldest athlete ever to represent Scotland in athletics at the Commonwealth Games. In the men's race, in conditions that were "pretty windy, quite tough-going" in places according to Derek Hawkins, Hawkins moved through the field from 18th at the half marathon point to 9th and, like Partridge, top Brit in 2:14:15, just 11 seconds off his best. It was a similar story for Ross Houston, whose near-even splits of 69:16 and 69:26 saw him rise from 22nd at halfway to 16th in 2:18:42, 9 seconds off his best.
In the one track final of the day, Luke Caldwell performed creditably in the 5000 metres to stay in touch with the leading group for much of the race. Running at the back of the group, he picked off athletes as they dropped from the group, but in the end the pace was too much and he lost a lot of ground in the last two laps, finishing 13th in 13:43.75.
In the field, all three Scots are through to the final of the women's hammer. Susan McKelvie put two of her three throws into the cage but her one valid throw of 62.00 secured the 5th qualifying place, one place and 9cm above Rachel Hunter, whose qualifying was never in doubt with a consistent series. Myra Perkins, however, had to wait until the final throw of the qualifying competition until she could be sure her throw of 57.70 was enough to claim the 12th and final qualifying spot. 
23 July 2014. Kimberley Reed repeated the position obtained in qualifying by finishing 10th in the hammer throw in the World Junior Championships at Eugene. After an opening round 59.96, she threw her best effort of 60.17 in the second round, before fouling her 3rd attempt. Alona Shamotina of Ukraine led the competition throughout, winning with 66.05.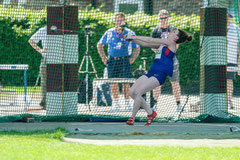 22 July 2014. Kimberley Reed advanced to the final of the women's hammer throw at the World Junior Championships at Eugene with a 58.57 final round throw that put her through as the 10th qualifier. With 9 throwers reaching the automatic qualifying of 60 metres, there were three further spaces up for grabs and Kimberley took the first of them with her final qualifying throw. The final is this evening (1.30am our time). Shaun Wyllie missed out, however, in the 1500 metres, finishing 6th in the final heat in 3:49.95, the race having been won in 3:48.36. Heats 2 and 3 were much slower than the first heat, won in 3:41.35, where the first 8 were all faster than the next two heat winners.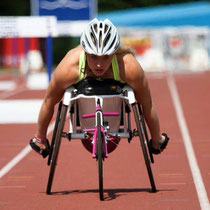 22 July 2014. Five Scottish athletes have been named in a 56-strong British team for the IPC European Championships at Swansea on 18-23 August. Libby Clegg and Samantha Kinghorn (pictured) will follow on from their Commonwealth Games appearances and they are joined in the side by Jo Butterfield in the F51 club throw and discus, Maria Lyle in the T35 100 and 200 metres, and Stef Reid in the F44 100 metres and long jump, the event in which she set her world record 5.47 metres at the recent Glasgow Grand Prix at Hampden.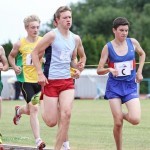 There were fine wins for Josh Kerr (1500) and George Evans (Shot) at the Schools International at Cardiff on Saturday with several Scots moving into the under-17 all-time list. Anglo Carys McAulay, representing English Schools, was the only female winner, decisively taking the 800 metres. All 3 winners recorded personal bests and now feature in the all-time top 10s, as do Michael Olsen (200), Jill Cherry (300) and Katie Turnbull (1500S). However, despite these top performers, the Scottish Schools lack of depth was highlighted again, with the team finishing in last place for the 4th year in a row.
Lynsey Sharp set herself up for the Commonwealth Games with a fine win in Madrid in 1:59.72. That's just 0.05 seconds off her personal best time and gives her a good confidence boost for what will be a tough competition in Glasgow.
The Scottish Association of Track Statisticians has documented athletics performances in Scotland for over 50 years and this website provides authoritative and factual information on performances, rankings, athlete profiles, and records as well as documenting the history of the sport in Scotland.
SATS have published a new book The Past Is a Foreign Country covering a history of athletics in Scotland through the stories of the athletes themselves.
See the Book page on the menu along the top for details.
You can follow us as well on our facebook page for information and stories.