Here is a listing of the Scottish records set during 2022 that have been officially ratified:
SCOTTISH NATIONAL RECORDS
800m - Jake Wightman (Edinburgh AC) 1:43.65. 1000m - Jake Wightman 2:13.88. 1 Mile - Jake Wightman 3:50.30. 10000m - Andrew Butchart (Central AC) 27:36.77, Eilish McColgan (Dundee Hawkhill Harriers) 30:19.02. 400m hurdles - Jack Lawrie (Woodford Green with Essex Ladies AC) 50.07. Discus - Nicholas Percy (Shaftesbury Barnet Harriers) 63.47, 64.35, 64.95 & 65.00. 4x100m Relay - Scotland (Rebecca Matheson, Alisha Rees, Sarah Malone, Taylah Spence) 44.75 (twice). 
Indoors - 60m - Adam Thomas (Bracknell AC) 6.56; Alisha Rees (Edinburgh AC) 7.32 & 7.31. 200m - Zoey Clark (Aberdeen AAC) 23.36. 1500m - Josh Kerr (Edinburgh AC) 3:32.86. 1 Mile - Josh Kerr 3:52.27 & 3:48.87. 3000m - Andrew Butchart (Central AC) 7:37.42. 60m hurdles - Heather Paton (Birchfield Harriers) 8.28. 4x200m Relay (Club) - Kilbarchan AAC (Kade Thomas, Stephen Johnston, Stephen Dunlop, Krishawn Aiken) 1:27.20.
* Awaiting ratification - 100m - Alisha Rees 11.30.
* Not ratified - 100m - Alisha Rees 11.39. Indoor 200m - Adam Clayton (Giffnock North AC) 21.07 & 20.86.
SCOTTISH NATIVE RECORDS
Indoors - 200m - Zoey Clark (Aberdeen AAC) 23.36.  4x200m Relay (Club) - Kilbarchan AAC (Kade Thomas, Stephen Johnston, Stephen Dunlop, Krishawn Aiken) 1:27.20.
SCOTTISH UNDER-20 RECORDS
100m - Alyson Bell (Giffnock North) 11.58 & 11.57. 
Indoors - 1500m - Jack Patton (Kilbarchan AAC) 3:46.79. Heptathlon - Murray Fotheringham (Giffnock North AC) 5774.
SCOTTISH UNDER-17 RECORDS
3000m - Corey Campbell (Team East Lothian) 8:17.90 & 8:09.02. 400m hurdles - Ben Heron (North Ayrshire AC) 52.67. Shot - Meghan Porterfield (Victoria Park City of Glasgow AC) 15.25. Discus - Meghan Porterfield 44.81.
Indoors - 200m - Dean Patterson (Glasgow School of Sport) 21.70, 21.47 & 21.40 (twice). 1500m - Corey Campbell 4:00.11, Oliver Patton (Kilbarchan AAC) 3:58.78, Corey Campbell 3:55.90. 3000m - Corey Campbell 8:23.94. Triple jump - Libby White (Ayr Seaforth AC) 12.31, 12.41 & 12.63. Shot - Meghan Porterfield 14.55 & 14.79.
SCOTTISH UNDER-15 RECORDS
100m - Tehillah Ikechukwu Okonkwo (Law & District AAC) 12.10, Sophie Thomas (Dunfermline Track & Field Club) 12.10. 3000m - Angus Wilkinson (East Kilbride AC) 8:58.15. 3 x 800m Relay - Falkirk Victoria Harriers (Hamish Hunter, Ray Taylor, Luke Culliton) 6:21.77. 
Indoors - 300m - Rory Taylor-Young (Giffnock North AC) 37.54 & 37.44.
SCOTTISH UNDER-13 RECORDS
1500m - Rhuairdh Laing (VP-Glasgow AC) 4:29.43.
Indoors - Long jump - Angus Weir (Giffnock North AC) 5.20 & 5.38.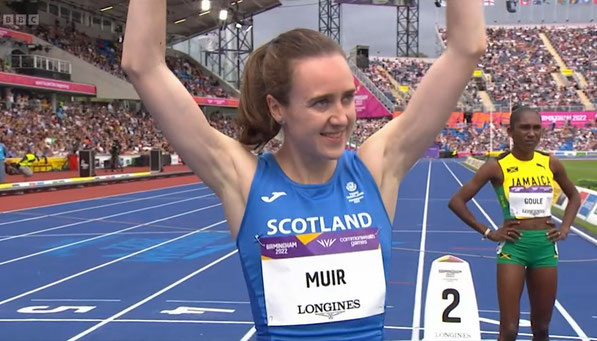 14 December 2022. Our SATS Challenge for 2022 is complete. The 100 have been listed (follow link here). The winner is known.
And our SATS Challenge Track & Field Athlete for 2022 is Laura Muir. The consistency of her top-class performances combined with her champinship record across World, European, Commonwealth and British championships saw her defeat World champion Jake Wightman and Commonwealth champion Eilish McColgan. Laura has dominated the Challenge with six wins in the eight years the competition has been running, with just Eilidh Child in 2014 and Eilish McColgan in 2017 interrupting her success.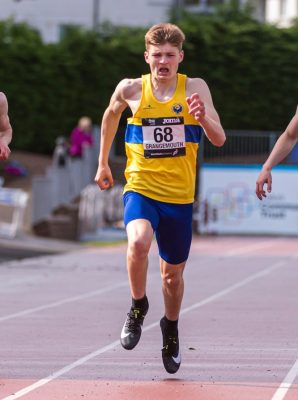 8 December 2022. Our unique countdown - The SATS Challenge - begins, our ranking of the top 100 track and field athletes in Scotland. 
The ranking is based on the scoring of athletes' 3 best performances combined with additional points for championship performances.
This year's list shows an improvement in depth with the 100th placed athlete scoring 2785 points, significantly more than last year, and more than 2019's pre-pandemic total.
It is evident from the full 100 that there is greatly increaseds depth in men's middle-disatance with that category dominating the list.
Disappearing from the top 100 - Erin Wallace, Rachel Hunter, Ciaran Wright, Nikki Manson, Mhairi MacLennan and Joe Bloomfield, all in the 2021 top 30.
Today, places 81 to 100 are revealed with Giffnock North sprinter, Finlay Waugh (pictured, photo credit: Bobby Gavin) entering the top 100 at number 83.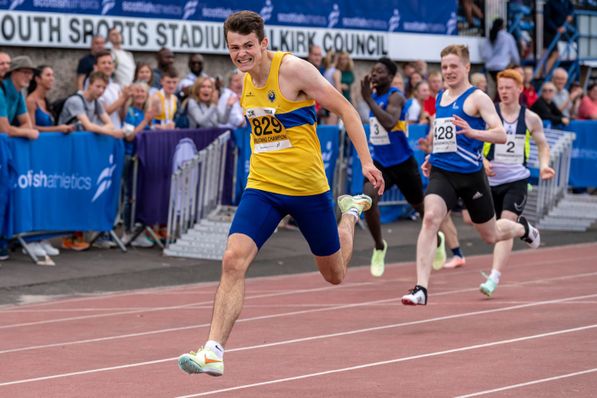 5 December 2022.  This year our SATS Challenge Under 20 Track and Field Club of the Year (follow link here) produced a runaway winner. Giffnock North AC scored most points in both the boys and girls section and headed the other big two, Edinburgh AC and VP Glasgow by 68 and 70 points respectively. Helped by high points scorers Murray Fotheringham (pictured, photo by Bobby Gavin), Alyson Bell and Hannah Ryding, Giffnock moved up from 4th in 2021.
There were strong performances, too, from Team East Lothian, Kilmarnock (who have placed in the top 10 in each of the four age-groups) and Cumbernauld, all of them collecting over 100 points.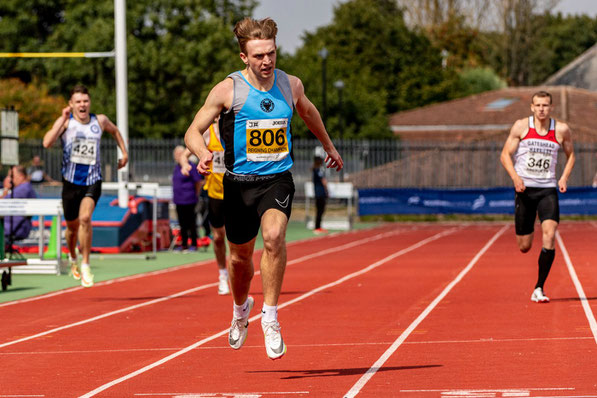 27 November 2022.  Our Under 20 SATS Challenge Track & Field Athlete of the Year (follow link here) is Airdrie Harrier Brodie Young. Winner of the 400 metres at the Scottish Senior Championships and relay runner for GB&NI at the World Under 20 Championships, Brodie becomes the first 400 flat winner of the Under 20 title.
He held off the challenge from another senior champion, Fife's 800 and 1500 metres runner Ben Sandilands with Kilbarchan's Jack Patton third. Middle distance runners, especially in the men's 800 & 1500 metres, scored highly, but we also have three female shot putters in the top twenty and three decathletes. Giffnock North produced five of the top twenty athletes.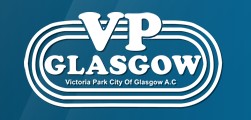 22 November 2022. Victoria Park City of Glasgow AC won their second age-group Challenge in the Track & Field Club of the Year (follow link here) awards by winning the Under-17 age-group. 
In a close contest, the strength of their girls team was enough to head off the strong challenge of Inverness Harriers AAC to win by just three points.
Inverness improved their position after moving up to fourth in 2021 with Pitreavie AAC retaining third spot as last year's winners Giffnock North AC slipped to fourth.
There were strong showings drom Dunfermline Track and Field Club and Aberdeen AAC to finish fifth and sixth with a clear gap over the remaining clubs.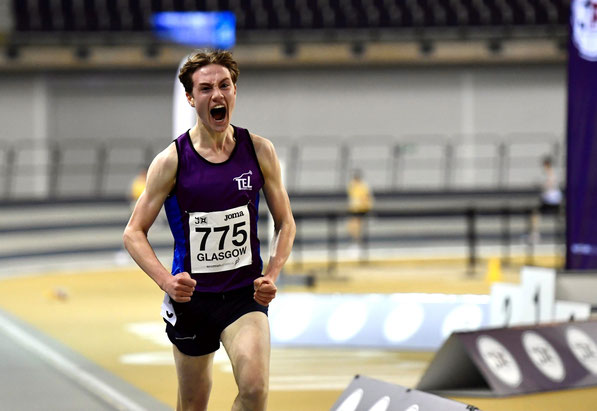 18 November 2022. Winner of the scottishathletics Under 17 award, Team East Lothian's Corey Campbell's excellent runs at 3000 metres saw him pick up the points to head off the challenge of sprinter Dean Patterson and triple jumper Libby White to finish at the top of our Under 17 SATS Challenge (follow link here).
Middle distance runners featured prominently in our top 20 and there was a strong male contingent this year with only six female under 17 athletes making the top 20. But there was a pleasing variety of events across the top six athletes - 3000 metres, 200 metres, triple jump, steeplechase, 400m hurdles and discus throw.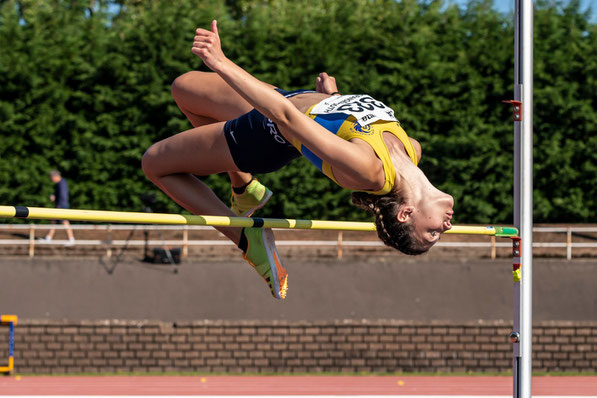 10 November 2022. In a reversal of the Under-13 race, Giffnock North AC overcame last year's winners Victoria Park City of Glasgow AC to land our Under-15 Track & Field Club of the Year Challenge (follow link here). It was the Giffnock girls who led the way to success with VPG heading the Boys' section.
Strong performances within this age-group from 3rd placed Falkirk Victoria Harriers, fourth club North Ayrshire AC and Law & District AAC repeating their fifth spot from last year.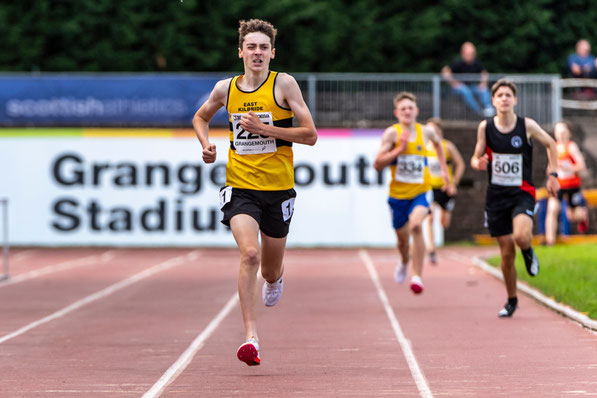 8 November 2022. Our Under 15 SATS Challenge (follow link here) is headed by three record-breakers with East Kilbride AC's Angus Wilkinson topping the charts to become our track & field athlete of the year. Angus bettered the Scottish Under 15 3000m and produced consistently high performances across the season.
He finished ahead of two sprinters who both bettered the Under 15 100 metres record this year. Sophie Thomas, Dunfermline, the Under-15 100m champion finished 3rd, just behind Law's Tehillah Ikechukwu Okonkwo, who combined her joint 100m record with fine performances over 200 metres.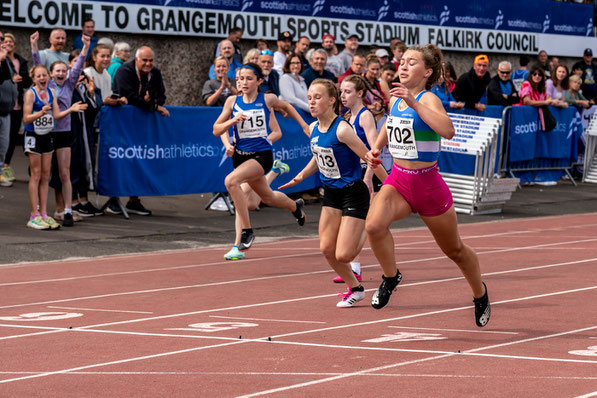 3 November 2022.  Our Under 13 Track and Field Club of the Year is Victoria Park City of Glasgow AC. VPG, 3rd and 4th in previous year, overcame the previous winning team of 2019 and 2021, Giffnock North AC. They were helped to their points score by our individual winner, Rhuairdh Laing, and talented under-13s such as Layla Rowlands (seen here winning the Scottish 100m title - photo credit: Bobby Gavin). Pitreavie AAC rose to third, Inverness Harriers continued their progress to fourth, and Kilmarnock Harriers put in another strong performance for fifth. Airdrie Harriers, outside the top twenty in 2021, came in an impressive sixth.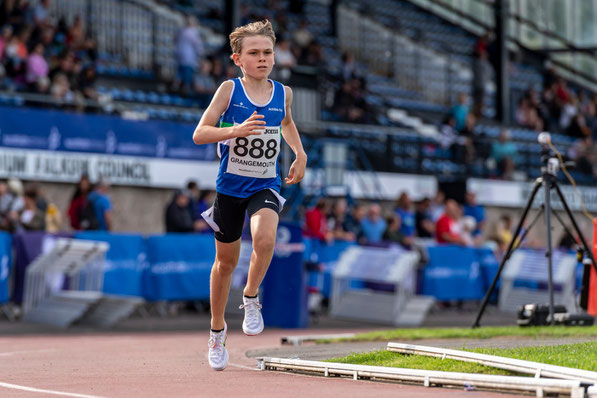 It's award season and the SATS Challenge 2022 is underway. This is our annual ranking of track and field athletes and clubs across all age-groups based on the SATS Performance Tables and Championship achievements. 
We start with the under-13s, an age-group dominated by the girls - 15 out of the top 20 - yet the top five featured 3 boys and our winner this year, with fine performances across the middle distance events, including a Scottish 1500 metres record, is Rhuairdh Laing of Victoria Park City of Glasgow AC. 
Middle distance runners took the first three places with Pitreavie AAC's Isla Gourley's 1500 metres performances gaining her the second spot, ahead of Garscube Harrier, Erin Burnett, whose mile time of 5:10.33 was our highest scoring individual performance.
We continue tomorrow with our Under-13 Club of the Year table.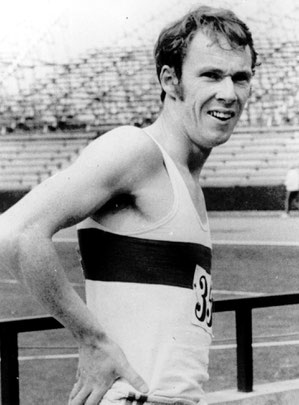 Leslie Piggot, who passed away on Sunday at the age of 80, was the most durable and consistent Scottish sprinter of the past century. He first appeared in the Scottish rankings in 1962, recording 10.1 seconds for 100 yards, aged twenty, with his final appearance being 15 years later when he recorded 10.9 for 100 metres in 1977. His first sprint medal, for third place in the 1964 Scottish 100 yards championships behind Garscube Harriers clubmate Menzies Campbell, was followed twelve years later by his final Scottish sprint victory over 100 metres, defeating the up and coming Allan Wells in the windy time of 10.3. In between, he had a record unparalleled in the history of the Scottish Championships, being a finalist in the national 100 yards/metres and 220 yards/200 metres fourteen times in thirteen years. He won four sprint titles - the first in 1970 and the last in 1976 - together with seven silver medals in the two events.
He gained selection for six major games, sprinting in individual and relay races in all the international championships of his era. He was selected for Britain on two occasions at the Olympic Games in 1968 and 1972 and the European Championships of 1971 and 1974, together with being in the Scottish team at the 1970 and 1974 Commonwealth Games. His consistently high level of sprinting was fully evidenced by his appearance as the only Briton in the 1970 and 1974 Commonwealth Games 100 metres finals. He was 8th at Edinburgh in 1970 in 10.55 and 7th in 10.56, just five hundredths of a second outside the silver medal position in a blanket finish to the 100 metres sprint at Christchurch in 1974.
His two times selection for the Olympic Games was the high spot of his athletics career. He gained selection for the 1972 Games in Munich, equalling the Olympic qualifying standard of 10.3 on the hard, unyielding, asphalt track at Carluke Highland Games on 1 July and, 2 weeks later, his 3rd place at 10.4 at the UK Championships ensured selection for the Olympic 100 metres and 4 x 100 metres relay team. At Munich, he ran 10.54 to qualify from his heat before being eliminated in round 2 of the 100 metres with his 10.53 run. That year, aged thirty, he recorded his fastest times over 100 metres with runs of 10.36 at Athens and 10.2 windy from the scratch mark in a handicap race at Edinburgh Highland Games, together with a personal best of 21.3 to win his first Scottish 200 metres title.
He was a specialist over the short-distance sprint, setting a native record of 7.6 over 75 yards at Dunoon in 1964, twice equalling the native 100 yards record of 9.8 in 1964 and 1966 before bettering it by 0.1 the following year when winning at the inaugural British Isles Cup match at Grangemouth. In 1974, ten years after his first Scottish record, Piggot equalled Don Halliday's native 100 metres record of 10.4 in August and, six days later, at the Edinburgh Highland Games at Meadowbank, reduced it to 10.3 for Scottish all-comers' and native records, with a time that equalled the UK all-comers' record.
The tall, slightly built sprinter was as equally at home on the grass and cinder tracks from his early years as he was on the new tartan tracks from 1970 onwards. He recorded some of his best runs in sprint relays at major Games, rising to the occasion with slick baton passing with his team colleagues. In the 1970 Commonwealth Games, the Scottish team finished 4th in 40.09, just inches behind the third placed English team and, four years later at Christchurch, they bettered the Scottish record with a time of 39.80 for fifth place, just 0.1 behind third-placed Nigeria. In the 1971 European Championships at Helsinki, Piggot anchored the British 4 x 100 relay team. Despite Piggot's rousing sprint down the finishing straight the team finished in 4th position in 39.8 - the same time as the third-placed Italy and just 0.1 behind silver medallists, Poland.
He was an unconventional athlete, competing happily at Highland Games in Scotland as well as racing at the highest level in international matches throughout the world. Throughout his years of top-class sprinting, he ran for Britain in numerous international matches and was team captain for a number of years. One habit, which distinguished him from his fellow athletes, was his love of cigarette smoking, which caused him to ensure that his tracksuit had a pocket large enough to house his packet of cigarettes and lighter, enabling him to "light up" after his race. His wife, Morag Carmichael, was a former Scottish sprint champion and his father-in-law, John Carmichael, was an international class timekeeper.
Leslie Macdonald Piggot, 12 May 1942 - 30 October 2022.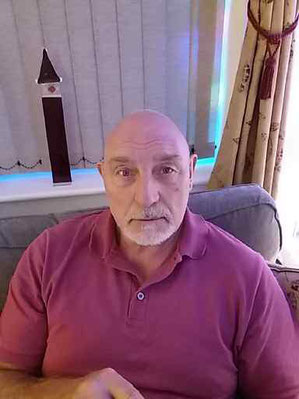 It is with great sadness I inform you of the passing of my lifelong friend Colin, peacefully at home in Malta on 29th October 2022.
A former member of Victoria Park AAC, Glasgow, many time Scottish Discus Champion and representative of Scotland, he also took part in Scottish League events at Javelin, Shot and LJ, and competed in some Scottish Decathlon events.
Colin's career as a Civil Engineer saw him work most of his life out of the UK, including spending some years in southern Malaysia before settling a home in Malta.
With a great passion and strength for life Colin will be greatly missed by family and friends alike.
Ron Fullelove
Former Scotland & UK HJ Squad
Colin Joseph Watson, 18 August 1952-29 October 2022. Scottish Discus Throw Champion 1971, 1972 & 1977; Indoor Long Jump Champion 1976;  Personal bests - 6.69/6.87w (LJ), 13.23 (TJ), 12.38 (SP), 46.80 (DT), 51.74 (JT), 5644 (Decathlon).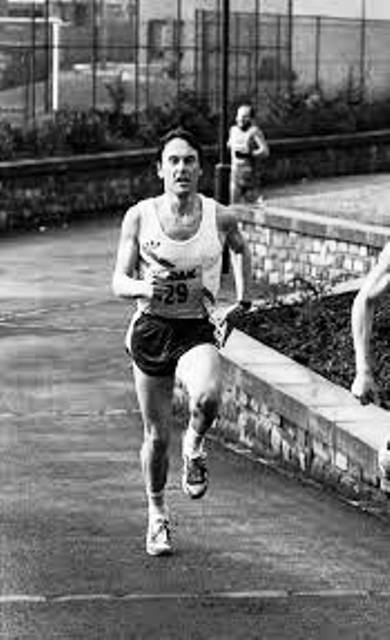 British internationalist Adrian Weatherhead has passed away at the age of 79.
Adrian, a member of Octavians AC, Edinburgh AC and Polytechnic Harriers, was a top-class runner and sub-4 miler. Best remembered on the track as a 1500 metres runner, he won the Scottish indoor title in 1973 and 1976 before becoming national outdoor champion in 1979. He bettered 4 minutes for the mile for the first time in 1971 and went on to do so on another three occasions, with a best of 3:57.59 in 1975. In the Emsley Carr Mile at the British Games in 1975, he recorded 3:57.6, finishing ahead of Frank Clement and Steve Ovett and just 2 seconds behind the winner, Tanzania's legendary Filbert Bayi.
He represented Great Britain in six track & field internationals between 1971-77 and Scotland in six matches, winning three of them. Over the country, he represented Scotland seven times, won the national cross-country silver medal on three occasions and helped his club, Edinburgh AC, to the team title in 1973, 1975, 1976, 1978 and 1981. After his track career was over, he turned to the road, winning team gold in the 6-stage relay, and individually (as a vet) winning the Grangemouth 10k and the Falkirk Half Marathon.
His range of track times was excellent with bests of 1:52.8 (800m, 1977), 3:41.35 (1500m, 1975), 3:57.59 (Mile, 1975), 8:02.6 (3000m, 1971) and 13:48.0 (5000m, 1974). In a one-off season at the Steeplechase in 1974, he won the Scottish title and achieved a best of 8:50.6.
 Adrian Weatherhead, 22 September 1943 - 9 October 2022.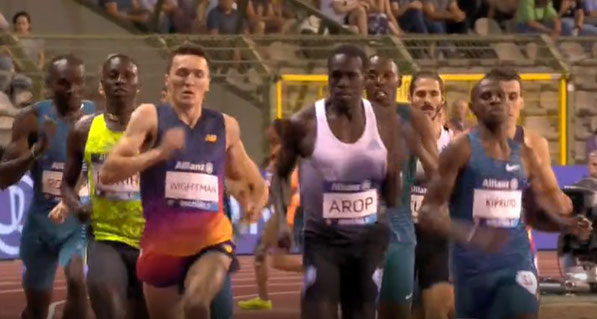 BRUSSELS, 2 September. At the Diamond League meeting in Brussels, Jake Wightman  continued his outstanding year with victory in the 800 metres in 1:43.65, bettering Tom McKean's long-standing Scottish national record of 1:43.88 from 1989.
This year already, we have seen Ian Stewart's 1977 10000m record fall to Andy Butchart and Wightman himself breaking Graham Williamson's 1982 mile record. On the women's side, Liz McColgan's 1991 record fell to daughter Eilish and Alisha Rees bettered Helen Golden's 1974 100m record.
The longest remaining men's national record are David Jenkins' 1975 400 metres record of 44.93, Paul Buxton's shot record of 18.93m from 1977 and Allan Wells' 100m/200m records of 10.11 and 20.21 from 1980.
Jake Wightman now holds the Scottish national records at 800 (1:43.65), 1000 (2:13.88) and one mile (3:50.30). He joins Andy Butchart (3000, 5000 & 10000) as the holder of 3 individual national records. Laura Muir holds 4 national records at 800m, 1000m, 1500m and one mile.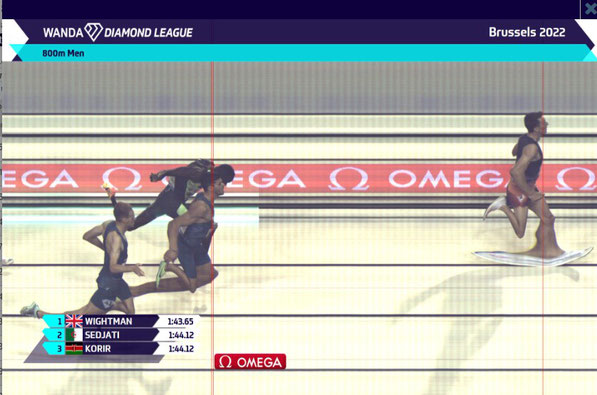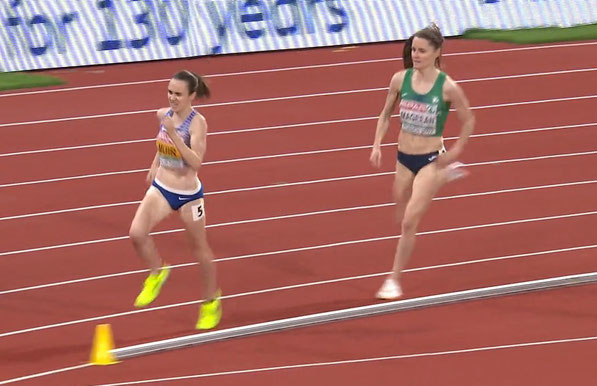 MUNICH, 19 August. The medals keep on coming. The career achievements are astonishing. The efforts of Eilish McColgan and Laura Muir in competing in three international championships in the space of just 5 weeks at the level they have should not be underestimated. Earlier in the week, McColgan added silver at 10000m and bronze at 5000m to her gold and silver at the Commonwealth Games. Now, Muir - bronze at World 1500m, bronze at Comm 800m, gold at Comm 1500m and now gold at European 1500m.
As at the Commonwealth Games, Laura saw off Ireland's Ciara Mageaan. She kicked earlier to break the field and had the strength to hold on to victory, becoming the first Scot to win European and Commonwealth titles in the same year, let alone the same month, retaining her European title.
After the victory, Muir said: "I like to try and get myself at the brightest. You know the intention, and then I knew my speed was the best for the last lap. So, I just tried and hold it, and to control the race, then use my  kick over the last lap - I hoped I could get into that line, it was magnificent. I was actually very surprised when I saw 4:01, because of that last lap. I am really pleased with running almost sub 4. It is good and bad to have such strong opponents - it's fantastic to see Ciara [Mageen] doing so well. I knew I had to run really well today to beat her. It was a good battle out there, and I am just pleased I could come with a win. After this, I want to enjoy my first holiday abroad for years."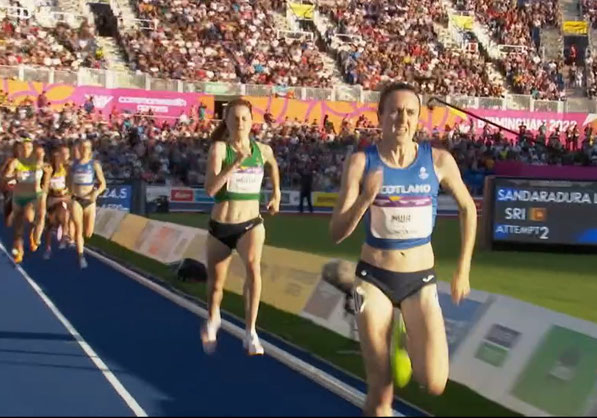 BIRMINGHAM, 7 August. Three medals on the final night saw Scotland finish these Games on a high. Laura Muir led the way with as predictable a victory as there could be. That's shouldn't undermine what this wonderful athlete has achieved. Coming off the World Championships, she took bronze the previous night in the 800m and ran away from the field in the 1500m. 
Eilish McColgan was a star of these Games and Gold-Silver trumps Muir's Gold-Bronze. McColgan also achieved what no other Scottish female athlete has done - the first to win Gold/Silver in a single Commonwealth Games. Her 5000m silver, after the physical and emotional strain of her 10000m win, was outstanding.
And a surprise bronze for our relay team of Zoey Clark, Beth Dobbin, Jill Cherry and Nicole Yeargin as the England team were disqualified. A medal in the final event. Three on the night.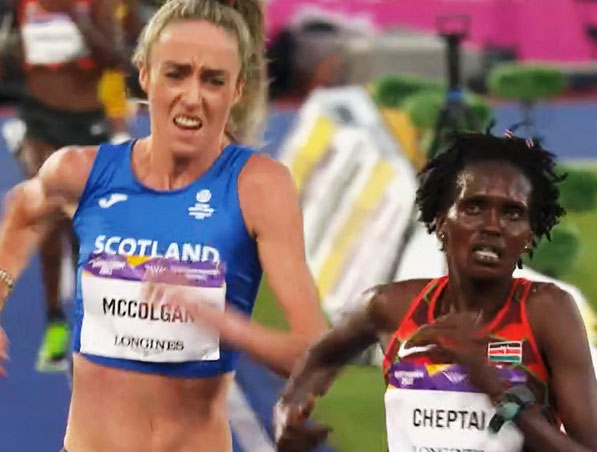 BIRMINGHAM, 3 August. One of the great moments in Scottish athletics history. Eilish McColgan - controlled, composed, determined - oh so determined - triumphed to win the Commonwealth Games 10,000 metres. She held off the challenge of Kenya's Irine Cheptai in a memorable finish to take the title in 30:48.60.
After a slow first 1000 metres in 3:17.86, McColgan took charged and led the field through 1000m splits of 3:05.99, 3:04.03, 3:04.82 and 3:05.32 to lead at the halfway mark in 15:38.02. Fellow Scot Sarah Inglis went through in 7th in 15:39.7.
Kiprotich and Cheptai took over the lead over the next 2000 metres with the contenders down to three, Eilish sitting in comfortably. Cheptai looked menacing as she went to the front but Kiprotich was starting to struggle, limping visibly but holding on determinedly to take the bronze.
And then there were two. Cheptai tried to break McColgan but that was impossible. The look on McColgan's face said "you're not going to take this from me" and it was McColgan who came through on the last lap. Sheer guts, determination and talent drove her to the tape.
Rarely have I seen an athlete so visibly want to win - she is her mother's daughter!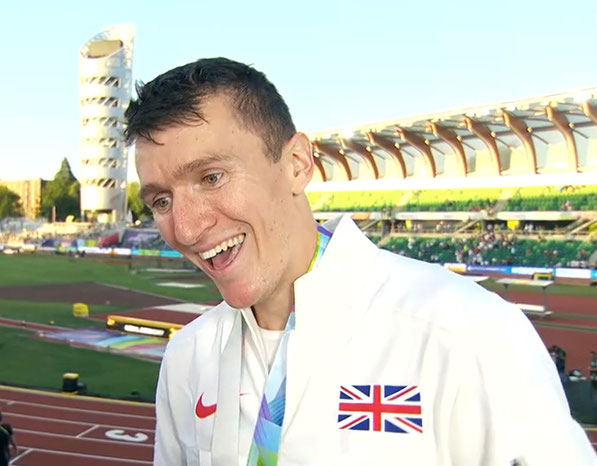 EUGENE, 19 July.  The men's 1500 metres is one of the most competitive events at the World Championships and Scotland had the Olympic bronze medallist Josh Kerr and Olympic finalist Jake Wightman as genuine medal contenders. But none of the pre-race discussions would have predicted this outcome. Scotland has her first individual gold medal winner at these championships in 31 years. Since these World Championships were introduced in 1983, Liz McColgan had been the only individual World champion. The previous day, Laura Muir had excelled in winning a magnificent bronze medal in the women's 1500 metres. Now, Jake Wightman has put aside past disappointments  to race to a tactically-perfect 1500 metres victory.
In a true-run race, without a pacemaker, the athletes went for it. 400 metres was reached in 55.51 seconds, led by Abel Kipsang, with Wightman handily placed in 4th in 55.78.  Kerr was 9th in 56.38. At 800 metres, Jakob Ingebrigtsen had moved to the front (1:52.04), Wightman still in 4th (1:52.41) and Kerr up to 6th (1:52.67).
At the bell, the Norwegian still led in 2:34.23, 0.16 ahead of Wightman in third with Kerr a further 0.21 back in 5th. With 200 metres to go, Jake edged to the front and was strong enough and fast enough to hold off Ingrebrigtsen to claim a memorable victory in a world leading 3:29.23, Kerr 5th in 3:30.60. Two Scots in the top 5 athletes in the World.
Last word - as always - to father Geoff, the announcer at the Championships - "That is my son and he is the World Champion".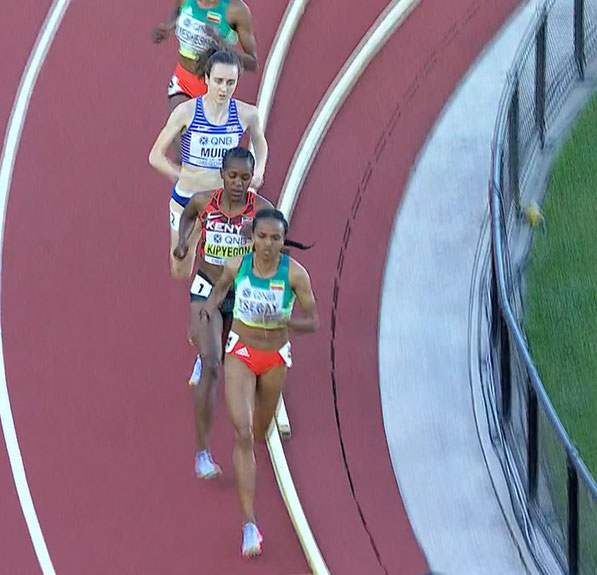 EUGENE, 18 July. Women's 1500 Metres - 1 Faith Kipyegon 3:52.96, 2 Gudaf Tsegay 3:54.52, 3 Laura Muir 3:55.28.  Laura Muir ran another of the races of her life to claim the first individual medal at the World Championships by a Scottish athlete since Liz McColgan's triumph in 1991, becoming the first British medal winner at the 2022 championships. 
In a race run at blistering pace, the field was soon split into a top four as Tsegay went through the first 400 metres in 58.82, Muir in 4th in 59.18. At 800 metres, Tsegay still led in 2:03.18 with Muir now up to third in 2:03.41 and, crucially, Hirut Meshesha unable to keep up with the pace. The leading pack was down  to three. At the bell, Tsegay went through 1100m in 2:51.76 with just 0.07 separating the first three. The gaps started to increase as Olympic champion Kipyegon went for home, opening up the gap over Tsegay with Laura Muir racing to the second fastest time of her career, six seconds clear of fourth place.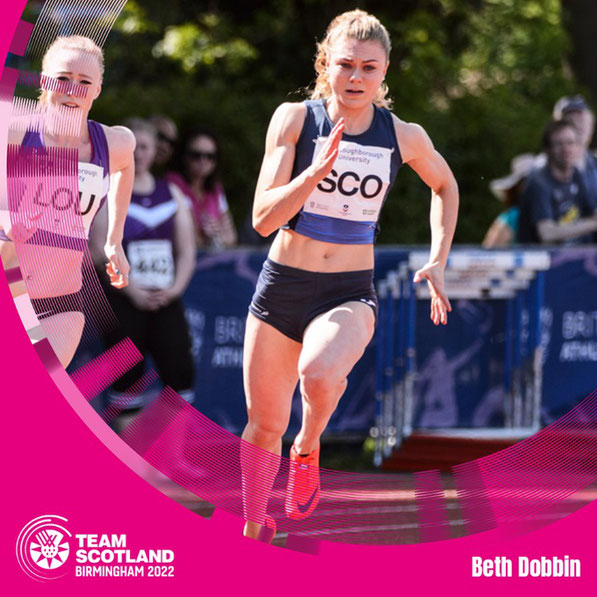 1 July 2022. The Scotland team to compete at this year's Commonwealth Games in Birmingham has been announced. The team consists of 14 men and 19 women and includes 5 athletes in the para events. Stephanie Davis, previously pre-selected for the Marathon, has had to withdraw as a result of a foot injury.
Men - 100m: Adam Thomas. T38 100m: Ross Paterson, Alexander Thomson. 800m: Guy Learmonth, Jake Wightman. 1500m: Neil Gourley, Josh Kerr, Wightman. 5000m: Andrew Butchart, Gourley. 10000m: Butchart.  T54 Marathon: Sean Frame. High jump: William Grimsey, David Smith. Discus: Nicholas Percy. Hammer: Chris Bennett, Mark Dry. 
Women - 100m: Alisha Rees. 200m: Beth Dobbin. 400m: Zoey Clark, Nicole Yeargin. 800m: Laura Muir, Jemma Reekie, Jenny Selman. 1500m: Muir, Reekie. T54 1500m: Samantha Kinghorn, Melanie Woods. 5000m: Sarah Inglis, Eilish McColgan, Eloise Walker. 10000m: Inglis, McColgan. 100m hurdles: Heather Paton. Discus: Kirsty Law. 4x100m: Sarah Malone, Rebecca Matheson, Paton, Rees, Taylah Spence. 4x400m: Jill Cherry, Clark, Dobbin, Carys McAulay, Yeargin.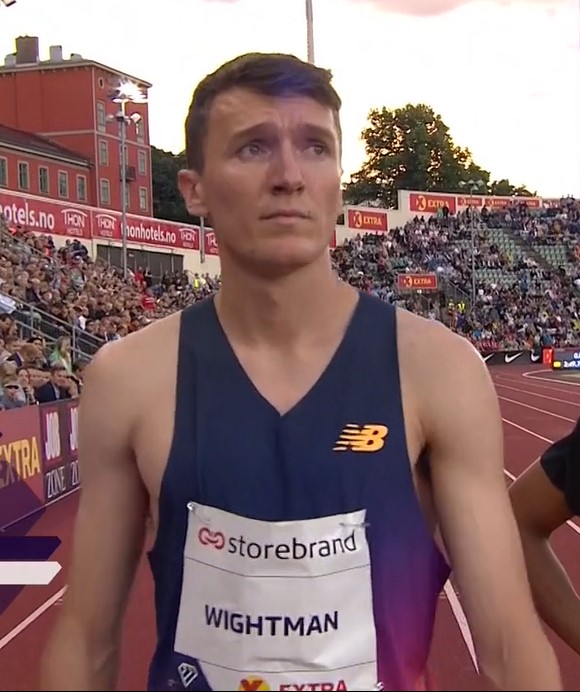 OSLO, Norway, 16 June. In a memorable Dream Mile race at Oslo's Bislett Games, Jake Wightman took down Graham Williamson's 40-year-old Scottish mational One Mile record of 3:50.64 with his run of 3:50.30 in third place.  Taken through the first 800 metres in 1:53.30 by the pacemakers, three runners - Jakob Ingebrigten, Oliver Hoare and Jake - were clear and finished in that order, with the Norwegian winning in a world leading 3:46.46. Neil Gourley was also in fine form with a big improvement in his mile best to 3:52.91, becoming the fourth fastest Scot outdoors at the event.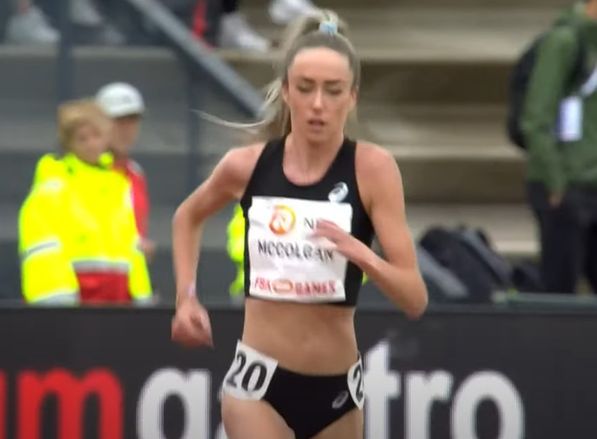 HENGELO, Netherlands, 6 June. Eilish McColgan produced an outstanding run at the FBK Games at Hengelo to win the 10000 metres by 25.25 seconds and smash the Scottish record of 30:57.07 by 38.05 seconds. Liz McColgan's record had been set at the same venue in 1991.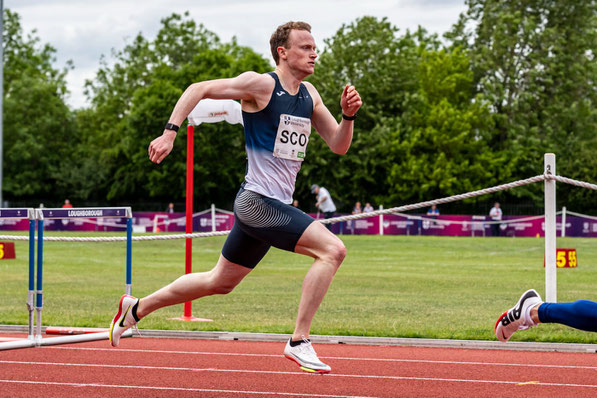 EISENSTADT, Austria, 2 June. Jack Lawrie, competing at the Austrian Open, has bettered the Scottish National Record of 50.24 seconds, held by Charles Robertson-Adams since 2001. Lawrie came mightily close before with his 50.25 run at Bedford in 2017 but having raced little over the last two years, he has looked strong since his return with three sub-51 seconds runs in four races in May before clocking 50.07 in Austria to break the record (subject to ratification).
The following changes of club have been approved by scottishathletics with effect from 1 May 2022:
Iona Brodie, Aberdeen AAC to Dundee Hawkhill Harriers; Sophie Frater, Airdrie Harriers to Cumbernauld AC; Conan Harper, Teviotdale Harriers to Giffnock North AC; Mark Holliman, North Ayrshire AC to Kilbarchan AAC; Fearne Jarrett, Fife AC to Dundee Hakhill Harriers; Imogen Jarrett, Fife AC to Dundee Hakhill Harriers; Linzie Marsh, Pitreavie AAC to Falkirk Victoria Harriers; David Rose, Perth Strathtay Harriers to Dundee Hawkhill Harriers; Donald Ross, Team East Lothian to Edinburgh AC; Fiona Steele, Strathearn Harriers to Law & District AC; Lucy Ward, Hunters Bog Trotters to Lasswade AC.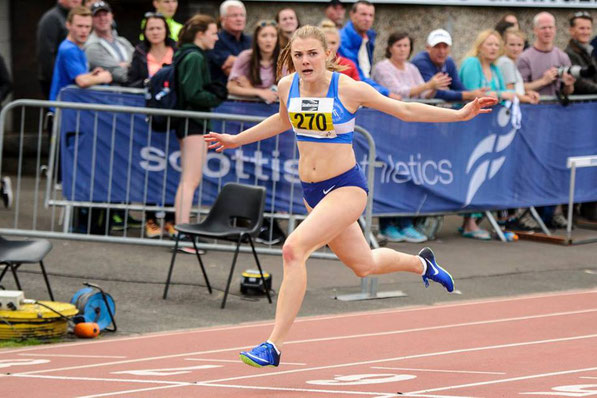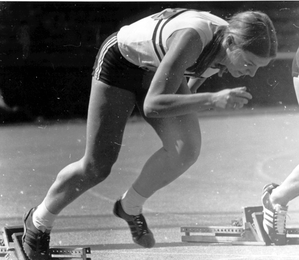 1 May 2022. One of Scottish athletics longest records has been surpassed. Helen Golden (pictured) had set her national record of 11.40 seconds for 100 metres way back in 1974 . Now Alisha Rees (above, photo: Bobby Gavin) has run a legal 11.39 seconds to remove (subject to ratification processes) Helen's record from the record lists.
Alisha set the time at the Be Fit Academy meeting in Dagenham and later ran a wind-assisted 11.34. That time equals Sandra Whittaker's 11.34w as the fastest run ever by a Scottish woman.
That now leaves the controversial men's 400 metres record by David Jenkins, set in 1975, as the oldest individual national record.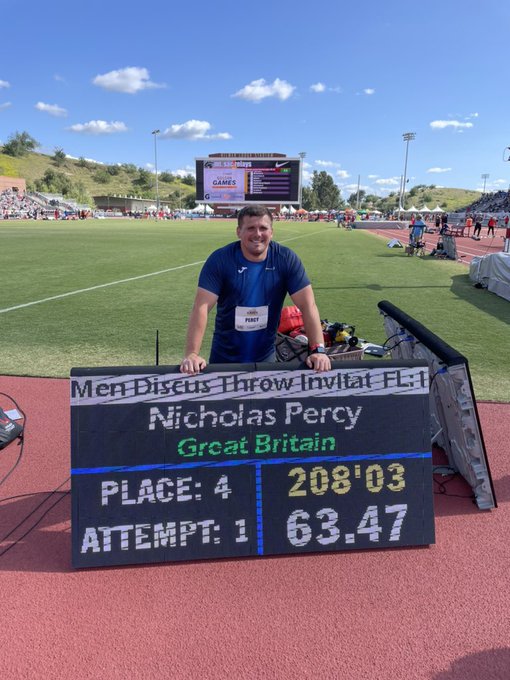 WALNUT, California, 16 April 2022. It is a new Scottish national discus record for Nick Percy, bettering his 63.38 performance from July 2016. It's been a long time coming but Nick threw 63.47 with his first throw at the Mt. SAC Relays meeting.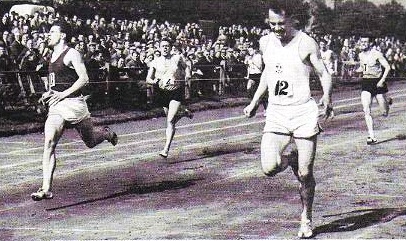 ROBERT (Bob) HAY, 5-times Scottish champion, has passed away at the age of 83.
An Edinburgh man, he represented Edinburgh University, Heriot's F.P. AC and Octavians AC.
Bob Hay first made his mark on the flat 440 yards, taking the bronze medal at the 1958 Scottish championships and being part of the Scotland team which went to the 1958 Empire & Commonwealth Games in Cardiff. 
There, he ran in the heats of the 440 yards, 5th in his heat, but it was over the hurdles where he had his greatest success. He was Scottish champion for five years running between 1959 and 1963 and silver medallist in 1964. He also won medals at 440 yards and Decathlon and represented Scotland in 5 international matches.
He led the Scottish rankings from 1960 to 1963  achieving a best time of 54.5 in 1960.
Robert Lawrie Hay, b. 19 November 1938; d. 30 March 2022.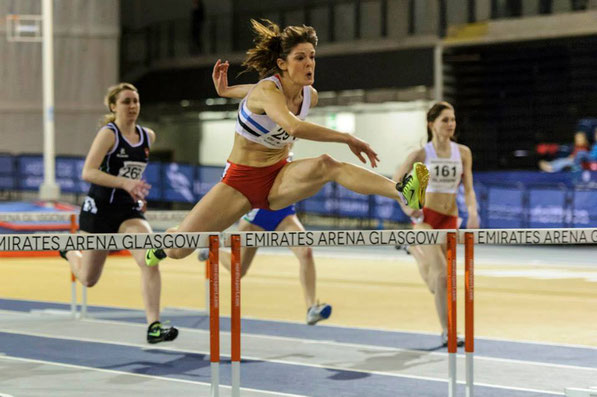 The following changes of club have been approved by scottishathletics with effect from 1 April 2022:
Rebecca Burns Edinburgh AC to Pitreavie AAC, Gordon Campbell Penicuik Harriers to Carnegie Harriers, Sam Coull Ross County AC to Inverness Harriers AAC, Malin Hardy North Ayrshire AC to Kilmarnock Harriers, Anna Kelly Springburn Harriers to VP Glasgow AC, Laurence Liu Cambridge & Coleridge to Edinburgh AC, Imogen McClune North Ayrshire AC to VP Glasgow AC, Oliver Pound Portobello RC to Carnethy Hill RC, Kaydi Smith Arbroath & Dist AC to Dundee Hawkhill Harriers, Catriona Pennet Edinburgh AC to Aberdeen AAC, Janice Webster Pitreavie AAC to Kinross RR, Isla Williams Ochil Hill Runners to Central AC, Julie Wylie Kilbarchan AAC to VP Glasgow AC.
and a catch up on those approved with effect from 1 March 2022:
Caitlin Anderson Kilmarnock Harriers to Shetland AAC, Michelle Best Carnegie Harriers to Ochil Hill Runners, Heather Bruce Inverness Harriers AC to Aberdeen AAC, Joanne Clancy Dundee RR to Edinburgh AC, Logan Craig Kirkintilloch Olympians to Cumbernauld AC, Libby Currie Whitemoss AAC to VP Glasgow AC, Branden Dunlop Ayr Seaforth AC to VP Glasgow AC, Isabella Ellwood Skipton AC to Edinburgh AC, Leya Gibb Central AC to Falkirk Victoria Harriers, Derek Glasgow Fraserburgh Rc to Arbroath& Dist AC, Emily Happell Ayr Seaforth AC to VP Glasgow AC, Andrew Johnston Springburn Harriers to Linlithgow AC, Sean Laroche Haddington RC to Team East Lothian, Magnus Lawson Haddington RC to Team East Lothian, Scott Macleod Metro Aberdeen RC to Edinburgh AC, Wynn Mardall Banchory Stonehaven AC to Deeside Runners, Cole Queen Clydesdale Harriers to VP Glasgow AC, Sarah Roberts Metro Aberdeen AC to Aberdeen AAC, Robbie Shaw Aberdeen AAC to Edinburgh AC, Joe Smith Musselburgh & Dist. AC to Team East Lothian, Reuben Whamond Arbroath & Dist AC to Dundee Hawkhill Harriers.

BELGRADE, 18-20 March. The first World Athletics Indoor Championships since 2018 took place over the weekend and for the five Scottish athletes in the Great Britain & Northern Ireland team, it was a new experience - all were competing in the event for the first time.
Adam Thomas has emerged as a top-class sprinter, the first Scot to represent GB&NI in the 60 metres at these Championships since Elliot Bunney in the first official championships in 1987. There was an initial World Indoor Games in 1985 where Cameron Sharp placed 6th, but Thomas surpassed expectations with three strong runs and a 5th place in the final.
The fast pace of the 1500 metres stretched out the field of 12 athletes and Neil Gourley was solidly in sixth throughout but couldn't make inroads on the five in front. Never in danger of losing his position, Gourley's sixth place in a World final was an excellent achievement.
Guy Learmonth reached the final too but not in the event he would have expected or wanted. He ran the final leg in the sixth placed GB 4x400 team , but will be disappointed to have been eliminated in the heats. But with the first two only to qualify, Learmonth found himself run out of it by the eventual silver and bronze medallists.
The women's 800m qualifying allowed for the first two and the next two fastest and, as is often the case, this favoured the final heat runners and four athletes qualified from that heat. Agonisingly the Canadian Butterworth's time of 2:01.99 knocked out Jenny Selman by one hundredth of a second in Selman's first international competition since the European Juniors in 2009.
Learmonth, Selman and Erin Wallace all found themselves in heat one of their event and the 1500 metres provided five finalists from heat three. Wallace found the pace tough in heat one and conceded 4.5 seconds to fourth-placed Linden Hall  over the last 300 metres.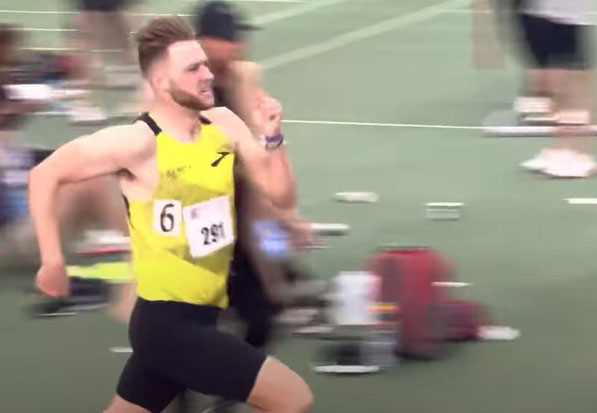 BOSTON, 27 February: Josh Kerr set new Scottish, British and European indoor mile records and became the third fastest ever in the world  in Boston on Sunday. His time of 3:48.87 at the Boston University Last Chance meet better his own pending Scottish record of 3:52.27 and was more than three seconds inside fellow Briton Peter Elliott's 1990 mark. It also took  more than a second off Irishman Eamonn Coghlan's 1983 European record time.
Kerr was faster than Elliott's British indoor 1500m record - 32 years to the day after it was set in Seville. He passed 1500m in 3:32.86 en route to finishing his mile - more than a second quicker than Elliott in Spain, and better than Jake Wightman's Scottish indoor record of 3:34.48 set in New York last year.
Ethiopian Yomif Kejelcha, the world indoor mile record holder on 3:47.01 and Moroccan Hicham El Guerrouj (3:48.45) are the only athletes in history to have run faster for the event.
The following changes of club have been approved by scottishathletics with effect from 1 February 2022:
Wendy Campbell, Springburn Harriers to Westerlands CCC; Iain Carroll, Giffnock North AC to Bellahouston Harriers; Katie Dinwoodie, Shetland AAC to Pitreavie AAC; Lucy Fitzsimmons, VP Glasgow AC to Shettleston Harriers; Martin Kerrigan, Peterhead AC to Garioch Road Runners; Gordon Lawson, PH Racing Club to Fife AC; Ruby Renton, Edinburgh AC to Pitreavie AAC; Jacob Tainsh, Garscube Harriers to VP Glasgow AC; Kevin  Stephen, Garioch Road Runners to Insch Trail RC.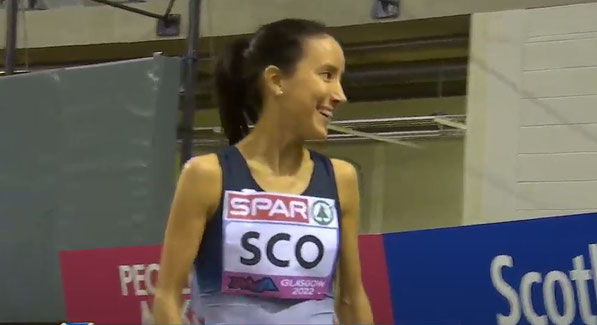 GLASGOW, 5 February 2022. There was no doubt about the Scottish star of the DNA Athletics International as Fife's Jenny Selman first set a Commonwealth Games and World Indoor Championships qualifying standard of 2:00.70 in the pre-match 800 metres and then went on to win the match 800 with the most exciting finish of the day. Although Scotland finished 6th and last in the match, there were fine performances from Allan Hamilton setting a PB of 6.72 in the 60 metres and Emma Canning clearing a PB of 5.97 with her final long jump. Alisha Rees, too, set a season's best with a strong 60 metres run in 7.36.
As for the "innovative" event itself, there were pluses and minuses. The 2-hour timetable was good, reducing the time where nothing happens, and the focus given to each event, with nothing else to distract, gave added interest to the field events. The DNA format had already suffered as top athletes avoided the event for stronger competition elsewhere and I didn't think the field events worked. The head-to-head nature of the shot saw the athlete producing the best throw place 5th, and the mismatched nature of the high jump led to the better athletes jumping within themselves before the final jump-off round ended with six failures. The long jump fared better, but the final climax, The Hunt, was a mess - with the strongest team getting a 6.70 seconds advantage, the winner was never in doubt from the first leg. 
Entertaining enough, but as a traditionalist, I think it would have worked better as a straightforward international match across the selected events.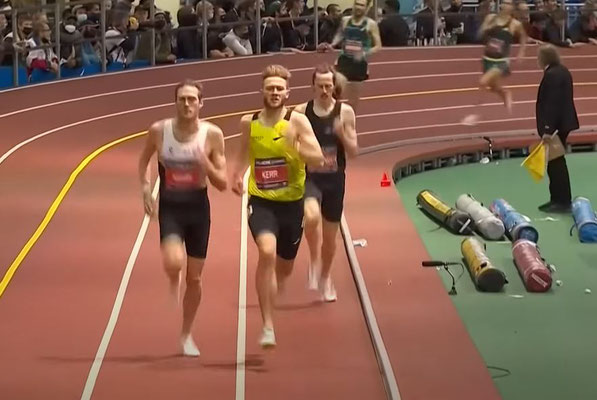 NEW YORK, 29 January 2022. In the same month as indoor mile record-holder Chris O'Hare announced his retirement, Josh Kerr has captured the Scottish national record, running 3:52.27 for second place at New York's Millrose Games. 
Kerr, in his first run since the Olympic Games in Tokyo last August, where he set an outdoor national record for 1500 metres, followed the early pace of Erik Sowinski, who took the field through the first two laps in 56.89 and 57.68 to reach the half-way point in 1:54.57. Kerr went to the front on lap 3 but could not hold off Australian Ollie Hoare, who passed the three-quarter mile mark in 2:53.26 to Kerr's 2:53.35. Kerr regained his lead to pass 1500m in 3:35.48, one second outside Jake Wightman's national record, but Hoare was too strong and went on to win in 3:50.83.
Kerr's 3:52.27 bettered Chris O'Hare's national indoor record of 3:52.91 and was Josh Kerr's 7th sub 4 minute mile.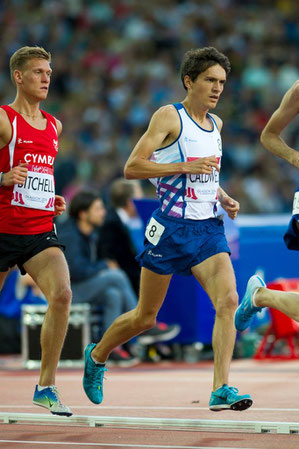 HOUSTON TX, USA: 16 January 2022:  Making his marathon debut in the Chevron Houston Marathon today, Luke Caldwell ran the fastest ever first-time marathon by a Scot when he placed 7th in a time of 2:11:33.
The performance earns Caldwell a Commonwealth Games Standard and places him fifth in the all-time Scottish marathon list behind
2:08:14 Callum Hawkins 28 Apr 2019
2:09:16 Allister Hutton 21 Apr 1985
2:09:28 John Graham 23 May 1981
2:10:36 Paul Evans 12 Apr 1992
Evans competed for England shortly after setting his marathon time.
30-year-old Caldwell, whose eligibility comes through parentage, competed for Scotland at the 2014 Commonwealth Games in the 5000 metres and 10000 metres.
The performance eclipses the 2:12:17 debut run from Callum Hawkins set at the Frankfurt marathon in 2015.
Photo by Bobby Gavin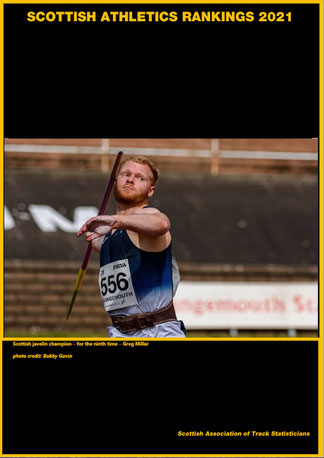 3 January 2022 -
The full Scottish rankings for 2021 covering all age-groups are available in a single 99-page document with 9-time javelin champion Greg Millar on the cover.
Just click on the photo or go to our Annual Rankings page to access the publication.
With thanks especially to NUTS members Tony Miller and Alan Lindop for their assistance.
The publications covers Senior Men and Women to a depth of the 20 best performances and 40 best athletes per event where meeting the rankings standards. Age-groups to a depth of 20. 
And 10-year trends for all the main senior events.
1 January 2022. World Athletics world ranking lists at the end of 2021 show Laura Muir is the highest placed Scot, 25th in the women's rankings (up from 36 in 2020). Jemma Reekie moves up to 62nd. Jake Wightman remains top Scot on the mem's side, ranked 180th, down 30 places from the previous year.  Here are the leading Scottish athletes at the end of 2021 (2020 position in brackets):
| | | | | |
| --- | --- | --- | --- | --- |
| Pos | Men | Pts | Women | Pts |
|  1 | Jake WIGHTMAN (1) | 1304 | Laura MUIR (1) | 1421 |
|  2 | Josh KERR (3) | 1293 | Jemma REEKIE (3) | 1375 |
|  3 | Andrew BUTCHART (5) | 1277 | Eilish MCCOLGAN (4) | 1331 |
|  4 | Chris BENNETT (-) | 1174 | Beth DOBBIN (5) | 1278 |
|  5 | Guy LEARMONTH (4) | 1171 | Nicole YEARGIN (-) | 1216 |
|  6 | Adam THOMAS (-) | 1139 | Stephanie DAVIS (8) | 1180 |
|  7 | Nick PERCY (11) | 1134 | Erin WALLACE (-) | 1166 |
|  8 | William GRIMSEY (8) | 1123 | Zoey CLARK (10) | 1150 |
|  9 | Angus PROUDFOOT (-) | 1100 | Jenny SELMAN (-) | 1144 |
| 10 | Ben GREENWOOD (-) | 1088 | Sarah INGLIS (7) | 1136 |
| 11 | Adam CRAIG (-) | 1071 | Heather PATON (11) | 1122 |
| 12 | Joe EWING (-) | 1063 | Sarah TAIT (-) | 1117 |
The following changes of club have been approved by scottishathletics with effect from 1 January 2022:
William Bailey, Motherwell AC to Cumbernauld AAC; Ethan Carolan, Giffnock North AC to Aberdeen AAC; Chloe Cheyne, Inverness Harriers to Edinburgh AC; Lewis Craigie, VP Glasgow AC to Kilbarchan AAC; Claire Cunningham, Lothian RC to Run Livingston; Daniel Docherty, Clydesdale Harriers to Kilbarchan AAC; Eva Gray, Hamilton & Dist AC to Law & District AC; John Hammond, Carnethy HRC to PH Racing Club; Scott McDonald, Moorfoot Runners  to PH Racing Club; Emily Miller, VP Glasgow AC to Cumbernauld AAC; Sam Milton, Metro Aberdeen RC to Moray Road Runners; Louie Muir, Kilbarchan AAC to Giffnock North AC; Nicole Ritchie, Annan & Dist AC to Nithsdale AC; Ewart Scott, Lothian RC to Highland Hill Runner; Matthew Tait, Lasswade AC to Dunfermline T&F AC; Lois Thomson, Haddington RC to Team East Lothian; Sophie Widdowson, Corstorphine AAC to Edinburgh AC.
The Scottish Association of Track Statisticians has documented athletics performances in Scotland for over 60 years and this website provides authoritative and factual information on performances, rankings, athlete profiles, and records as well as documenting the history of the sport in Scotland.
This website is a not-for-profit website.
Our facebook group, the SATS Scottish Athletics Network, is open to everyone interested in athletics and will be a meeting place to chat, share opinions, ask questions, offer advice, discuss events, make friends.
Over 960 members joined in year one, so take a look and join today.
Join now and pass it on!