Above: Mike Lindsay throwing 57ft 4in to break the Scottish record at the 1962 Edinburgh Highland Games at Murrayfield. Thanks to Sam Russell for the photograph.
The passing of Mike Lindsay in December saw Scottish athletics lose one of its greats – a rare breed, an athlete who can be said to have taken his events forward, both domestically and internationally, and dominated his circle (whether shot or discus) throughout his career. He was one of the first British athletes to compete in the college system in the USA and represented Scotland in four Commonwealth Games.
The shot and discus are a staple of the throwing events although, despite its classic history, the discus was not competed for at the Scottish Championships until 1925, 42 years after the first Scottish Championships were held. At these historic championships, the shot and the hammer were the two throwing events, until 1925, when the discus and javelin were added.
The early years of the shot championship saw the typical winning throw around 40 feet (12.19 metres). Significant improvement came through the efforts of the Liverpool-based Scot Tom Kirkwood, a member of Bellahouston Harriers, who became the first Scot to better 45 feet (13.71) when he won the 1906 championship. Kirkwood improved his Scottish record to 45' 8½" later that year, a distance that was to remain the Scottish record for almost 45 years, until James Drummond and Tom Logan improved it beyond 46 feet.
There was, however, an exceptional talent emerging in the south. Mike Lindsay, a pupil at St Marylebone Grammar School in London but born in Glasgow had thrown 47' 6" with his first effort with the senior shot in 1956, at the age of 17. Performances outside of Scotland were not recognised as records so it was not until he made his first appearance in Scotland that the shot put record of 46' 7" was under threat. This came at the Edinburgh Highland Games at Murrayfield on 17 August 1957 when the 18-year-old Lindsay sent the weight out to 52' 3½" (15.94) to add an astonishing 5' 8½" to the native record in one fell swoop.
Lindsay had just left school in that summer of 1957 and he showed himself to be well ahead of his time when he accepted an offer of a scholarship in civil engineering and physical education at Oklahoma University, moving to the USA in September. Two years later, he had moved the Scottish record beyond 55 feet and at the 1962 Games at Murrayfield, he threw 57' 4" (17.47 metres).
By that stage, he was a 23-year-old veteran of the event, having represented Scotland at the 1958 Commonwealth Games where he finished 6th in the shot final. In 1960, Mike had perhaps his best achievement, at the 1960 Rome Olympics. With six throws over 17 metres, his best of 17.80 saw him finish 5th. The 1962 Games were held in Sydney and Mike was a strong medal prospect. The English athlete, Martyn Lucking, Mike's training partner, sealed victory with his opening throw of 59' 4" (18.08) but Lindsay came so close to knocking him off his perch, falling just short with 59' 2½" (18.05) to take the silver medal.
Lindsay competed at the 1966 and 1970 Games where he finished 4th and 6th respectively and by the time he retired in 1971, he had improved the Scottish record to over 60 feet with 60' 8½" (18.50) at a club contest in 1963. This was recognised as a Scottish record when the National Record category was brought in in the 1960s and performances set outwith of Scotland were now eligible for record status.
His shot record lasted until Paul Buxton, another Scot who had followed Lindsay's path to an American university, hurled the weight out to 18.93 metres in 1977.
But Lindsay's feats were by no means restricted to one event. The discus was first held as a Scottish championship in 1925 and nine of the first ten titles were won by the Glasgow policeman Sandy Smith. Another Glasgow policeman, David Young, won two titles either side of the war years, having put Scottish discus throwing on the international stage when he finished second at the Empire Games of 1938.
Young had taken the Scottish record up to 153' 8" (46.84 metres) when he won the 1938 Scottish title and this was improved to 155' 3" by an Edinburgh student, Harry Duguid at an inter-university contest in 1951 at Craiglockhart. Both those performances were also British records.
Lindsay had finished 4th at the 1958 Empire Games in Cardiff but he was soon to develop his discus technique at Oklahoma and in 1960 he achieved a British record throw of 181' 6" (55.32) in a match between Oklahoma and Oklahoma State universities. In between, he had thrown the discus over 160' at Murrayfield to add over 5 feet to the native record.
Second place was achieved at the 1962 Empire Games with a throw of 172' 6" (52.58) and three days later he completed a double silver in the shot. Lindsay was never to match these levels in the discus – two more Games appearances yielded 6th and 9th place – but he did improve his native record to 167' 10" (51.16) at the British Isles Cup meeting at Grangemouth in 1968.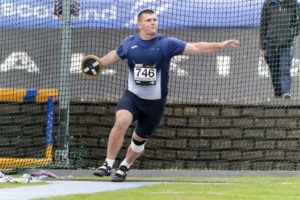 The discus has moved on from these levels in Scotland with Paul Buxton in the 1970s improving the native record, Darrin Morris taking the national record over 58 metres, Angus McInroy holding it for six years with 58.77, before the emergence of another (like Lindsay) Glasgow-born thrower in Nick Percy (pictured).
Following Lindsay's model, he went to the USA (Nebraska) as a teen and bettered the Scottish record at an early stage in his career, becoming the first Scot to throw 60 metres.
Lindsay's mark in the development of shot and discus will be hard to better. By the end of his career which lasted at senior level from 1956 to 1971, he had ranked no 1 in Scottish shot rankings and no 1 in discus for every one of those 16 years and competed in the finals of both shot and discus in four Commonwealth Games. A true colossus of Scottish throwing.