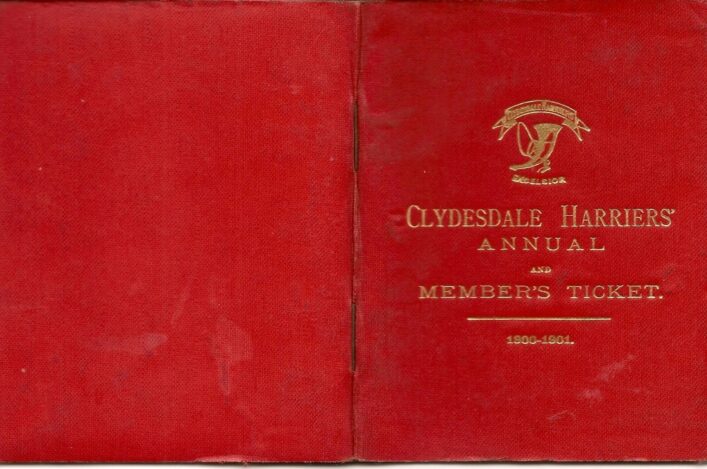 Clydesdale Harriers ticket image via the scottishdistancerunninghistory.scot website
With Greenock Glenpark Harriers celebrating their 125th anniversary this year, it is a good time to recognise that many of our clubs are steeped in a long and proud history.
So my latest Arnold's archive article focuses on the ten oldest clubs in Scotland.
It should be straightforward, I thought  . . . but oh what a minefield it turned out to be!
Clubs go defunct and then a new club is formed some years later with the same name. Clubs merge into other clubs who merge again.
So, in offering up this article, I'll get my thanks, apologies and explanations in first.
Thanks to Hamish Telfer for his help on the history of the early Harriers' clubs. I apologise in advance for anything I've got wrong, any club I've missed, or any club I've offended by not including them.
*After initial research and consideration, I've decided to consider open clubs only – this removes from the equation university clubs and schools' athletics clubs.
Many of these were a key part of the organisation of the governing body, the Scottish Amateur Athletic Association, in February 1883. A newspaper report of the time records that 'among the clubs who have joined are the Glasgow Academicals, West of Scotland, Edinburgh Academicals, Edinburgh Institution, Wanderers, Fettesian-Lorettonians, Loretto, St Andrews University, Edinburgh University, Royal High School, Collegiate, Watsonians, and Blair Lodge, with several others who have not yet sent in their formal applications.'
Further, in producing this countdown of clubs, I have not included any clubs who still exist by virtue of having merged into a newer club and I have not included clubs who have disbanded and then reformed.
If you have detail or history on the origin of clubs, please email  historian@scottishathletics.org.uk
+++
10 Falkirk Victoria Harriers (1901)
One of Scotland's best-known clubs, Falkirk celebrated its centenary in August 2001. Formed in August 1901, the club has come a long way since its start as a traditional 'Harrier' club. Since the opening of the all-weather track at Grangemouth, and the founding of a women's section in the 1960s, FVH has continued to grow both in numbers and success.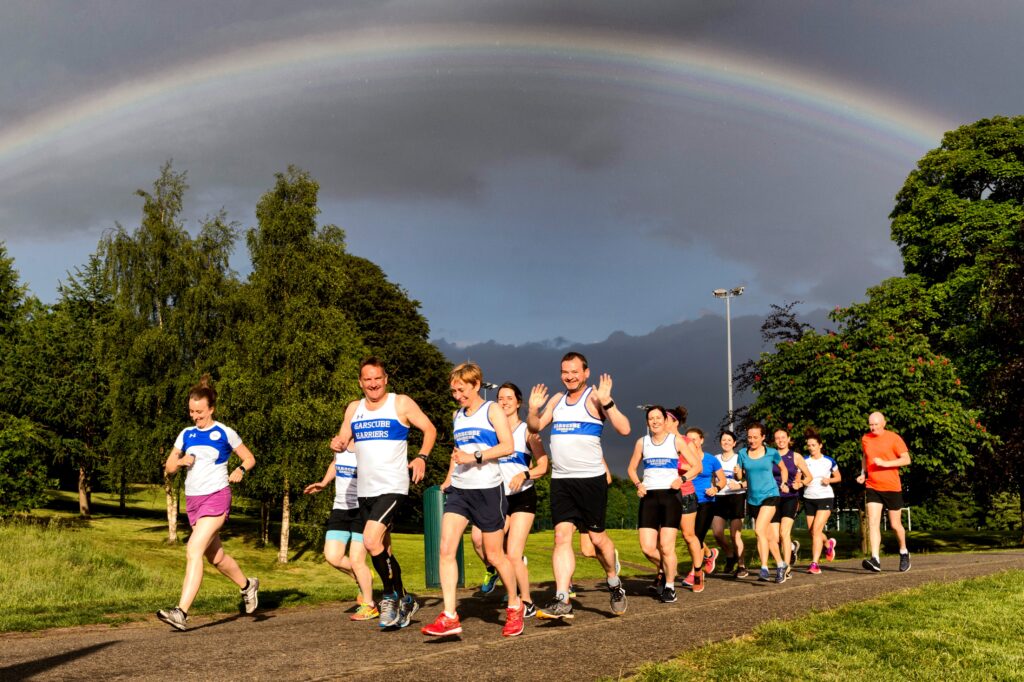 Photo by Bobby Gavin
9 Garscube Harriers (1898)
Garscube Harriers boasts a long and proud tradition dating back to 1898. The club was formed by W. A. McCaa at the end of the 19th Century to cater for the growing popularity in running at the time. Despite only having a dozen or so members, the club continued to showed promise in cross country races and began to grow as a result.
8 Hamilton Harriers (1896)
Though there had been a Hares & Hounds Club in the Hamilton district around 1887, the Club was actually formed on 6 September 1896 at the County Hotel, the founder being a Motherwell Harrier, Mr Miller. At the inaugural meeting, the club colours of white with red facings were chosen and, at a later date, the crest bearing the head of the White Cattle Bull and the letters HHC were introduced to be worn on the club singlet.
7 Greenock Glenpark Harriers (1895)
Initially, Greenock runners joined the satellite branch of Clydesdale Harriers. In 1895, agreement was reached with Clydesdale Harriers to allow for the Greenock satellite branch to break away and form their own club. As a result, Greenock Glenpark Harriers is formed in the October of 1895. This year, Greenock proudly celebrate their 125th anniversary
READ MORE: Club in Focus – Greenock Glenpark Harriers
6 Springburn Harriers (1893)
Springburn Harriers were founded way back in 1893 to promote amateur athletics and cross-country running. The club had its beginnings in the industrial area of Springburn and took its club crest from the locomotive industry that provided employment for many in the area.
Bellahouston celebrated their 125th anniversary with a run in November 2017
5 Bellahouston Harriers (1892)
Bellahouston's history stretches back to their formation on 29 August 1892 as a Harriers club in the Paisley Road district of Glasgow.
There is an argument at this point for including Greenock Wellpark Harriers who were formed in 1891. In 1986 clubs in the Greenock area agreed to merge and form Inverclyde AC for track and field competition. Wellpark continued as a road and cross-country club. After a few years, members wanted to compete for the one club and at that point Wellpark and Spango Valley agreed to disband and join Inverclyde fully.
READ MORE: Club in Focus – Bellahouston Harriers
4 Dundee Hawkhill Harriers (1889)
Hawkhill were formed on 16 December 1889, having their first club run the following evening. At that time, Dundee Harriers were in existence and Thistle Harriers were formed in Dundee shortly after. The early days of the club saw the Hawks organise local events, with the Perth to Dundee Marathon being inaugurated in 1894.
The Club was put into suspension though, largely due to difficult economic times in the City and subsequently the First World War. The Hawks were reconvened in November 1924. 1928 also saw the establishment of the Women's section, the first Women's section in any Harriers club in Scotland
3 Teviotdale Harriers (1889)
Teviotdale Harriers were formed in 1889 at a meeting in the Round Room of the Tower Hotel on 24 January, its object to be the promotion of athletics especially in the prosecution of cross-country running during the winter months. By the spring of 1889, membership had grown to 30 and their programme was a weekly run of some eight miles.
2 Maryhill Harriers (1888)
The club was founded on 2 November 1888 at Canniesburn Smithy by the local blacksmith Gilbert Thomson, John Smith, Eric Langlands and a medical student Peter Marshall who became the club's first champion and initial winner of the Langlands Trophy in 1890. Maryhill Harriers affiliated to the Scottish Cross Country Union in 1891 and in 1899 won the National Junior Cross-Country Team title, thus enabling them to compete at Senior level. In the same year they finished second in their first Scottish National Championships.
READ MORE: Club in Focus – Maryhill Harriers
There were two clubs formed in 1887 who are not on this list. Penicuik Harriers was originally formed in 1887 but it appears that they subsequently disbanded and re-formed in 1926. There was then a break around the Second World War until they resumed in 1949.
The Kilmarnock Harriers club was initially formed in 1887 but they also appear to have disbanded in the 1890s, the last reference to them I can find being the calling of a committee meeting in October 1897. There is then no mention of them until an article in The Scottish Referee in November 1913 which refers to Kilmarnock Harriers as the newly-formed club, and another referring to them as Scotland's youngest club.
It would also be appropriate to mention some of the other clubs formed around this time. 1886 saw the 'birth' of West of Scotland Harriers and Lanarkshire Harriers, with Dundee Harriers, Hamilton Acad. Harriers, Perthshire Harriers and Dunfermline Harriers being formed in 1887.
Edinburgh Harriers were the chief rivals to Clydesdale Harriers in the early days of cross-country running and were formed in September 1885. Through a series of mergers and amalgamations they can be traced into the current Edinburgh AC of today. They competed in their own right until 1961 when they combined with Edinburgh Eastern, Edinburgh Northern and Braidburn AC to create the new Edinburgh Athletic Club, the city rival to Edinburgh Southern Harriers. The new club merged with ESH's men to form City of Edinburgh AC in 1996, with the ESH women's side joining up in 2006 to form the current Edinburgh AC.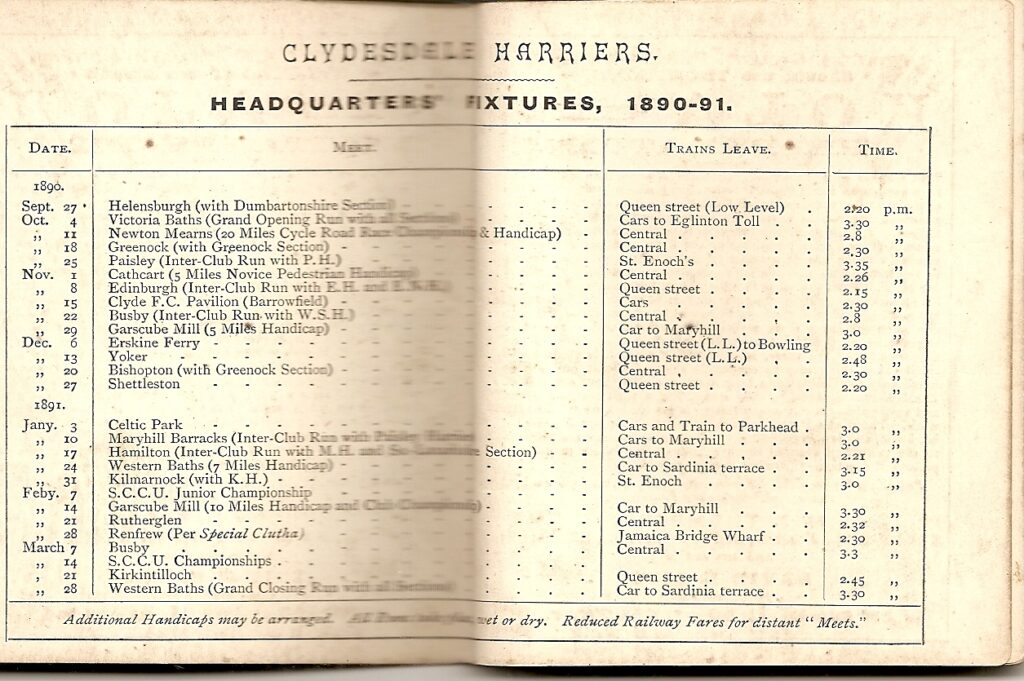 Clydesdale Harriers 1890-91 fixture list via scottishdistancerunninghistory.scot website
1 Clydesdale Harriers (1885)
The daddy of them all, though, is Clydesdale Harriers, formed in May 1885.
The 50-year history of Scottish athletics states: 'Cross country running in Scotland, as we know it today, began with a meeting in Glasgow on 4 May 1885 at which it was decided to form a club to be known as the Clydesdale Harriers.'
Clydesdale popularised athletics in the West of Scotland and was responsible for the development of other clubs – the Greenock section resulted in the formation of Glenpark.
135 years old this month, Clydesdale is indeed old and has a right to be proud!